WWE: How CM Punk Is Making Professional Wrestling Important Again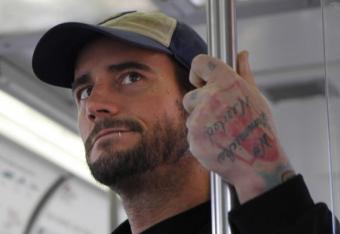 photo by chicagotribune.com

World Wrestling Entertainment.
Let me say that again.
World Wrestling Entertainment.
That's right, the word "wrestling" still comes before "entertainment."
Though Vince McMahon and company have seemingly done all they can to dissuade employees and the media from focusing on the second word in that little trio, the fact is that fans will not let it go.
We just can't.
For a great many fans, it's the in-ring action that brought us to the table in the first place. As kids growing up watching the business, we have seen the best of the best, men and women who put their heart and soul into every match, to earn a living, pay respect to the industry and to entertain.
Yes, I said entertain. Hey, I never said it was a bad word—just overused sometimes.
It's the wrestling that makes WWE important to fans, the one element that separates McMahon's company from every other form of show business there is. Hollywood may provide action, drama, suspense, thrills and excitement, but only WWE can provide all of that in a pro wrestling ring.
And the Superstar leading the charge for WWE? The man with the gold, CM Punk.
Since November 2nd, 2011, the Chicago-born Punk has held the WWE Championship, a title that is as recognizable around his waist now as it was around John Cena's.
At this point, it's hard to imagine Punk without the championship.
Be honest, how many of you believed that we would actually still be looking at Punk with the WWE Title after all this time? It's not as if he hasn't had his fair share of challengers.
John Cena, Dolph Ziggler, Chris Jericho and, more recently, Daniel Bryan have all stepped up to the plate in an effort to dethrone Punk, and each man had a swing and a miss.
Each one of these Superstars had a legitimate chance at becoming the new titleholder, which is good for Punk, as it does nothing but help give him credibility as champion.
After all, who would care about his run if all he did was wrestle matches that everyone knew he was going to win? He's CM Punk, not John Cena.
Hey, I'm just saying.
Though the true mark of a great wrestler is that he can work with anyone in the locker room and have a good match, Punk always rises to the occasion when he is paired with someone who complements his style in the ring.
Right now, that someone is Daniel Bryan, who is no stranger to Punk. These two had some classic matches in Ring of Honor, and now they're being allowed to reprise their rivalry on the worldwide stage of WWE.
Who said Vince McMahon didn't appreciate the hard-working, blue-collar wrestler?
OK, that might have been me. But I take it back, Vince. We're good, now.
The Superstar with the gold has to look good in order for him to be accepted by fans and be taken seriously as champion. This means that when he is in the ring, his strengths need to be accentuated and his weaknesses hidden. He's presented in a believable fashion, and when it's done successfully, love him or hate him, you don't doubt that he deserves to wear the strap.
For CM Punk, this means that the better the worker he faces, the more he is challenged to step up his game, and then the bout becomes not only fun for him, but fun to watch.
Just get in there and knock 'em dead. And that's what Punk does, on a weekly basis.
Think of how the WWE climate has changed since Punk's infamous promo on Raw last year, leading up to his first, and current, run as champion. Up to that point, all fans talked about was John Cena and his stranglehold on not only the WWE Championship, but Monday night's flagship program.
"He's the second coming of Hogan." "He's unbelievable as champion." "He doesn't deserve all the spotlight that he gets." "Will a technical wrestler ever get a shot at the top again?"
Now the conversation has changed considerably. Today, we're talking about Punk, one of the best in the business, sitting atop the WWE. He's become the very strong No. 2 in the company, and for some fans, he's surpassed Cena due to his work in the ring, and his overall long-term potential.
We're also talking about Dolph Ziggler, whose ring work has improved to the point that some fans who may have dismissed him are now beginning to take notice.
Zack Ryder, for all his flashiness and comic relief, is a good worker, and that ability is very apparent every time he's in the ring. He may be on the back burner right now, but his work ethic is still very much there, and he has a true fan following that wants to see him back on the way up in the company.
Then there's the "Yes" man himself, Daniel Bryan, who many inside the business thought was too small to make a serious splash in WWE. He has proven the critics wrong, and fans have latched onto him, recognizing his talent, and respecting him for who he is in the ring.
The fact is, this is not your daddy's WWF, headlined by Hulk Hogan and featuring one silly character after another. The modern-era WWE, for all its faults, in my book, is on the right track. Despite their need to somehow take the focus off of the wrestling, it is that very thing that is bringing fans back to the fold, and it's making for some great matches along the way.
And for me, CM Punk is in the eye of the storm.
To follow up one Dusty Rhodes reference with another, Punk has made it fashionable to be a hard-working pro wrestler again, and he's reminded wrestling fans why we love the business. He's a working-class wrestler who stayed working class, and he's the best man for the job.
Oh, and for the rest of the WWE fans out there, he's pretty entertaining, too.
This article is
What is the duplicate article?
Why is this article offensive?
Where is this article plagiarized from?
Why is this article poorly edited?