NHL Draft 2012: Winners, Losers and Surprises from First Round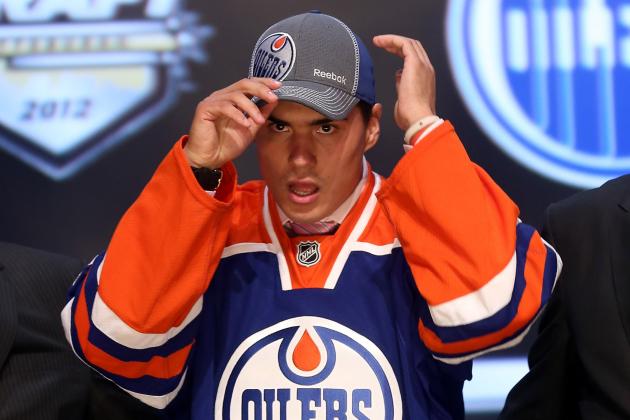 Bruce Bennett/Getty Images

The draft is finally upon us, with the first round just wrapping up and the second through seventh rounds to take place tomorrow.
Every round holds its share of winners, losers and surprises as the teams pick their future players. This year's first round has been no exception.
Edmonton kept its No. 1 overall pick for the draft, taking Nail Yakupov, which comes as no surprise.
Excluding the Oilers—who by taking the Sarnia Sting winger are clear winners of the first round of the 2012 draft —we look at the other teams who were winners, losers and surprises.
All draft picks can be viewed here.
Begin Slideshow

»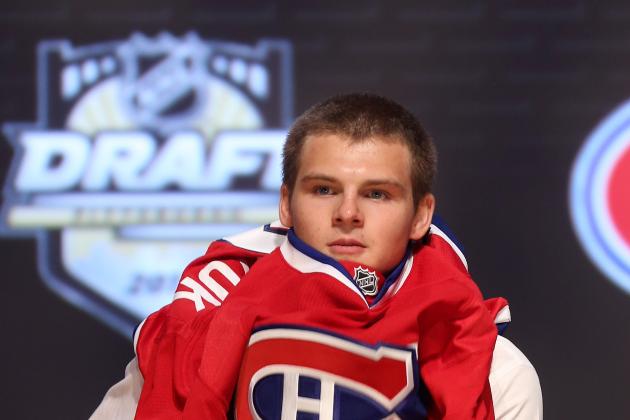 Bruce Bennett/Getty Images

With their No. 3 overall pick, the Canadiens took Nail Yakupov's Sarnia teammate, Alex Galchenyuk.
The young center was highly-touted despite missing the majority of this past season with the Sting due to injury.
As he missed so much time in his final OHL season, it is unlikely that Galchenyuk will be playing in the NHL next season.
Still, it would not be out of the question to see the young center at the Canadiens training camp in the fall.
Bruce Bennett/Getty Images

With a number of top centers still available at the fifth spot in the draft, it was expected by many that Toronto would take one of those players.
With names like Filip Forsberg and Mikhail Grigorenko still available, Toronto surprised their fans by selecting defenseman Morgan Rielly from Moosejaw.
Rielly is a very talented defenseman, and even though he only managed to play 18 games before being sidelined with an injury, he had managed a point a game.
The reason this comes as a surprise is that with Toronto desperately in need of a top line center, it was expected that they would try to draft a physical center.
Burke lived up to his philosophy of drafting the best player available, and though it will be at least a season before he is seen at training camp, Rielly is set to make an impact on the blue line.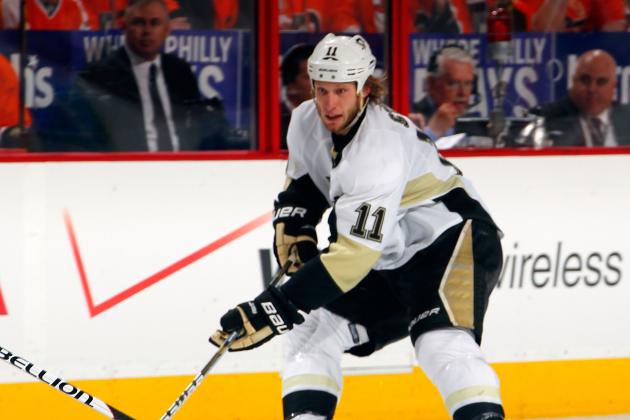 Paul Bereswill/Getty Images

While it may have cost the Hurricane's their first pick, the trade that occurred shortly before the draft got underway was still a huge win for Carolina.
The Hurricanes made the trade with Pittsburgh for center Jordan Staal for their first-round pick, eighth overall.
Jordan Staal will be playing alongside his older brother, Eric, when he starts playing for Carolina next season.
One of the more highly-touted potential trades during this offseason, when Staal turned down the Penguins' long-term deal, it was not surprising he was traded.
Staal is a star player who has been playing behind Penguins superstars Evgeni Malkin and Sidney Crosby. His ice time will see a large increase in Carolina.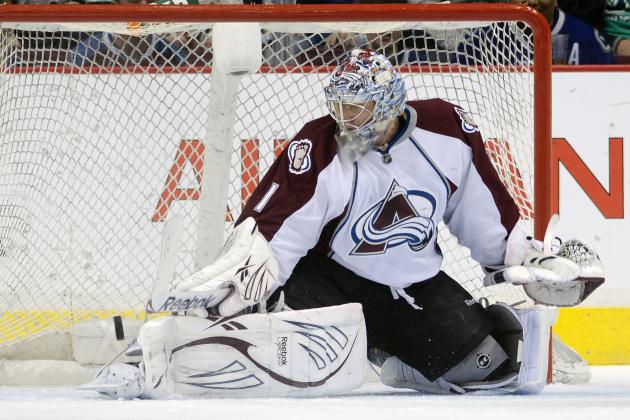 Rich Lam/Getty Images

The pick that the Avalanche sent to Washington in exchange for goaltender Semyon Varlamov last July turned into Filip Forsberg.
While Varlamov played adequately in net for the Avalanche this season, posting a 26-24-3 record, Avalanche fans will be forced to wonder about star-in-the-making Filip Forsberg.
Forsberg was predicted to go in the top five by most analysts, so when Washington found him still available with the No. 11 overall pick, they snapped him up.
Forsberg has the potential to become a franchise player with Washington, even in the shadow of Ovechkin.
A player that could have done wonders for a rebuilding Colorado team.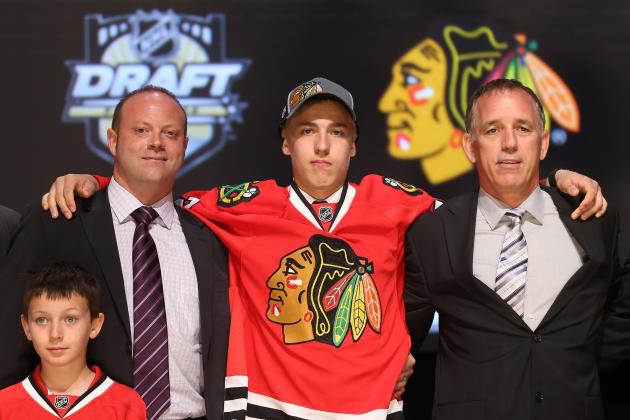 Bruce Bennett/Getty Images

When Chicago took the podium for the No. 18 overall pick, they were greeted with a pleasant surprise.
Teuvo Teravainen was still available.
The extremely talented Finn had been predicted by TSN to be drafted among the Top 10. When Chicago found him still waiting to be drafted, they snatched up the future star.
Teravainen has great hockey sense, as well as good vision of the ice. He is considered a multiple threat on the ice by analysts.
Within a year or two, the young Finn will join another top draft pick, Jonathan Towes. These two together will be a lethal combination going forward.
Bruce Bennett/Getty Images

Boston has been dealing with a number of issues since the mid-way point of this season.
With the controversies that have followed Tim Thomas since he refused to meet President Barack Obama, Boston has been trying to work out their future.
In the wings is the young goalie Tuukka Rask, who most thought would have to wait for Thomas to leave or retire.
Thomas told the media after the Bruins were defeated by the Capitals in the first round he would sit out next season.
With the No. 24 overall pick, Boston solved their goaltending issues for the next few years by taking Malcolm Subban.
The younger brother of Montreal's P.K. Subban, Malcolm was considered one of the best netminders in this year's draft.
With Rask ready to take over as starter and Subban in the system, Boston will be set in net for a number of years.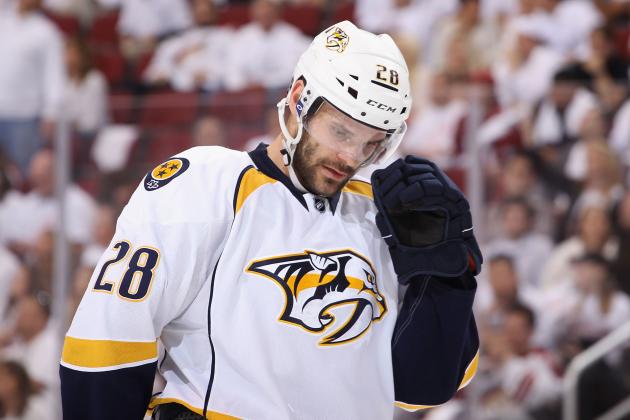 Christian Petersen/Getty Images

At the trade deadline, Nashville traded their first-round pick to Buffalo for Paul Gaustad.
Gaustad did not pay the immediate dividends that Nashville had hoped. Phoenix defeated the Predators in the second round of the postseason.
Gaustad only managed to tally four assists in 14 regular-season games with Nashville and two points in the playoffs.
With the speculation that is surrounding both Shea Weber and Ryan Suter's re-signing, the No. 21 pick could have landed them a solid blueliner for the future.
Even with many defensemen being taken early in the first round, there were still a number of talented blueliners remaining when Nashville's pick was used by Calgary.