NHL Draft Rumors: Keith Yandle, Rick Nash and Other Sought-After Trade Pieces
June 23, 2012

Christian Petersen/Getty Images
After Pittsburgh agreed to send Jordan Staal to the Carolina Hurricanes, Keith Yandle and Rick Nash grabbed headlines as candidates for NHL draft-day trades.
The trade rumor mill began to churn swiftly on Friday during the draft, and names from across the NHL fell into potential shipping packages. Some felt more serious, and others were obviously rumors. As the draft progresses, however, fans may wonder about the validity of some of the rumors.
Phoenix Coyotes star Keith Yandle and Columbus Blue Jackets forward Rick Nash are among the top of the list of players most likely on their way out, but they're not alone.
Here are some of the names you should keep your eye out for.
 Keith Yandle
"He's definitely in play," one NHL executive said on Friday, according to Pierre LeBrun.
The Coyotes claim that they are only taking calls for Yandle, but he seems like a logical player to leave his club.
According to Daren Millard, Yandle is currently in play.
The Coyotes already boast Oliver Ekman-Larsson, David Rundblad, Chris Summers and prospect Maxim Goncharov as defensemen on their roster, and can afford to let Yandle leave.
Yandle, who currently has four years left on his contract, is set to make $5.25 million. The Coyotes would allegedly be asking for a center in return, and the New York Rangers appear to be the leading suitors.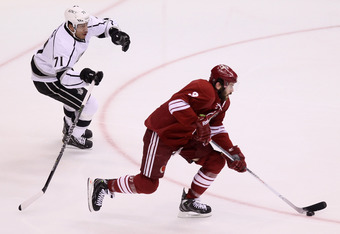 Jeff Gross/Getty Images
Other teams on the market include the St. Louis Blues, the Detroit Red Wings and the Edmonton Oilers.
Rick Nash
While Nash is the most sought-after name available via trade, he is also the most expensive—and suitors may not be interested in going "all in" for the star.
Nash, however, is one of those players that would change the face of whatever franchise that he landed with.
As Arthur Staple of Newsday explained on Twitter, Columbus will ask for four to five major pieces in a trade for Nash. The five-time Western Conference All-Star would have to waive his no-trade clause if he was dealt.
Teams interested include the New York Rangers, the Philadelphia Flyers and the San Jose Sharks. The Sharks, who are reportedly very interested, are not interested in trading Logan Couture.
Nash's $62.4 million deal lasts until the 2017-18 season.
Niklas Hjalmarsson 
According to the Chicago Sun-Times, the Hawks are actively shopping defenseman Niklas Hjalmarsson.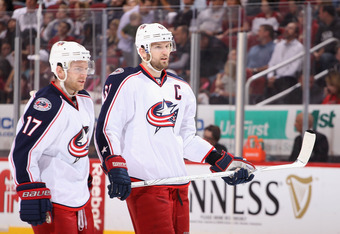 Christian Petersen/Getty Images
Hjalmarsson has two years left on his contract, and will make $3.5 million annually. More likely than not, Chicago will ask for a goalie in return as GM Steve Bowman is allegedly unhappy with Corey Crawford and Ray Emery in the net.
According to the Sun-Times:
At just 25, Hjalmarsson should generate interest, especially for teams looking for shot-blocking, stay-at-home types. The re-signing of veteran Johnny Oduya and the emergence of Nick Leddy has made Hjalmarsson — whom the Hawks chose to retain over goalie Antti Niemi two years ago — more expendable, although his defensive prowess is coveted.
Chicago will not be in a rebuilding phase, but rather one of a number of teams looking to immediately contend for the Stanley Cup. Whatever they get for the defenseman needs to be a relatively convincing asset, one that can help them right away.
Tim Thomas
Thomas was quick to waive his no trade clause on Friday, and may now be swiftly on his way out of Boston.
As the Toronto Sun explains, "The $5 million of Thomas sitting put would count against the salary cap, but the team wouldn't have to pay the sitting-out Thomas. So for teams that need help getting to the floor of the new salary cap, it's an inexpensive, no-risk piece of bookkeeping."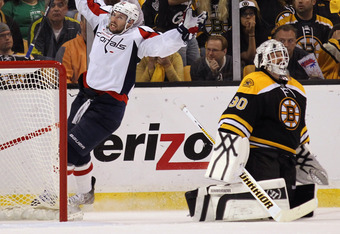 Bruce Bennett/Getty Images
Ideal suitors, in that case, would include teams like the New York Islanders or the Colorado Avalanche.
Perhaps the most telling piece of evidence, however, came from Bruins General Manager Peter Chiarelli, as noted by ESPN Insider:
"As I said before when we talked about Tim, I'm operating under the premise that our goalies will be (Tuukka) Rask and (Anton) Khudobin because Tim won't be playing for us," Chiarelli said.