NHL Draft 2012: 10 Players Sure to Go on Day 2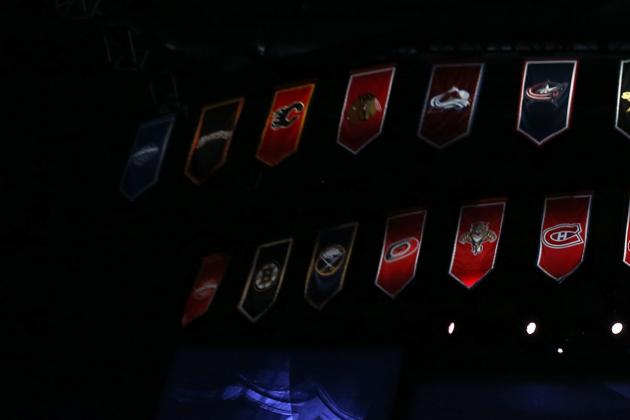 Bruce Bennett/Getty Images

With the first round of the NHL draft ending, it is now time to look forward to Saturday and the rest of the draft. Even though stars may come from the first round, Stanley Cup winning teams come from hitting on the later round picks.
It is now time to look forward to tomorrow and the key players that will help make the teams who select them become elite.
Begin Slideshow

»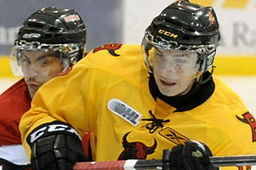 Zharkov has everything it takes to become an elite set up man at the NHL level. At 6'3' and 197 lbs, he provides an amazing combination of size and speed.
Zharkov has a long stride and reaches full speed quickly. He uses his speed effectively to put defensemen on their heels.
Despite his incredible ability to blow pass defenders, Zharkov's defensive knack is what really sets this young man apart from so many other fast Russians. His uncanny ability to forecheck and poke check will make this young man an incredibly frustrating player for opposing teams early in his career.
The biggest weakness with Zharkov is his consistency. He will frustrate his own coach as much as opposing coaches. Last season in Belleville he only tallied 36 points but had showed flashes of brilliance when he netted nine points in eight games during one of his hot streaks.
Final Analysis
As much as I hate to use clichés, Daniil Zharkov is the epitome of a boom or bust player. If a coach can improve his consistency and if Zharkov can add another 10 lbs, then he can become an elite winger who can make his teammates look better. However, he could also be nothing but wasted promises for a team with high hopes.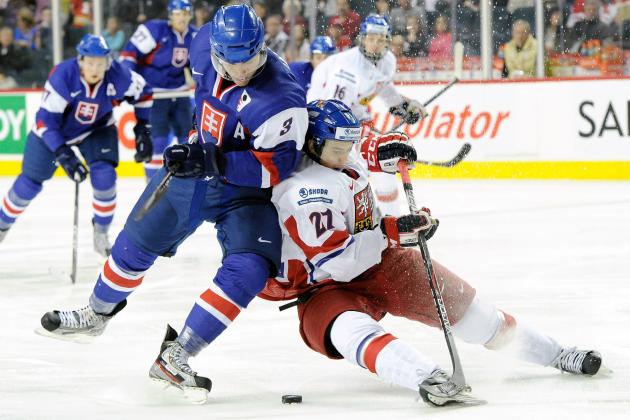 Richard Wolowicz/Getty Images

After being passed over by every NHL team last year, playing with the Flyers and then being told due to a clause in the new CBA he could not actually sign with the team, Tomas Hyka enters the 2012 draft with much more interest from NHL teams.
It was not a lack of skill that got Hyka passed over last year. In his first season with the Olympiques, Hyka lead the team in scoring (64 points in 50 games) and finished plus 14.
Hyka's biggest problem is his size. At a diminutive stature of 5'11" and weighing only 160 lbs, Hyka will have to prove that he can stand the rigors of an entire NHL season.
Final Analysis
Tomas Hyka would already be signed by an NHL team if it were not for the new CBA rules. Hyka is a player that has all the offensive skill to develop into an above average top six player, but must prove that he can handle the physicality of the game.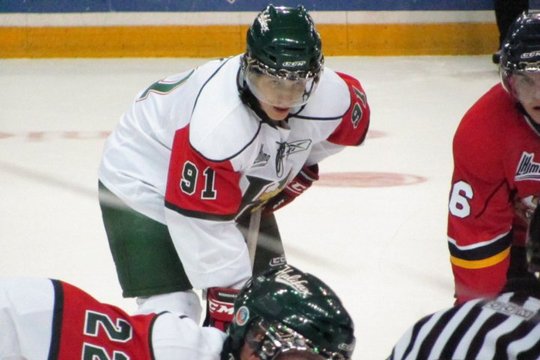 Originally, Martin Frk was a top 15 player, but after missing most of last season with a concussion, he saw his draft stock plummet.
Frk plays the game physically and would much rather go through defenders than around them. He has an NHL caliber shot and has proven to be a sniper when he sets up from the hashmarks. He is an exciting player to watch and fan bases will soon fall in love with this guy.
Since many scouts have been down on Frk due to his speed, it is his conditioning that needs the most work. Losing most of last season due to his concussion definitely did not help this, but it is a weakness that can be fixed by an NHL team.
Final Analysis
Frk has all the tools, but needs some work. The lost year hurt him in more than just his draft stock, but if he can get back on track, an NHL team will have a power forward to build a strong line around. I see Frk becoming a solid second line forward, an above average checking line player or a career minor leaguer.
For full disclosure, I live in Halifax and spent my entire life rooting for the Mooseheads. And I wish all the best to Martin Frk particularly. I hope he makes the Moose Country proud.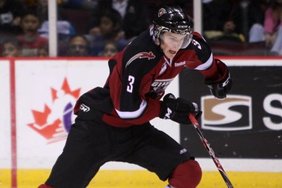 Brett Kulak is the defender that most people will never hear of, but will always make your team better. Though he never blew up the stat sheet (24 points in 72 games), Kulak proved to be one of the best defensemen in the WHL.
Kulak's best attribute is his smooth skating. When you watch him skate, it looks as smooth as silk and he has that same appearance with the puck. Kulak's high poise and hockey IQ will make him a great player who plays on a fast team. His quick decisions and quick passing will open up a lot of plays for his forwards.
A team looking for a big banger on the back end will have to look elsewhere. Kulak only weights 174, but in the new look NHL this should not be too much of a problem.
Final Analysis
Brett Kulak is a player that I can see becoming the best defensemen in this draft class. His ceiling is high and his floor is still high. Worst case scenario is a quality starter for years to come. Whoever gets Kulak will be thanking their lucky stars no one picked him earlier.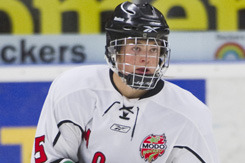 MODO has produced once again. Ludvik Byström managed to play in as many as four leagues a year most of his teenage life.
Byström is a calm and cool player who has showed great skating and passing skills. Though he is young, he shows poise well beyond his years. While splitting time between both junior and pro levels in Sweden, Byström looked phenomenal in junior and average when called up. He has the ability to look off incoming defenders when making his first pass, thus opening up the game for his forwards.
There are two major concerns about Byström. He is still under contract with J20 SuperElitserien for one more season, so he is more than likely at least one season away from contributing. Also for a player as calm as Byström, he tries to do too much. Most of his mistakes come from trying to make the big play instead of the steady play.
Final Analysis
Patience is the key word when it comes to Ludvik Byström. He probably won't come close to sniffing the NHL within the next two years, but when he does he will provide a solid defensive presence and will not be a liability, but a solid player for ten plus years.
This guy is a mountain in the net. Standing 6'5" and weighing in at 200lbs, Anthony Stolarz is one of the largest goalies in this year's draft.
Despite coming from a team that most people have never heard of, Stolarz is one of the smartest goalies around. Hearing him describe the game of hockey is almost breathtaking. His mental toughness is second to none.
Raw is not even close to describing Stolarz. He is just not up to par yet, there is no other way to describe it. However, he has already agreed to play for Omaha, Nebraska in the NCAA.
Final Analysis
Stolarz has a lot left to do, but he has a passion that is unrivaled in this year's draft. In five years it would not surprise me to see this guy as the best goalie from this draft class. Though he is the 21st ranked North American goalie, he is a low-risk high-reward player that will provide a pleasant surprise to whoever is lucky enough to get him.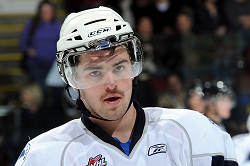 Sutter is the perfect high pressure face off man. He is a great two way, hard working player that will occasionally net a goal or two. He is the type of player a coach will love because his work ethic will rub off on the players around him. Great leader and tough guy (165 penalty minutes).
Sutter's skating is his downfall, however. He is slow and not the most agile skater on the ice, but a couple more years in the WHL will make him serviceable.
Final Analysis
Lukas Sutter is a player that will more than likely go unrecognized by most common fans, but true students of the game will see a player that helps his team in all facets of the game. That's only if Sutter can learn to skate on an NHL surface.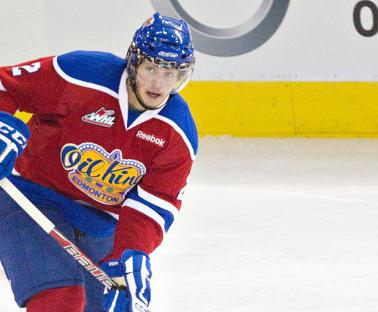 Cody Corbett has great size (6'0 and 210 lbs) and makes great outlet passes. He can carry the puck out of his own end well, but he is much better at making that first outlet pass. Corbett has a whole lot of confidence. He also loves to shoot even though he doesn't have the best shot you will ever see.
All of Corbett's pluses are also his weaknesses. He is trigger happy without having that great of a shot. He is on the verge of overconfidence and tries to do way too much. He will likely balance out his negative plays with the positives, but he could easily make his coach bald from ripping his hair out.
Final Analysis
Cody Corbett has good potential; I would say great potential. He could provide a steady force on a second defensive unit. Not a high ceiling, but not a low floor. A draft pick that will be good, but not great for a team. Solid if unspectacular play in the NHL.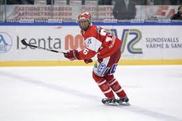 Despite not being the biggest player on the ice (6'1" and 173 lbs), Ludvig Nilsson plays the power forward position quite well.
Nilsson really shines when it comes to sacrificing himself for the team. Nilsson is an intense player that will block shots or hit players for the betterment of the team. He is aggressive and drives the net fearlessly.
This is where Nilsson will have to excel in the NHL. Despite his defensive prowess, he has average at best hockey IQ.
Final Analysis
Ludvig Nilsson has all the potential to be one of the best role players in the NHL despite some of his shortcomings. He should be drafted late and overachieve for whichever team drafts him.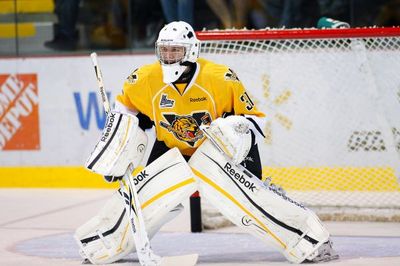 Brandon Whitney will be a stellar goalie in the NHL. Even though Whitney is a few years away from producing at an NHL level, the wait will be well worth it.
Whitney enjoys the perfect frame for an NHL goalie (6'5" and 193 lbs). When he drops into his butterfly he still covers a huge part of the net, and when you add that to his excellent lateral movement, he will be difficult to get a puck past. Whitney is also phenomenal at rebound control, especially considering his age. A very polished prospect for someone who might be drafted late in the second or the third.
Whitney's legs need some work though because he lets too many pucks underneath him. Also, he has major problems when it comes to stick handling, but that's a problem that could be solved with some coaching.
Final Analysis
Brandon Whitney has all of the tools to succeed at the next level. At the least he will become a starter that could be replaced by a very good goalie. If Whitney reaches his full potential, I can see a starter a team can build around.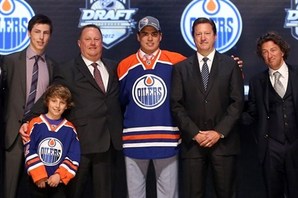 Those are the ten players you should be watching on day two of the NHL draft.
Do you agree? Good!
Do you disagree emphatically? Even better!
Let me know what you think by leaving a comment below.
Happy drafting, Bleachers.