2012 NHL Draft Grades: Assessing Head-Scratching Picks of 1st Round
June 23, 2012

Bruce Bennett/Getty Images
Every year, the NHL draft produces some curious picks, whether it be because of a prospect's potential at the next level or durability concerns.
It must be said that some surprises in the first round throughout the years have actually turned out to be good selections. But there were a few in the 2012 NHL draft that were head-scratchers, given how early they were picked.
Here are some early first-round picks that puzzled in 2012.
Anaheim Ducks, No. 6: Hampus Lindholm, D, Rogle Jr. (SWE-JR)
Grade: C+
Hampus Lindholm certainly has impressive upside, along with good size and strength, but he's very raw and leaves a lot to be desired on the defensive side of the puck. His positioning needs serious work, and his gap control is a work in progress.
Then again, Lindholm has appeared to get better and better throughout the past year, and he's a clear boom-or-bust prospect. If he booms, it's going to be loud. 
Pittsburgh Penguins, No. 8: Derrick Pouliot, D, Portland (WHL)
Grade: C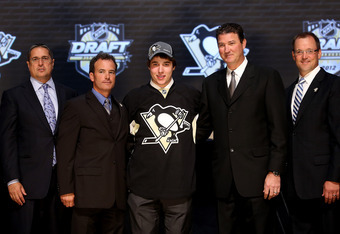 Bruce Bennett/Getty Images
Well, the Penguins were certainly active on draft day, that's for sure. After trading Jordan Staal to the Carolina Hurricanes, they ended up with the No. 8 overall pick. At No. 8, Pittsburgh selected Portland defenseman Derrick Pouliot out of the WHL.
Most draft experts didn't have Pouliot anywhere close to the top 10, but the Penguins had been looking at him for the past year and decided to go with their man. 
Still, this is a questionable move. Sure, Pouliot may be the best skater in the draft, and he certainly has the offensive skills to push the puck. But his two-way game doesn't impress me much, with lacking size, strength and physicality on defense.   
Tampa Bay Lightning, No. 10: Slater Koekkoek, D, Peterborough (OHL)
Grade: C+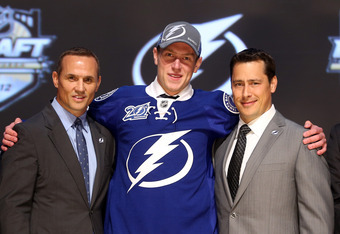 Bruce Bennett/Getty Images
Slater Koekkoek is big and quick on the ice, and his offensive ability makes him a legit top-20 pick. However, I do have concerns about his consistency while with Peterborough. It wasn't so much that he was raw; his energy level appeared to dip at times throughout the season. He can be dominant one day, then struggle the next. 
Koekkoek is also coming off a torn labrum (shoulder), and he needs to build up his strength in general. His lack of physicality is one of the reasons why some draft experts have him further down draft boards.