UFC on FX 4 Results: What's Next for the Winners and Losers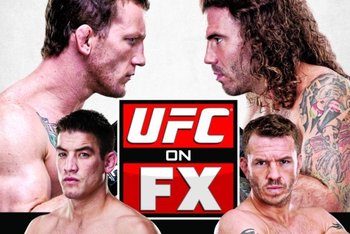 sherdog.com
UFC on FX 4 came and went last night, providing some exciting fights that sorted out the contenders and pretenders. Headlined by Clay Guida and Gray Maynard, fans were treated to great free fights on FX, Fuel TV and Facebook.
There were some shockers and some nail-biters. As for the main card, we came away with four winners and four losers. Where do each of these men go from here?
Let's examine the next step for each man.
Ross Pearson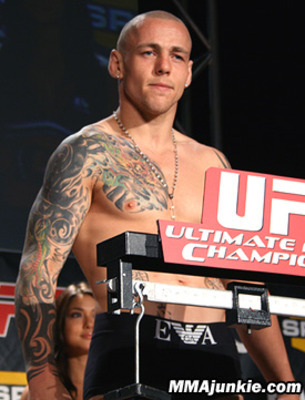 mmajunkie.com
Ross Pearson had his moments in his fight against Cub Swanson, but was simply outmatched by the Greg Jackson product. Pearson looked to be possibly winning the fight until he got caught by a beautiful combination.
One has to think that Pearson doesn't fall far from here. He is still a big, talented featherweight that could rival anybody in the division.
Jonathan Brookins is also coming off a loss recently and would make for an interesting fight against Pearson. If Pearson is ready by the Nottingham card, maybe he could see the former Ultimate Fighter winner there.
Cub Swanson
mmajunkie.com
Cub Swanson took another huge step forward with his knockout victory of Ross Pearson. He has proven he can hang with some of the toughest at featherweight, and may be ready for a top level opponent.
When Swanson is at his best, he is one of the better guys at featherweight. He is still a few fights out from a title shot, so a fight versus another top contender in Charles Oliveira could be a great matchup. Both men are well-rounded and could put on a "Fight of the Night" performance.
TJ Waldburger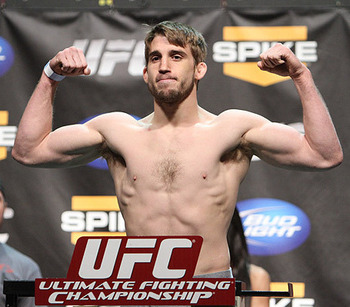 MMAweekly
TJ Waldburger looked to have a great guard and submission attack tonight, but he simply could not put away the wily veteran Brian Ebersole. Waldburger has shown game in every fight he has been in, but cannot escape the lower-mid tier of the welterweight division.
Waldburger definitely has the talent to be a player in the welterweight division, but work is still needed. At this point, a fight with Josh Neer could benefit him with both experience and talent-building. It would be an interesting matchup stylistically as well.
Brian Ebersole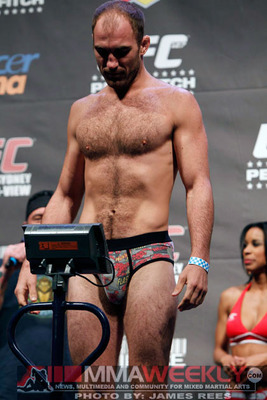 MMAweekly
Brian Ebersole earned another win tonight, outworking a very game TJ Waldburger. He found himself in a deep choke early, but as usual, he stayed calm and worked out of it.
Ebersole's veteran experience is tough to deal with for any fighter. Yes, he didn't look his best against Waldburger, but he proved he could overcome and succeed. A fight against another long-time veteran in Mike Pyle could help one man emerge as a top contender in the welterweight division.
Spencer Fisher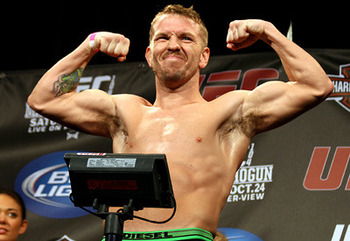 mmajunkie.com
Spencer Fisher looked better than he has in his last couple fights. Chalk that up for motivation against a man he is very familiar with in Sam Stout.
In all fairness to Fisher, he outstruck Stout throughout the fight. He made one of the better pure strikers in the lightweight division resort to another aspect of his game.
In this loss, Fisher looked good. Unfortunately, this is probably the end for the 36-year-old, who has now lost three straight. Losing the trilogy was a great way to go out, as he looked like a legend in the process.
All hail "The King"!
Sam Stout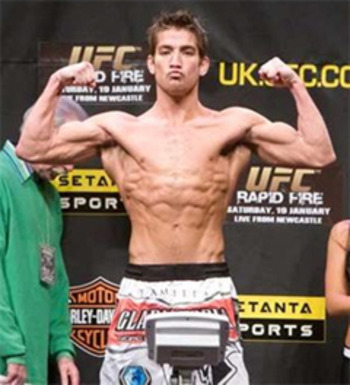 mmajunkie.com
Sam Stout got back in the win column tonight, but won it with his wrestling rather than his striking. Fisher and himself had a great trilogy, which he came out on top of.
He did not look great tonight, so a jump up in competition is not warranted here. Maybe a fight against Evan Dunham would get him motivated to move up the ladder. I know it would motivate Dunham to earn his stripes.
Clay Guida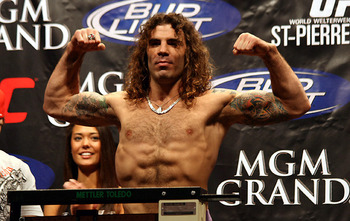 mmajunkie.com
If there is one thing I can say about Clay Guida, it's that he is an absolute trooper. Cornrowed up, at the request of a concerned Gray Maynard, Guida frustrated the former challenger for 25 minutes.
In the end, Maynard persevered and Guida is back to the mid-tier. Guida needs a guy like Jeremy Stephens to get back in the spotlight and work his way to the top.
Gray Maynard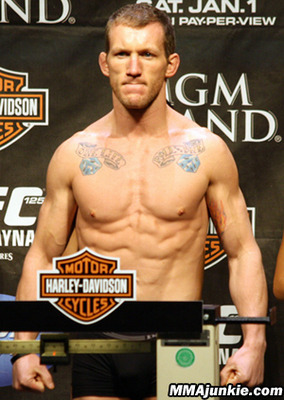 mmajunkie.com
Gray Maynard fought his first fight since losing out on the lightweight title, facing a stiff test in Clay Guida. He won the fight, but it wasn't without controversy and complaints by the fans.
After the fight, Maynard acted tough by calling out Guida's game plan, like he was never a boring fighter. No worries, Maynard will get a top-notch fight, despite not doing much in this fight.
Expect a fight with either Nate Diaz or Anthony Pettis for his next bout. It would only make sense at this point.
Keep Reading