Toronto Maple Leafs Select Morgan Rielly with 5th Overall Pick
June 22, 2012

Bruce Bennett/Getty Images
Toronto Maple Leafs GM Brian Burke selected Moose Jaw Warriors defenseman Morgan Rielly with the fifth overall selection at the 2012 NHL entry draft in Pittsburgh, Pennsylvania.
After seven seasons missing the playoffs, four of them under Burke's watch, there was speculation the Leafs might take some risks at this year's draft.  They could have gambled on the super-talented but enigmatic Quebec Remparts right wing Mikhail Grigorenko, for example.  The selection of Morgan Rielly instead shows the Leafs wanted no part in desperate moves and simply took the best player available, all things considered.
In fact and somewhat amazingly, Burke even claimed that Leafs scouts had Rielly ranked number one, ahead of D Ryan Murray and all those talented Russian forwards: "I would not say that if it was not true, just to build up the pick."
With Rielly, the Leafs pick up a blueliner that has drawn comparisons with Duncan Keith, Kris Letang and Erik Karlsson.  The Moose Jaw power-play quarterback is an all-around talent with poise, a strong skater with a great shot, with vision and sense that improves the play of those on the ice with him.
In addition to his service with the Warriors, the six-foot, 200-pound Vancouver native has played for the Notre Dame Hounds and represented Canada at the under-18 Ivan Hlinka tournament.
Perhaps the biggest question mark surrounding Rielly is, well, is he really as good as they say he is? Since he tore his anterior cruciate ligament (ACL) in November and played only 17 games this year, it's difficult to say whether the point-a-game pace he put up in that span would have continued throughout the year.  Although massive year-on-year point gains are common at the junior level, Rielly tallied only 28 points in 65 games the previous year.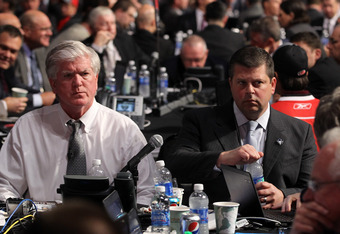 Bruce Bennett/Getty Images
Considering these low games played totals, another legitimate question is Rielly's durability.   He wouldn't be the first defenseman cheated of a career from an amateur-level knee injury. 
Fortunately, Rielly has modern medical science itself on his side. ACL injuries pose much less of a long-term risk than they did in the past.  Penguins Center Evgeni Malkin underwent a similar surgery to Rielly's last season and all he did was capture the Hart, Art Ross, and Lester Pearson trophies this year.
To cap off his recovery, Rielly excelled at this year's NHL Combine, a series of public physical conditioning tests undergone for the benefit of scouts. His impressive results there certainly helped quash some doubts that may have been lingering in the minds of a few NHL GMs and certainly Brian Burke's.
Rielly's drive and dedication to overcome his injury scored high marks with Burke. "He viewed it as a challenge, and he met that challenge with legendary workouts to rehab this. While he was hurt, he was meeting his team on the road when he could not play. Little things like that showed character. This kid was brought up right. The way he attacked his rehab and recovered was impressive."
Rielly appears to have impressed even himself with his showing at the draft. "If you had told me in October when I was healthy and that I would be drafted to Toronto in the top five, I would not have believed you. To have this experience is unreal. I'm honoured and extremely proud to be a Leaf."
There is one person who is possibly more proud than Morgan: his father, a big Leaf fan, who probably never imagined in his wildest dreams that his son would one day represent perhaps the brightest spot on the future of his favourite team's defense corps, a young impressive group that already includes Luke Schenn, Jake Gardiner, Carl Gunnarsson, Cody Franson, Jesse Blacker, Korbinian Holzer and Stuart Percy.
Some speculate that this glut of back end talent will lead to a imminent trade to address the Leafs' deficiencies in goal and at the forward position.
That is of little concern to Rielly at this point of course. The 18 year old is expected to rejoin Moose Jaw for the coming year, though there is a chance he could wow at training camp and earn a spot with the big club, much as Schenn did in 2008-2009.