NBA Draft 2012: Kendall Marshall and the Top 7 Dark-Horse Candidates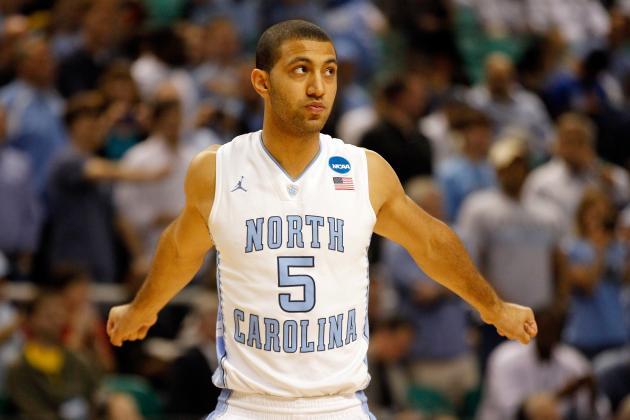 Streeter Lecka/Getty Images
Kendall Marshall could be a major draft day sleeper.
Anthony Davis is destined to do big things in the NBA.
Bradley Beal, Michael Kidd-Gilchrist, Harrison Barnes and Thomas Robinson could all follow suit.
But none of that would surprise anyone. Those are, after all, the top five prospects in the entire class.
Every year, however, a few players slip past the lottery and then shock people with their success in the league. The likes of Tony Parker (28th overall in 2001), Rajon Rondo (21st overall in 2006) and Roy Hibbert (17th overall in 2008) have made a countless number of general managers who passed on them regret it ever since.
Let's examine the most likely dark-horse candidates of the 2012 draft with the potential to do the same.
Begin Slideshow

»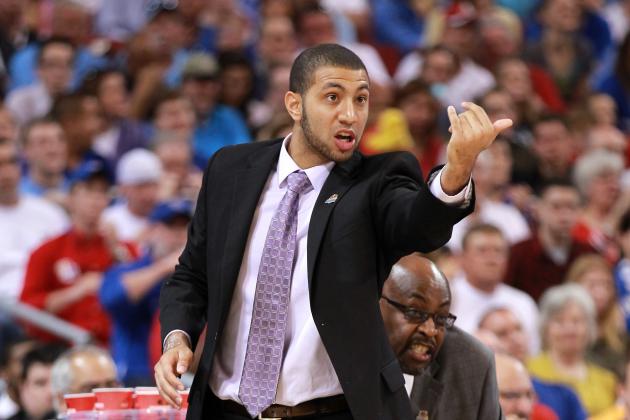 Andy Lyons/Getty Images
Even when Kendall Marshall was out with a fractured wrist, he still instructed his teammates from the bench.
North Carolina's Kendall Marshall has always flown under the radar.
Despite leading his high school to a Virginia Independent Schools Division I championship his senior year, Marshall was ranked as just the 42nd best recruit on Scout's national list. He was also outside of the top 20 on ESPNU and Rivals.
Then in college, although he was the glue guy on a very good Tar Heels team, Barnes, John Henson and Tyler Zeller received the majority of the spot light.
And now, once again, even though has has shown great promise, many mock drafts project him going in the 15-20 range.
He has been disrespected his entire career and will now have a chance to truly prove the critics wrong once and for all.
The 6'4" point guard won't wow you with his scoring ability—he averaged just 8.1 points per game—or his jump shot—he knocked down just 35.4 percent of his three-point attempts—but he indisputably knows how to run a team.
Marshall is a floor general in ever sense of the term who looks to get his teammates involved early and often. He even set the single-season ACC record for most assists with 330, outdoing the likes of Chris Paul and Ty Lawson.
That is quite the impressive feat!
Don't be surprised if he ends up being the steal of the entire draft, even if he is selected just outside the lottery.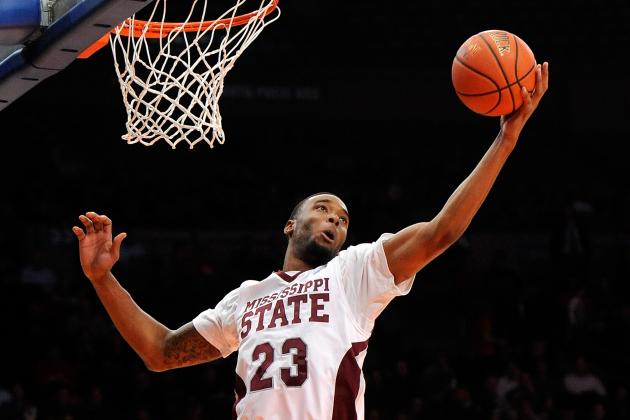 Patrick McDermott/Getty Images
Arnett Moultrie's size and length allowed him to lead the SEC in rebounding.
One thing to look for when searching for dark horse candidates is improvement from one season to the next.
And very few prospects have improved quite as much as Arnett Moultrie.
After two seasons of being stuck in more of a supporting role at UTEP, Moultrie transferred to Mississippi State. The tougher competition clearly didn't bother him, as he went on to star for the Bulldogs from day one.
His 10.5 boards per game led not only his team, but the entire SEC. He is extremely aggressive in crashing the offensive glass in particular and he knows how to finish strong at the rim when he does.
This is one area of his game that should translate seamlessly to the next level.
Moultrie is also excellent at finding openings and cutting to the basket for easy looks. Despite his lanky frame, he is fully coordinated and extremely agile.
But don't think he is only capable of being a garbage man offensively in the NBA. The redshirt junior demonstrated significant developments to his post game, showing a very soft touch around the rim. His jump shot has also improved, as he shot a stellar 78.0 percent last year compared to just 53.5 percent as a freshman.
Right now, Moultrie is a great athlete with the potential to become an elite one if he is able to add some muscle to his broad frame. He is very versatile and should be able to play minutes at both power forward or center in the league.
Good bigs are rare to come by and this 6'11" beast may have what it takes to eventually earn that title.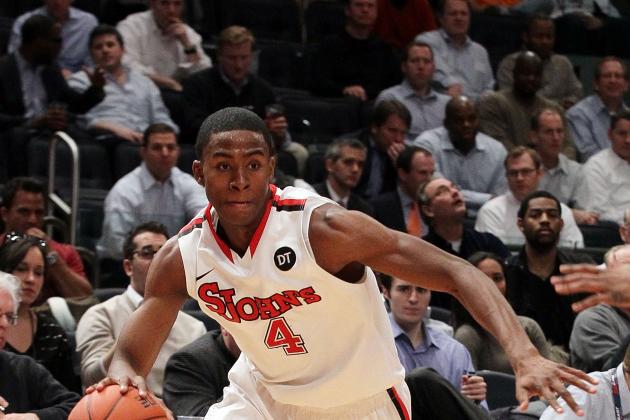 Jim McIsaac/Getty Images
Moe Harkless is an aggressive wing with a very high ceiling.
Had St. Johns' Moe Harkless remained in college for his sophomore campaign, we could be talking about him as a potential top five pick in 2013.
Instead, the forward is projected to go in the 15-22 range of this year's draft.
Harkless has an almost perfect physical profile to play on the wing at the next level; he is tall (6'9"), long, athletic, quick and explosive. The only thing he is missing is strength, which should come in due time as he matures and continues to workout.
Despite the fact that he was inconsistent for much of the season, he did show quite a few flashes of superstardom. His 32-point, 13-rebound performance on 14-of-17 shooting against Providence was extremely impressive as was his 30-point, 13-rebound effort versus Duke.
While his abilities to rebound the ball at a superb rate for his size, defend very efficiently and run the floor and finish in transition are all excellent, perhaps the best thing that Harkless brings to the table is his effort.
He truly goes all out and supplies a great amount of energy every time he steps foot on the court. He is willing to take charges, dive for loose balls and is always as aggressive as possible on both ends of the court.
Though he may take a couple years longer to transition to the NBA than some of the other first-round prospects due to his raw skills, he could be well worth the wait.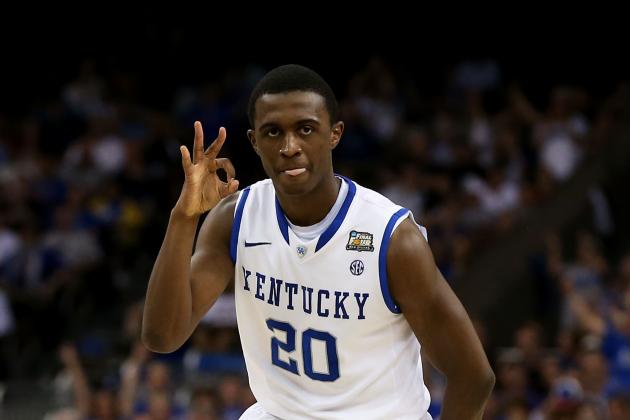 Jeff Gross/Getty Images
Doron Lamb is the top three-point shooting prospect in the draft.
Okay, someone please explain this to me.
A player who led the NCAA in three-point shooting, can score in a variety of ways, is a very solid athlete and played on the national championship Kentucky Wildcats is somehow a projected second-round pick?
Clearly people are sleeping on Doron Lamb.
The 6'5" 2-guard hit on an astounding 46.6 percent from deep last season. Many of these shots were contested too, as Marquis Teague struggled with his playmaking ability for much of the year.
Lamb is also more than capable of scoring off the dribble, driving all the way to the basket and tossing up a little floater in the lane. His offensive instincts are off the charts.
And it's not that the knack on him is on the other end of the court. While he doesn't get a ton of steals or blocks, his basketball intelligence and effort make up for his lack of quickness and allows him to be a quality defender.
Regardless, whichever team selects him will be getting perhaps the best overall value in the entire draft.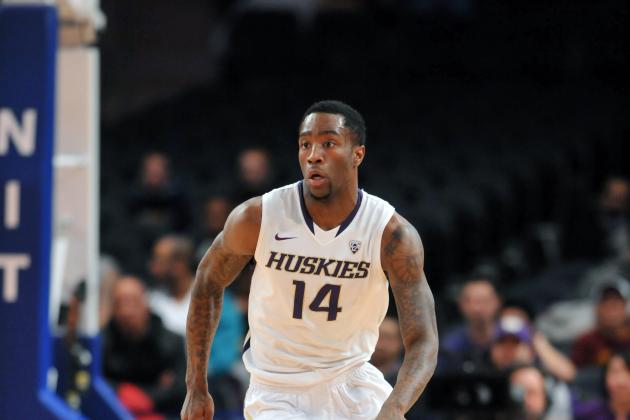 Jason Szenes/Getty Images
Despite the red flags, Tony Wroten is one of the most talented players in the draft.
Don't get me wrong, Tony Wroten has plenty of red flags.
He's sloppy, possesses an awful jump shot and has a tendency to revert back to his left hand on drives.
These have been well-documented and they're all true.
But at the same time, his talent level is far superior than the early second round draft projection he's been pegged with suggests.
The Washington combo guard has a skill set eerily similar to that of Tyreke Evans. He is an excellent ball-handler, extremely aggressive and at his best in isolation sets.
After receiving national hype since eighth grade, Wroten did not disappoint in his sole season with the Huskies. He averaged 16 points, five boards and nearly four assists per contest and was eventually named to the Pac-12 First-Team All-Conference.
If he manages to put everything together, he has the potential to become a star at the next level.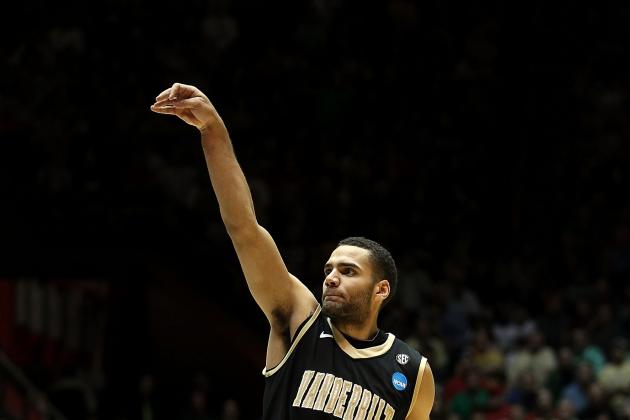 Christian Petersen/Getty Images
Jeff Taylor's jump shot has improved significantly since he first stepped foot on Vanderbilt's campus.
If you're searching for a perimeter stopper, look no further than Vanderbilt's Jeff Taylor.
The 6'7" wing has been named to three SEC All-Defensive teams in his four years with the Commodores. He possesses elite athleticism, strength and quickness allowing him to lockdown just about any type of player he goes up against.
Furthermore, Taylor has turned himself into an excellent jump-shooter—knocking down a superb 42.3 percent of his 156 treys last season. This was after being a total non-factor from deep just two years prior when he shot 1-for-11 the entire season.
Yet, with his perfect NBA physique, beautiful touch from deep and defensive prowess, the senior is only projected as a late first-round pick.
Absurd!
Whichever team selects him will be getting a player capable of filling a Bruce Bowen-esque role—but with more potential offensively—who can make significant contributions from day one.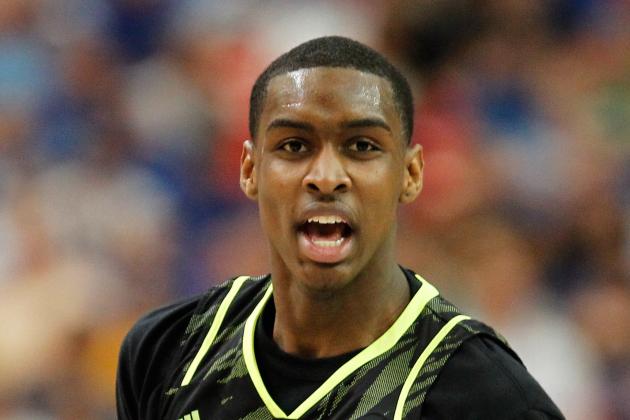 Streeter Lecka/Getty Images
Don't sleep on Quincy Miller! He has the potential to become one of the top players of this draft.
Baylor's Quincy Miller was once considered the next Kevin Durant.
One torn ACL later and he is instead viewed as a very risky, borderline top 20 prospect.
The 6'9" swingman had an up-and-down freshman season for the Bears, highlighted by an impressive 29-point, four-rebound effort against the eventual Big-12 champion Missouri Tigers.
For every one of these superstar outings, however, Miller had several very subpar performances. Of his 37 games played, he failed to score more than six points in 12 of them.
Throughout the year, it was clear that he was missing the elite explosiveness that he had in high school. He seemed a step slow and was tentative at times.
Regardless, the 19-year-old is one of the most skilled players in the draft. He has the versatility to take his man off the dribble and create his own shot or post-up, where he has a variety of moves and excellent footwork.
If he is able to fully recover from the knee injury suffered in December of 2010, he could realize his full potential and become the steal of the draft.