2012 NHL Draft Results: Pick-by-Pick Grades and Results for Day 2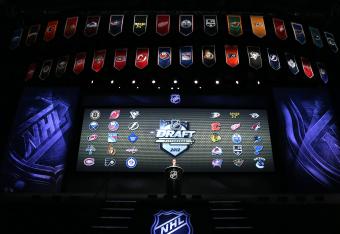 Bruce Bennett/Getty Images
Day 1 of the NHL draft is when the vast majority of the most highly touted prospects are taken.
Day 2, however, provides every team with opportunities to improve the immediate and long-term fortunes of its franchise.
For example, the second day of the 2003 NHL draft featured future stars that included Patrice Bergeron, Shea Weber, Dustin Byfuglien, David Backes, Loui Eriksson and Jimmy Howard.
While it's always nice to have a first-round pick blossom into a franchise player, it's every scout's dream to have a late-round pick turn into a gem.
Check back here for updates, analysis and pick-by-pick grades during Day 2 of the NHL draft, starting Saturday at 10 a.m. Eastern.
From the looks of today's picks, Steve Mason's time in Columbus could be up. First, the team picked up Bobrovsky from Philadelphia, and then today, Scott Howson took Oscar Dansk with the first pick of the second round. In case Dansk wasn't enough, the Jackets then used the first pick of the third round to take Joonas Korpisalo, so Columbus now has two of the top three Europeans of this year's crop of goaltenders. Can't say I agree with taking two goalies in the first three rounds though.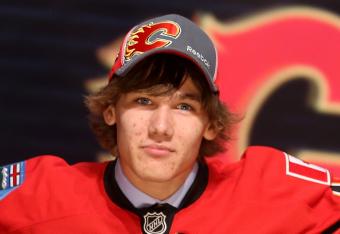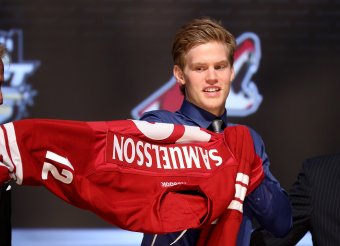 Bruce Bennett/Getty Images
It's obviously about three or four years too early to say, but I can't help but think there are a couple of players that have a high probability of turning out to be busts. In particular, Calgary's Mark Jankowski was a selection that I couldn't understand from the beginning. The Flames need an infusion of youth now, not four years from now, and Jankowki, who spent last year playing for Stanstead, a high school in Quebec, will need at least three seasons to physically and mentally mature into a top-six forward.
Another early pick that seemed questionable was Phoenix's first rounder Henrik Samuelsson. Samuelsson certainly has the tools to become a serviceable top-nine forward, but was he worth a first rounder? He finished the year ranked by Central Scouting as the 75th best North American skater, and despite respectable numbers with Edmonton of the WHL (23 points in 28 games), is he what Phoenix needs? Last time I checked, the Coyotes are a solid defensive team whose only glaring need is a scorer, and Samuelsson is far from an offensive dynamo.
Looking back, Montreal's second round couldn't really have gone any better. Yeah, they passed on Matt Finn, who might've been the best player on the board, but they got a very attractive prospect in Sebastian Collberg at 33rd overall, who seems only a year or two away from being NHL-ready. One would have to have thought that Collberg's superb performance at the 2012 World Juniors, where he tallied seven points for the Gold Medal-winning Swedish team, would have cemented his status as a top-20 pick. Later in the second round, the Habs got Dalton Thrower, a skilled defenseman capable of joining the rush, who really would've been gone earlier had there not been so many promising prospects at that position. Thrower and Collberg, obviously in addition to Galchenyuk, could all become everyday players for Montreal in the near future.
The fall of Grigorenko is a bit puzzling considering the talented Russian was, along with Filip Forsberg, considered to be in the mix to be taken within the first five selections. This draft, being extremely defense-oriented, caused guys like these two to drop, and not necessarily due to a lack of talent. Grigorenko tallied 85 points in his first season playing in North America, and has all the tools to be the most offensively talented prospect the Sabres have had since Tomas Vanek.
39. Lukas Sutter (Winnipeg): If bloodlines are any indication, the Winnipeg Jets' second round pick has a good shot at being an everyday NHL player. Lukas Sutter, the son of Rich, nephew of Duane, Darryl, Brent, Ron and Brian, and cousin of Brandon, Shaun and Brett, is the tenth member of the family to be drafted. Unlike the rest of the Sutters, Lukas skates for Team USA in international competitions, but he still plays with the patented Sutter brand of toughness.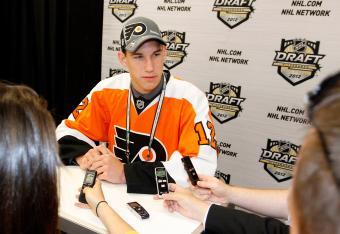 Couldn't agree more with Michael Hatamoto's comment below:


The Flyers should have opted to take a low-risk prospect if they were going to go with a goaltender in the second round, but instead they took one of the biggest wildcards available. Stolarz's biggest asset is his size, and he may indeed go onto being a serviceable NHL goalie, but having only played in the NAHL for one season, he'll need at least three, maybe even four years at UNO before he'll even look at beginning his pro career.
It's starting to feel like Keith Yandle getting dealt is only a matter of time at this point. Michalek going back to Phoenix seems to suggest Yandle will be moved, unless Phoenix is simply preparing to lose firepower up front on July 1st, assuming they can't reach an agreement with captain Shane Doan.
One thing's for sure about Brian Burke, he marches to the beat of his own drum. Despite virtually everyone else having Nail Yakupov, Ryan Murray or Galchenyuk/Forsberg as the top two players in the draft, Burke told TSN that if the Leafs had the top pick in the draft, they would've taken Morgan Rielly.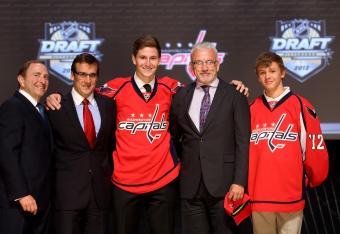 Speaking of being fortunate, the Capitals' draft couldn't have gone much better. First, George McPhee managed to pry Mike Ribeiro, a viable top-six center, away from Dallas in exchange for a second rounder and Cody Eakin, which effectively checked off the biggest item on McPhee's to-do list for the summer. Then, once the Caps' No. 11 overall pick rolled around, Filip Forsberg, widely considered to be a surefire top-five selection, was still available. Five slots later, McPhee added a power forward in Tom Wilson. Though Wilson may be a bit of a gamble, as his numbers haven't been overly impressive, the Caps had the luxury of taking a chance on him when they got Forsberg, who appears to be one of the most promising prospects in this year's talent pool.
Does the Leafs trading the Monster mean they're hot on Luongo? There were 24 goaltenders picked during the seven rounds of the draft, and Toronto didn't take any of them. That being said, I think this was a great weekend for the Leafs. Matt Finn and Morgan Rielly both have the look of NHL defensemen, and Brian Burke was fortunate that Finn fell that far.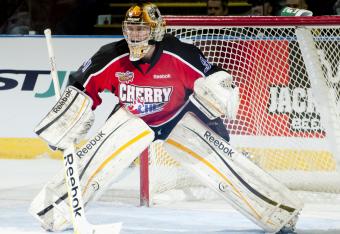 Round 7 Steals:
188. Louis Lanne (Minnesota)- This is a sentimental pick in some respects, as Nanne is the grandson of the legendary former North Stars defenseman and general manager, Lou Nanne, as well as the son of current Wild scout Marty Nanne. Nanne didn't blow the doors off the competition in the Minnesota high school league, but the Wild will keep a close eye on him when he begins his freshman year with the Golden Gophers in the fall.
191. Brandon Whitney (Chicago)- It's amazing that the goaltender ranked second among all North American goaltenders by Central Scouting lasted until the final round of the draft. Whitney's big (6'5") and only became a regular starter in the QMJHL this season, and was among the best in the league. He has time to develop, but with his size and reflexes, there's a chance he could be Corey Crawford's successor in the Blackhawks' net.
211. Nick Ebert (Los Angeles)- The last pick in this year's draft was once considered to be a late first round pick, but after a lackluster sophomore season with the Windsor Spitfires, he tumbled down scouts' list in a hurry. He has NHL-ready size and skill, but his decision-making has been called into question all year long. That being said, L.A. made a smart move by taking a chance on an 18-year old kid who still has all the time in the world to turn things around.
Round 6 Steals
158. Christoph Bertschy (Minnesota)- The Swiss professional league is considered to be one of the top three or four leagues in Europe, and Bertschy played there last year as a 17-year old. Playing for Bern, the talented center put up 16 points in 31 games, demonstrating that he's mature beyond his years (and size).
165. Coda Gordon (Calgary)- Still just 17, Gordon will be given at least another two years to develop in the WHL. In his first full season with Swift Current, Gordon put up a very respectable 53 points in 66 games, and should be looking to build on that next season. Two years from now, this could look like a great selection.
167. Riley Barber (Washington)- The Miami Redhawk commit played the 2011-12 season with the US Under-18 team in the USHL, and finished third on the team in points and second in goals. Though not big, Barber has the potential to be a solid two-way forward at the NHL level, if given time to develop.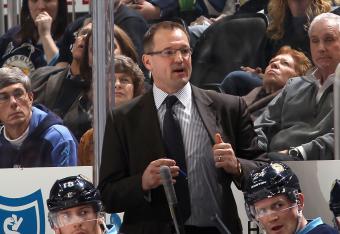 Don't think there's a better spoken coach than Dan Bylsma in the league. Except maybe Boudreau.
Steals of Round 5:
122. Charles Hudon (Montreal)- Hudon may be slightly undersized, but he's got all the offensive talent to be a big-game player at the next level. He posted 60 points as a QMJHL rookie a year ago, and became a point-per-game performer this season. If he can take the next step this year, Montreal may have a gem on their hands.
131. Seth Griffith (Boston)- Overlooked due to his small stature and 1993 birthday, Griffith was passed over for four rounds before the Bruins claimed him, despite the fact that he lead the OHL's best team in scoring as a 19-year old. Griffith posted 85 points in the regular season, and another 23 points during the postseason. If his major junior output is any indication, he could be a surprisingly good secondary scorer at the NHL level.
133. Logan Nelson (Buffalo)- An American-born center, Nelson could be a long-term project worth undertaking for the Buffalo Sabres. At 6'1" and over 190 pounds, Nelson has the size to be an effective pivot at the next level, and considering the numbers he put up as a WHL rookie (62 points in 71 games), his offensive upside could be higher than expected.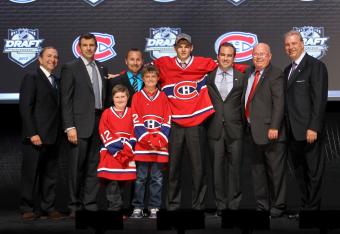 Montreal has really cleaned up at this draft. They did very well by getting Galchenyuk wtih the No. 3 overall pick, got a solid defenseman in round two, and just got very good value with their fifth round pick, which brings us to...
93. Erik Gustafsson (Edmonton)- Defensemen with professional experience heading into the draft are looked at differently than amateur players, but that still doesn't explain how a 20-year old D-man like Gustafsson slipped through the cracks. He played well in the Swedish Elite League as a rookie this year, and could be a nice sleeper for the young (and suddenly high-flying) Oilers.
104. Gemel Smith (Dallas)- An 18-year old who notched 60 points in 68 games with Owen Sound, the speedy Smith certainly has the tools to be an even bigger scorer at the major junior level. If he makes that jump to the upper echelon of OHL scorers next year, this pick could look good.
110. Andreas Athanasiou (Detroit)- A versatile forward who can play any position up front, Athanasiou is the type of player Detroit loves. He's a product of the London Knights' development program, and has improved steadily during the past two seasons.
Gotta love Pittsburgh fans, showering everyone not wearing black and gold with boo's.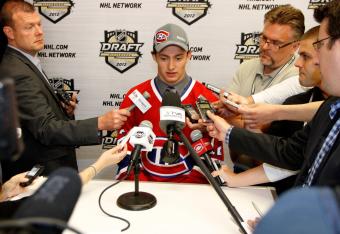 Top steals of Round 3:
64. Tim Bozon (Montreal)- Bozon, son of legendary French goal scorer Phillipe Bozon, has been putting up good numbers with Kamloops of the WHL, with 71 points in 71 games this year. At 6'0", Bozon has the size to be a scorer at the next level as well.
71. Tanner Richard (Tampa Bay)- Richard, overlooked by many as an 18-year old, came to North America for the 2011-12 season and notched 48 points in just 43 games with Guelph of the OHL. He could be a steal, especially if the upward trajectory of his development continues.
83. Matthew Murray (Pittsburgh)- Originally pegged as the No. 2 goaltender available when midterm rankings came out, Murray tumbled down scouts' lists during the second half of the season. Still, at No. 83, Murray could be a gem of a pick this late.
The Jonas Gustavsson trade to Winnipeg signals an end to the "Monster" experiment, and could it be the Jets' management putting some pressure on Pavelec and his agent to get a deal done?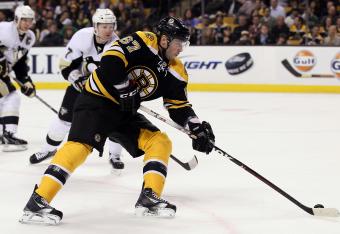 In addition to the second through fourth rounds, there have been a couple of trades, and as usual, they're less earth-shattering than the the ones that went down on Day 1. The first, which saw Benoit Pouliot (one of the biggest busts of a 4th overall pick you'll ever see) go to Tampa Bay in exchange for the No. 131 pick in the draft, is a cautionary tale in and of itself for other teams. Pouliot's development was rushed by the Wild, and he never recovered...he's now on his fourth NHL team and he's only 25.
56. St. Louis- Samuel Kurker, RW: After playing with St. John's in a not-so-challenging high school league, he shifted gears and joined the US Under-18 team for a couple of games. Definitely a long-term prospect. Grade: C
57. Vancouver- Alexandre Mallet, LW: A big scorer this season (81 points with Rimouski), he could be a sleeper in the draft. Grade: A-
58. Phoenix- Jordan Martinook, LW: 64 points for Vancouver of the WHL this year, and with how deep Phoenix is today, he'll get time to develop. Grade: C+
59. New York Rangers- Cristoval Nieves, D: Interesting pick for the Rangers, since Nieves played at Kent, a nearby Connecticut boarding school. He's a project, but could pan out into a gem. Grade: B+
60. New Jersey: Damon Severson, D: A big, mobile defenseman capable of putting up some offense, Severson could fit in well with the Devils' style. Grade: C+
61. Dallas: Devin Shore, C: A gamble, because Shore hasn't played anything better than Tier 2 hockey in Canada, but he certainly has shown some offensive abilities. Grade: C
51. Montreal- Dalton Thrower, D: Once considered a late-first round prospect, Thrower fell all the way into the last 10 picks of the second round. The Canadiens loaded up on offense in the first round, and Thrower's a great catch in the second. Grade: B+
52. Pittsburgh- Theodor Blueger, C: Pittsburgh taking a center who blossomed at Shattuck St. Mary's? Think their experience with that Crosby guy had anything to do with this?...Nah, your'e right, probably not. Grade: B
53. Tampa Bay- Brian Hart, RW: A massive winger out of Exeter in the New England Prep League, Hart will be a long-term prospect, but he has the size to be a difference maker at the next level. Grade: B-
54. Dallas- Mike Winther, C: After a solid breakout season in the WHL, Winther is worth taking a flier on this late in the second round. Grade: C+
55. San Jose- Chris Tierney, C: A good two-way forward from London of the OHL, definitely the type of player the Sharks could use down the line. Grade: B+
46. Minnesota-Raphael Bussieres, LW: Good size, but not such great numbers for a guy in his third season of QMJHL hockey. Minnesota needs better than that. Grade: D+
47. Carolina- Brock Mcginn, LW: Younger brother of current Av Jamie, Brock Mcginn hasn't put up the points for Guelph, but the Canes hope he can fill a similar role to his brother. Grade: C
48. Chicago- Dillon Fournier, D: A good, mobile defenseman who is clearly capable of jumping up in the rush. Hmmm...that sounds like it'd fit in Chi-town. Grade: B
49. Detroit- Martin Frk, RW: I know better than to disagree with any Wings pick when it comes to Czechs, Russians or Swedes. Grade: A (out of respect)
50. Nashville- Colton Sissons, C: For a team that's first two picks were in the second round, Nashville got two top-end talents here. Sissons was supposed to be a top-20 guy on many lists. Grade: B+
41. Colorado- Mitchell Heard, C: The second centerman taken from Plymouth of the OHL in the draft so far, Heard could be a sleeper. Was a point-per-gamer this year. Grade: B
42. Calgary- Patrick Sieloff, D: A forward would have been nice here, but I guess Calgary's stocking up for when they ship JayBo out of town. Grade: B-
43. Dallas- Ludwig Bystrom, D: Put up solid numbers with MoDo's Jr. team, and is regarded as a mobile two-way defenseman. I'll take that. Grade: B
44. Buffalo- Jake Mccabe, D: After a good freshman season at Wisconsin, Mccabe brings pretty solid value for a mid-second round pick. Grade: C+
45. Philadelphia- Anthony Stolarz, G: No surprise here. Philadelphia is always in need of goaltenders (especially cheap ones). However, he's a very, very long-term prospect. Grade: C-
36. Anaheim- Nick Kerdiles, LW: Expected to be a late-first rounder in many mock drafts, he's a decent forward prospect with decent size and skill. Grade: B
37. Nashville- Pontus Aberg, LW: The Predators' first selection of the draft is a good one, as Aberg is better than a second round talent. The Preds always seem to draft well. Grade: A-
38. Carolina- Phillip Di Giuseppe, LW: Put up 25 points as a freshman at Michigan, and though he may be a long-term project, he seems to have enough skill to make the pick worthwhile. Grade: B-
39. Winnipeg- Lukas Sutter, C: Big, strong center from Saskatoon of the WHL. The Jets are building an identity as a team that's tough to play against, and they did just that here. Grade: A
40. Tampa Bay- Dylan Blujus, D: After addressing their goaltending in the first round, Blujus is a nice defensive prospect, but I still would've rather seen Stevie Y take a forward here. Grade: C
This article is
What is the duplicate article?
Why is this article offensive?
Where is this article plagiarized from?
Why is this article poorly edited?