2012 NHL Draft Picks: Breaking Down the Top 5 Picks
June 23, 2012

Justin K. Aller/Getty Images
The top five picks of the 2012 NHL draft are in the books, and there weren't any real surprises. 
The players taken at the top are young, but the teams that drafted them are hoping they'll come in and make an instant impact on their respective rosters in a positive way. 
Here is my take on the top picks and what they bring to the table to the teams that drafted them.
1. Edmonton Oilers: Nail Yakupov, Sarnia
This was a no-brainer. Yakupov is an elite scorer and athlete who will come in and fit perfectly with the pieces already in place for the Oilers. He was a point-making machine this past season for Sarnia, collecting 31 goals and 38 assists in only 42 games. 
The one thing this pick doesn't do for the Oilers is address their obvious need for defensive help. Yakupov is a pure offensive threat, and the Oilers will need to find some help via free agency if they hope to be a complete team next year.
Grade: A
2. Columbus Blue Jackets: Ryan Murray, Everett
Murray, at the age of 18, is already NHL-ready. He isn't a big defenseman, at only 6'0" and 201 pounds, but Murray has a lot of other skills going for him. He has excellent feet, good hands, a great stick and is a true leader. 
Murray will make an immediate impact for the Blue Jackets next year, and he is an excellent pick here. 
Grade: A
3. Montreal Canadiens: Alex Galchenyuk, Sarnia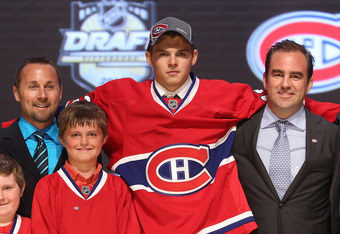 Bruce Bennett/Getty Images
Galchenyuk is a bit of a risk here at No. 3. He is coming off of a torn ACL injury that kept him out of the season for Sarnia, though he looked fine at the combine.
Galchenyuk is a powerful skater who can truly fly on the ice. Combined with his prolific offensive repertoire, he'll be a force to be reckoned with at the next level around the net. In fact, it could be argued that Galchenyuk is a more well-rounded scorer than No. 1 overall pick, Yakupov.
Grade: B+ (because of the risk involving his knee)
4. New York Islanders: Griffin Reinhart, Edmonton
Reinhart, at the tender age of 18, is a young, young player with more potential upside than any other player in the draft. 
He is a huge guy at 6'4" and 207 pounds, with the frame to add more weight as he puts on muscle with age. Reinhart is also a big-time enforcer who has the desire to become a legitimate enforcer in the NHL. He isn't quite ready to make an impact for the Islanders, though, as he still needs to develop his game.
Grade: B+
5. Toronto Maple Leafs: Morgan Reilly, Moose Jaw
Reilly is another player here at the top who is coming off an ACL injury. His injury kept him out of most of last season's action for Moose Jaw, but he was able to play toward the end of the year. 
Reilly aced this year's combine, showing strength, endurance and strong skating. He is a skilled defenseman who will challenge right away for playing time in the Maple Leafs' rotation next year. 
Grade: A