2012 NHL Draft Picks: Columbus Blue Jackets Make Most of Draft with Ryan Murray
June 22, 2012

Bruce Bennett/Getty Images
The Columbus Blue Jackets needed the most out of any team in the NHL this offseason, that much was evident after a woeful 2011-12 season in which they boasted a convincing, league-worst 65 points. 
They got off to a quick lead among their NHL counterparts with the selection of defenseman Ryan Murray.
His experience is unparalleled in his draft class. He arrived in the WHL in 2009 and has been a full-time player there ever since.
Murray's been a captain in virtually every level he's played in, and he's bringing those leadership qualities to the Blue Jackets. He's become a polished player and should be able to contribute immediately with little to no indication that he's in his first year in the league.
Perhaps the best indication of his skill and value is the fact that he was just one of two junior players invited to Canada's 2012 IIHF World Championships training camp. 
He was named a captain of his Everett Silvertips team of the WHL at just 18 years of age, and he didn't disappoint, as he put up 31 points in 46 games.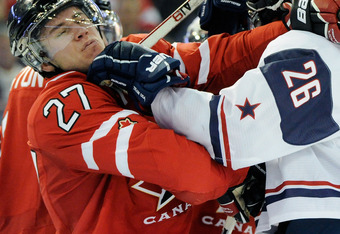 Richard Wolowicz/Getty Images
While those numbers don't blow you away, they aren't meant to. Murray is a true defenseman who knows his role and doesn't put himself in bad positions by aggressively trying to score. 
That's just what the Blue Jackets need.
There were only two teams who allowed more goals than Columbus last season, and they gave up 23 more goals than any other Western Conference team.
He's an excessively dominant defensive presence and his skating and stick skills allow him to shut down offensive opportunities for his opponent better than many defenders currently in the league.
Columbus made their first strides toward better defending by addressing the biggest need: Goaltending. They acquired Sergei Bobrovsky from the Flyers earlier this week, who has shown flashes of greatness in the league before a disappointing 2011-12 campaign.
Bobrovsky is young and has proven to be a future franchise goalie in the league, so this move is a home run for Columbus' chances of building a playoff team sooner rather than later.
Adding Murray will only speed up that process, as they add him to an increasingly impressive defensive unit that already features Jack Johnson and James Wisniewski. 
All of the sudden, the Blue Jackets seem to be building a strong top defensive line and goaltender combination that has proven to be the biggest (and hardest) step toward becoming a good, and potentially great, team. 
It's not very often that teams are able to add a player with the full package of leadership skills, pure on-ice ability and experience that Murray possesses. 
As bad as these Blue Jackets have been throughout recent years, those days are now numbered with the moves they made this week.