Philadelphia Eagles: 2012 Stat Projections for Each Eagles Running Back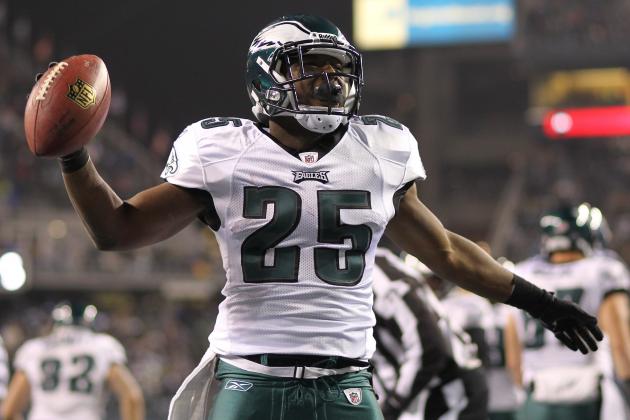 Otto Greule Jr/Getty Images

Even though running the ball has never been the focal point of Andy Reid's West Coast offense, the talent and depth the Philadelphia Eagles possess at the position is undeniable.
For one, I don't think Andy Reid will be keeping a fullback on the roster in 2012 which will allow him to keep four running backs—Bryce Brown, Chris Polk, Dion Lewis and LeSean "Shady" McCoy.
Two of those guys were former high school standouts and the other two were Pitt Panthers with high expectations. McCoy led the league in rushing touchdowns in 2011 as Vick and the passing game faltered nearly every week. The running game—for once—was the only bright spot in a sea of darkness for the underwhelming "Dream Team."
Now the crew is back and better than ever with the hated Ronnie Brown out of town and two exciting young rookies in to take his place. So, how will the running game stack up statistically?
Here are projections for each Eagles running back.
Begin Slideshow

»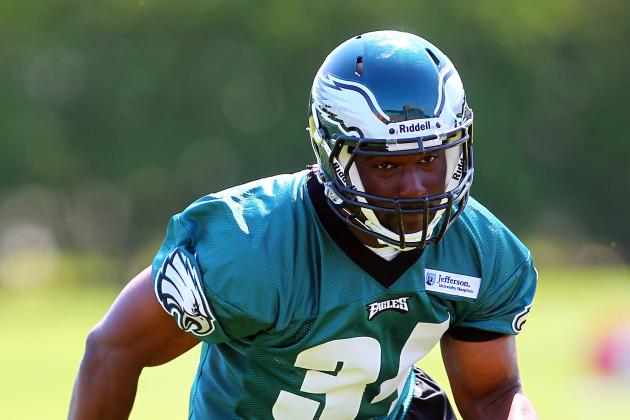 Rich Schultz/Getty Images

2011 Statistics: N/A (college)
Bryce Brown has looked nothing short of impressive so far this offseason, and I think he'll carry that over into the regular season. Unfortunately, he probably won't see as many touches as either Polk or Lewis right away, but his versatile running style will help him be an efficient change-of-pace back for this team.
His largest role will likely be as a garbage-time runner or as an emergency plug-in back in case several backs go down in front of him, which is why I have such low statistical expectations for the rookie.
Projection: 10 ATT, 43 YDS, 1 TD, 4.3 AVG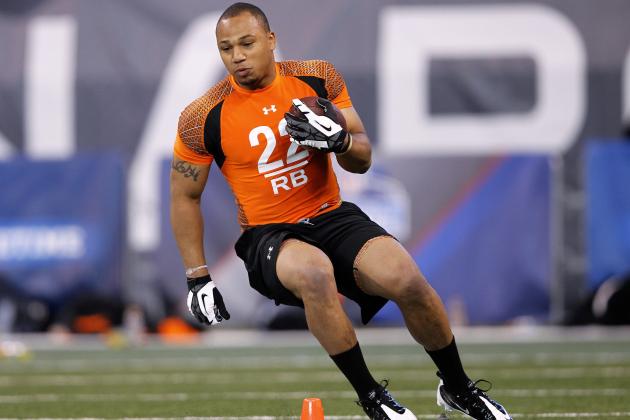 Joe Robbins/Getty Images
Polk at the NFL combine.
2011 Statistics: N/A (college)
Chris Polk was an excellent running back in college—especially his senior season (via cfbstats.com)—and I think NFL teams put too much emphasis on his shoulder injuries. Sure, injury concerns are a factor, but his workhorse mentality and hard, between the tackles style of running will allow him to go far in today's league.
I think LeSean McCoy will miss one or two games this season because of injuries, during which Polk will be asked to be the team's featured back. I think he'll do really well in that role when called upon, and he'll also snag a couple of touchdowns when Andy Reid asks him to be the team's secondary goal line back behind Shady.
Projection: 32 ATT, 123 YDS, 3 TD, 3.8 AVG
Patrick McDermott/Getty Images
Lewis runs against the Miami Dolphins.
2011 Statistics: 23 ATT, 102 YDS, 1 TD, 4.4 AVG
The Eagles tertiary running back behind Ronnie Brown in 2011, Dion Lewis will definitely see the field more often in 2012 whether it is blocking, catching the ball or rushing.
Even so, the departure of Ronnie Brown is canceled out by the additions of Polk and Brown in Lewis' perspective. They'll probably eat into his snap total more than he would've hoped, which is why I don't see his stats taking off this season—even if his efficiency is still above average.
Projection: 31 ATT, 135 YDS, 0 TD, 4.4 AVG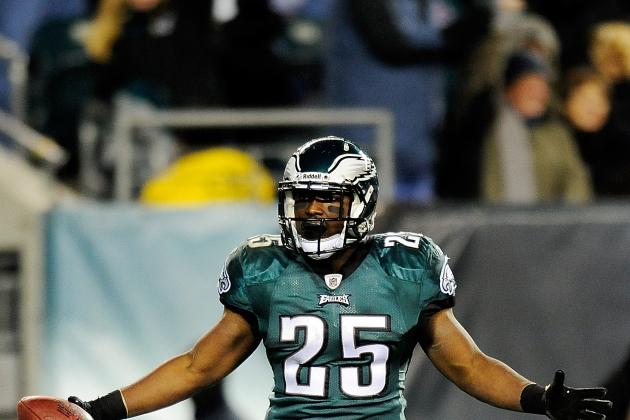 Patrick McDermott/Getty Images

2011 Statistics: 273 ATT, 1309 YDS, 17 TD, 4.8 AVG
LeSean McCoy is an All-Pro back for a reason, but even so, I believe that there is no way the youngster will be able to replicate his legendary 2011 campaign.
For one, Marty Mornhinweg and Andy Reid will be determined to relieve their star back more often using somewhat of a platoon.
Secondly, what he did last year was a product of an inconsistent passing game; now that DeSean and Maclin are ready to go, there will be less of a focus on running the ball in 2012.
Even while I do see LeSean's overall numbers taking a slight dip—I own him in a keeper league, so it hurts me to say that—I think his efficiency will be as good as ever and he can be counted on if/when the Eagles make the playoffs.
Projection: 242 ATT, 1185 YDS, 14 TD, 4.9 AVG