Roy Hodgson's Decision Making Shows He Was a Better Choice Then Redknapp
June 23, 2012

Julian Finney/Getty Images
Roy Hodgson is rapidly showing England fans that the FA's decision to overlook Harry Redknapp for the national team job was the right decision.
While Redknapp's word has started crashing around him, Hodgson is riding a wave of unprecedented adulation from the barmy army as his tactical decisions continue to change England's fortunes in Euro 2012.
It seems Roy can do no wrong with his decision making as England continue to defy their critics, and the former West Bromwich Albion manager is backing up his controversial squad selection with his know how of the game at the international level.
When the FA appointed Hodgson as the new England manager back in May, many were surprised and frustrated that the peoples' favorite candidate, Redknapp, had come in second to a manager who was still coming off the back of a torrid spell at Liverpool in the 2011/12 Premier League season.
But even the most adamant of Happy Harry's followers have to agree that Roy's input in the squad is one of the main reason's that England not only progressed, but won Euro 2012's Group D.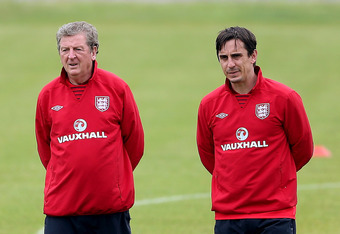 Scott Heavey/Getty Images
His decision to bring Gary Neville into the squad as a coach, despite his inexperience in the position, is one that has helped to settle the younger players in the squad, as shown when Alex Oxlaide-Chamberlain was being prepped by the former Manchester United defender before coming off the bench against Sweden. 
Neville, who was pictured laughing, joking and settling Arsenal's 18-year-old winger, knows what it's like to be a young player at a major tournament and has a calming effect on England's wiz-kids that only someone with experience in that position, while still being close to the modern game, can do. 
Hodgson has also changed games with his tactical decisions throughout the tournament, something that was missing from Tottenham Hotspurs under Redknapp's reign.
His decision to start Andy Carroll against a Sweden side that appeared to be weak against the aerial attack was as astute as it was inspired, while his choice to bring on Theo Walcott and Chamberlain just when England needed an injection of pace in that game showed his ability to adapt to proceedings on the fly.
He won England a point against France with his stubborn approach and refusal to expose his defense to a dangerous French attack, and, although the Ukraine game was disappointing, his philosophy of defense first and attack second led to the side keeping a clean sheet and doing enough to top the group.
It's not been pretty, but it has looked organized. 
England appear to be a side where everyone knows their jobs, despite some individuals putting in poor performances, and Hodgson is going to have to continue to be spot on with his decision making to take the side any further. 
They are, however, exceeding expectations, and many now suspect that without Roy's tactical know how, England would have already made an early exit from this summer's tournament.