NBA Draft 2012: Andre Drummond and the 5 Biggest Boom-or-Bust Prospects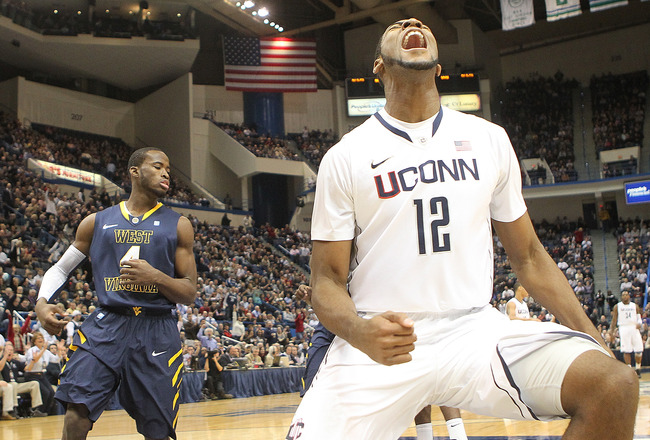 Jim Rogash/Getty Images
Without risk, there can be no realization. Without something to lose, there can be nothing to gain. When a franchise is on the clock, they better understand that with every draft choice they make, their future could take a turn in either direction.
If you don't believe that, what logic do you possess in that aging body of yours?
While there is a possibility of failure with every selection of a prospect, there are always players who come along with "high risk, high reward" labels stamped on their foreheads. The 2012 NBA draft will be no different, boom-or-bust prospects will once again be prevalent.
So, who has the highest ceiling with the lowest basement?
6. Tony Wroten Jr., Washington Huskies
Stephen Dunn/Getty Images
Position: Point Guard
Class: Freshman
Age: 19
Height, Weight and Wingspan
6'6", 203 pounds and 6'9" wingspan
Pros
Unmatched size for a point guard. Powerful dribbler. Can penetrate zone or man defense at will. Flashy dribbler and passer. Finishes strong around and above the basket. Excellent court vision. Natural born playmaker. Excellent athlete.
Cons
Values flash over fundamentals. Very inconsistent jump shooter. Turnover prone. Reckless in transition.
Boom or Bust?
Tony Wroten Jr. is a physical specimen. Consider him Jamal Crawford with a far more powerful attack of the basket.
Just don't consider him a lock to find success in the NBA.
Wroten Jr. has the necessary skills to be a star but the mindset to be a coach's worst nightmare. He often values the highlight reel over the win column, going for a flashy finish rather than the smart play. This is the type of action that will get you benched fast and your path to glory derailed.
It's hard to imagine Wroten Jr. overlooking that fact for long. He may begin his career in his coach's doghouse, but he'll go down as one of the three best point guards in this draft class.
Season Averages:
21.07 PER, 16.0 PPG, 5.0 RPG, 3.7 APG, 1.9 SPG
5. Jeremy Lamb, Connecticut Huskies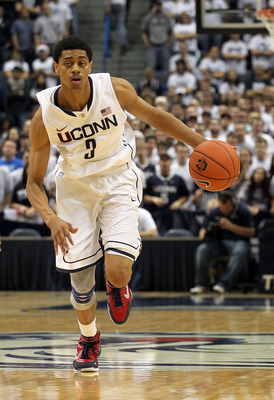 Jim Rogash/Getty Images
Position: Shooting Guard
Class: Sophomore
Age: 20
Height, Weight and Wingspan
6'5", 179 pounds and 6'11" wingspan
Pros
Unbelievable length. Lockdown perimeter defender. Smooth jump shooter. Quick release, lights-out results. Runs the floor with comfort and confidence. Three-point range.
Cons
Very complacent offensively. Tendency to stand and watch the ball. Struggles to move and create for himself without the ball in his hands. Disappears in crunch time.
Boom or Bust?
Jeremy Lamb possesses the physical attributes necessary to dominate any game. He's an unbelievable jump shooter with deep range, an elite perimeter defender and is as long as any 2-guard you can find.
Unfortunately, Lamb is prone to the same issues as James Harden: When the game is on the line, he watches the ball, hesitates and fails to move off of screens. Take him out for the final three minutes, and you've got yourself a valuable weapon.
Or do you?
If Lamb continues to fail to move without the basketball, his playing time is likely to decline. Head coaches have become far less lenient with rookies than in the past, with Houston's Marcus Morris being a prime example of that fact.
Should Lamb overcome that tendency, he'll be a star. If he fails to, he'll ride the pine. I'll go with the latter.
Season Averages
22.05 PER, 17.7 PPG, 4.9 RPG, 1.7 APG, 1.2 SPG
4. Andre Drummond, Connecticut Huskies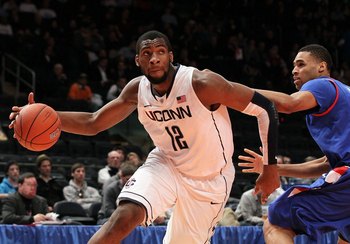 Jim McIsaac/Getty Images
Position: Center
Class: Freshman
Age: 18
Height, Weight and Wingspan
7'0", 279 pounds and 7'6" wingspan
Pros
Massive wingspan. NBA-ready body. Seven-footers are always valuable. Highest basketball IQ of any prospect at his position. Elite shot-blocker. Dominant on the boards. Decent mid-range jump shot. Explosive athlete. Physical defender.
Cons
Inconsistent motor. Finds himself in foul trouble on a consistent basis. Relies too heavily on jump shot. Lacks low-post scoring ability.
Bust or Boom?
Andre Drummond is the type of player whose expectations outweigh his potential. He's poised to become a consistent rotational option, providing efficient starter's minutes to whatever team opts to bring him on board.
Unfortunately, his talents are viewed as top-five worthy. The result of such an opinion will be the dictation of his career.
Drummond will be one of the better rebounders and interior defenders once he finds his own at the NBA level. He won't put up 20 and 10 like some speculate that he might, but his solid contributions on each end should be enough to warrant playing time deep into his career.
His grounded style but explosive ability should be enough to give Drummond a career similar to that of Marcus Camby.
Season Averages
28.4 MPG, 22.15 PER, 10.0 PPG, 7.6 RPG, 2.7 BPG, 0.8 SPG
3. Arnett Moultrie, Mississippi State Bulldogs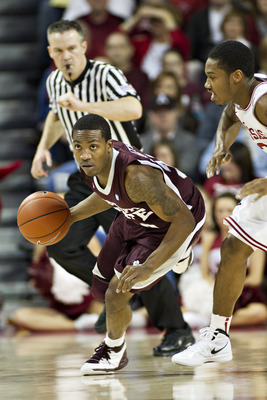 Wesley Hitt/Getty Images
Position: Power Forward
Class: Junior
Age: 21
Height, Weight and Wingspan
6'11", 233 pounds and 7'2" wingspan
Pros
Long, athletic and explosive. Can dominate the glass. Improved steadily over all three years of college. Can run the floor. Much-improved shooting ability. Crashes the offensive boards.
Cons
Greater athlete than basketball player. Relies too heavily on his perimeter game. Underwhelming shot-blocker. Must bulk up.
Boom or Bust?
There are some who believe Arnett Moultrie could go as high as ninth to the Detroit Pistons. There are others who believe Moultrie will fall into the 20s. Regardless of where he comes off of the board, expectations will be high.
Can Moultrie meet them?
A year ago today, Arnett Moultrie was nothing more than an outstanding athlete with little to no basketball abilities. After a season in which Moultrie's production improved across the board, it's not hard to see why some believe that his upside is finally being reached.
For good faith, this man can be labeled a boom.
Season Averages:
24.97 PER, 16.4 PPG, 10.5 RPG, 1.2 APG, 0.8 BPG, 0.8 SPG

2. Austin Rivers, Duke Blue Devils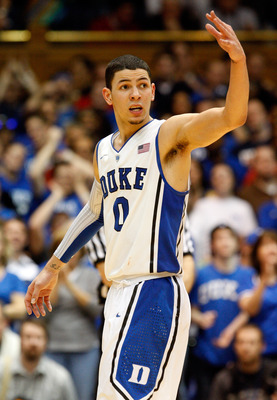 Austin Rivers loved to direct the show. Can he learn to play team basketball, though?
Streeter Lecka/Getty Images
Position: Shooting Guard
Class: Freshman
Age: 19
Height, Weight and Wingspan
6'5", 203 pounds and 6'7" wingspan
Pros
Infectious confidence. Excellent jump shooter with deep three-point range. Destructive handles. Can tear apart any defense off the dribble. Beautiful floater. Possesses the ever-elusive "killer instinct."
Cons
Terrible shot selection. Dribbles himself into far too many traps. Selfish player. Gambles on the passing lanes. Weak left hand. Solid but not outstanding athlete. Must add strength.
Boom or Bust?
Austin Rivers is one of the best pure talents in this year's class of prospects. He is an elite scorer whose possession of the rare "killer instinct" could potentially rank him amongst the NBA's elite. If nothing else, Rivers could tally upwards of 20 points per game.
Or he could alienate himself from teammates due to his selfish play and horrid shot selection.
Pick your poison.
In all likelihood, it will be a long process for Rivers. He bares a strong resemblance to Tyreke Evans in terms of playing style. Despite being a greater jump shooter, he's likely to find himself stuck without a defined position and thrusted into controversy for his "all about me" approach.
He will boom at some point in his career, but early on, Rivers will be a frustrating bust.
Season Averages:
16.85 PER, 15.5 PPG, 3.4 RPG, 2.1 APG, 1.0 SPG, 43% FG

1. Perry Jones III, Baylor Bears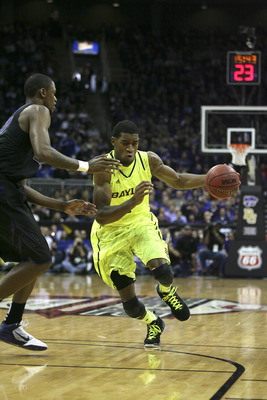 Ed Zurga/Getty Images
Position: Forward
Class: Sophomore
Age:
Height, Weight and Wingspan
6'11", 234 pounds and 7'2" wingspan
Pros
Poster child for versatility. Can defend and score in the post, on the perimeter. Freak athlete. Runs the floor like a guard. Leaps like Hakim Warrick. Solid on the glass. Star potential.
Cons
Very passive. Struggles against level competition. Inconsistent scorer. Production is not on par with ability. Should be a better shot blocker.
Boom or Bust?
Perry Jones III was underwhelming, to say the least, as a collegiate athlete. His numbers were far less impressive than his ability, and scouts, fans and general managers alike all witnessed one glaring fact: The young man is far too passive.
Fortunately for PJ3, team have decided to work him out at the 3. His inability to bang in the paint and truly compete at the 4 or 5 may come to a cessation.
Chad Ford of ESPN.com has the perfect comparison to offer some insight:
In many ways he reminded me of another unusually big wing -- Paul George. George measured 6-foot-10 in Indiana Pacers training camp and played the 2 and 3 all season for Indiana. Both are excellent athletes who are comfortable putting the ball on the floor and pulling up for jumpers. Both players were accused of not dominating the game during their two seasons in college. George didn't even make first-team All-WAC as a sophomore.
Perry Jones III's game is perimeter oriented and his ability to handle contact is shaky at best. Fortunately, his shooting and ball-handling ability impressed scouts enough that a permanent move to the 3 may just be in store.
Perry Jones III will make a loud, emphatic boom.
Season Averages:
21.95 PER, 13.5 PPG, 7.6 RPG, 1.3 APG, 0.8 BPG, 0.6 SPG
Keep Reading