NBA Playoffs 2012: How Championship Alters Public's Perception of LeBron James
June 22, 2012

Mike Ehrmann/Getty Images
"It's about damn time" is the best way to explain anything and everything that surrounded LeBron James after his first NBA Championship.
When asked the first thing that ran through his mind after his championship win, that was the pointed response that James delivered in front of a sell-out crowd in Miami and broadcast on live national television. After becoming a national sensation at sixteen years old. After becoming the first overall pick in 2003. Or after winning Rookie of the Year later that season. After being awarded a selection on the All-Star and All-NBA team every year since 2005. And after winning the NBA MVP in 2009, 2010 and then again this year in 2012.
After spurning Cleveland and heading for Miami to play with Dwyane Wade following The Decision in 2010. After losing in the NBA Finals with Cleveland in 2007. Or after losing in the NBA Finals again in 2011. After everything, For James, it was about damn time.
The "central narrative" that defined James since his inception was that he was destined for greatness. He was dubbed "King" before he had a throne or region to reign over, and he was dubbed "The Next Michael Jordan" before he even stepped foot on an NBA court as a professional basketball player.
Since he became a character in the ongoing story that is the National Basketball Association, the question that really plagued the league was to ask, again and again and again, when he would wear a ring.
That, above all other reasons, seemed to be why so much of the NBA fan base hated James. There was an utter sense of resentment in the air. How could we possibly call him the greatest, many fans and members of the media alike began to wonder, if he has never won a title?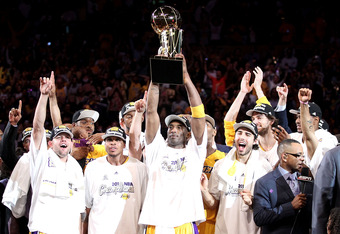 Christian Petersen/Getty Images
Michael Jordan was a phenom by all sense of the name, and as a player, he legitimized greatness in all human form. His perception in the public was characterized by the fact that nothing could stop him. Not a flu or any defender that you put on him. Eventually, it was "Six-Time NBA Champion" that came attached to his name.
When you win that many championships, it's a necessary respect that you've earned.
The same went for Kobe Bryant. Much like James, he was a highly sensationalized athlete coming out of high school. It was his ultimate drive for winning, however, that separated him from his other competition: Allen Iverson, Tracy McGrady, Paul Pierce and others were elite in the same sense that Bryant may have been.
None of them, however, won three consecutive NBA Championship rings. Bryant was able to re-energize himself and come out, years later, and win two more in 2009 and in 2010. Before James had won his first championship, Bryant had won five.
Basketball, on the surface, is a more simple game.
The momentum swings back and forth, up and down the court, until one team dominates the run of play and controls the lead. The more physical and athletic players built for success tend to dominate so long as they keep their head on straight and don't get caught up in the emotions of the court.
James, fans realized, was crafted for this game. His physical size was a perfect addition to a league shying away from the point guard model and siding more towards one that James was crafting. He was Magic Johnson, with the way that he controlled the court given his size, he was Oscar Robertson, with his unique ability to do everything, or maybe he was the new Michael Jordan?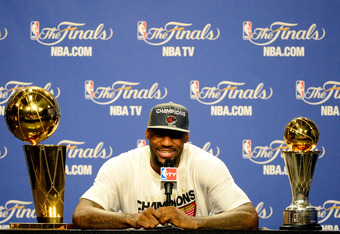 Ronald Martinez/Getty Images
Star-driven hype became sensationalized to the point of no return. ESPN and Nike were all James, all the time.
The problem was that in every possible chance that he had been given to win the NBA Championship, it had become a missed opportunity. Soon, the public began to see him as un­-clutch, a terrifying fixture for someone hoping to become the best in the NBA.
Granted, James was playing in a small-market franchise in Cleveland. He didn't really have all that much going for him. The fact that he even made it to the NBA Finals in 2007 was actually unthinkably impressive given the players that filled his roster.
Still, the general public didn't hate James. At least not yet.
When he ripped off his jersey in an elimination game that proved to be his final with Cleveland a few seasons later, the hate began to brew and brew until the hoopla of the free agency began to churn and eventually explode.
As Bethlehem Shoals wrote for GQ, James was "bigger, stronger, faster, smarter, and more skilled than anyone on the court" yet he was still not winning NBA Championships. His regular season success was implied, but his post-season success never really materialized.
"He was The Chosen One," Shoals continues. "A talent of supernatural proportions. Maybe success seemed inevitable, but what did it means for there to be an athlete who could legitimately aspire to this kind of career? Maybe there's a fine line between prophecy and cliche; maybe we take James for granted because the buzz of his arrival long ago wore off. But to see LeBron likely clinch his first title with play that confirms all those long ago expectations for him, as well as satisfying all macho checklist items, brings us back to 2003. We were promised an unstoppable, unbelievably versatile player. That in itself was the revelation."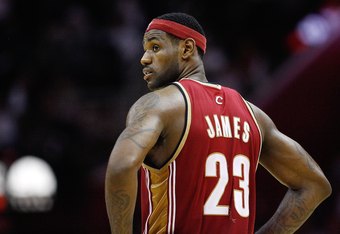 Gregory Shamus/Getty Images

When James took his talents to South Beach, his public perception went towards a downward spiral. He went from beloved to hated, and his Q-rating was among the worst in professional sports. As one of the best athletes of our generations, everything that he had done from a PR perspective had been wrong.
Fans wanted him to beat Dwyane Wade for the title, not play alongside him. Fans wanted him to win for his home in Cleveland, not create a weird monster in owner Dan Gilbert. What fans didn't want was promised championships without any backup. Eventually, fans just wanted him to win. They were tired of waiting.
Last season, James couldn't even make do on that account, as he lost to a much more unimpressive Dallas Mavericks team.
"I played to prove people wrong instead of just playing my game, instead of just going out and having fun and playing a game that I grew up loving and why I fell in love with the game. One thing that I learned, and someone taught me this, the greatest teacher you can have in life is experience. I've experienced some things in my long but short career, and I'm able to make it better of myself throughout these playoffs and throughout this whole year, and that's on and off the court," James explained.
If winning the championship were easy, we wouldn't make such a big deal about the six that Michael Jordan won. Everything has to go right for the magic to fall into place and for a championship to come into fruition.
And suddenly, it all happened.
The Miami Heat were rolling, defeating teams left and right, and faced the next-best juggernaut in their sport: the Oklahoma City Thunder. Kevin Durant was as imperative and essential to the game as James was, and they were the rightful team to dethrone Miami this year.
"I went back to the basics," said James. "I knew what got me to this point and it was hard work and dedication. I never had to prove anything to anyone in my first seven years, I just went out let the games take care of themselves. Last year I tried to prove something to everyone. I played with a lot of hate and that's not the way I play the game of basketball. I play it with a lot of love, a lot of passion. That's what I got back to this year."
When the Heat destroyed Oklahoma City, it became clear:
It was about damn time.
"It was a journey," continues James. "Everything that went along with me being a high school prodigy when I was 16 and on the cover of Sports Illustrated to being drafted and having to be the face of a franchise and everything that came with it. I had to deal with it and I had to learn through it. No one had gone through that journey and I had to learn on my own. I can finally say that I'm a champion."
Now that he's gotten that out of the way, who knows where James goes off next. That was his biggest fear: never winning a championship. After watching an incredibly genuine championship celebration in which James looked like a kid going to Disneyland for the first time, I couldn't help but feel some love growing for LeBron.
After everything that had surrounded him, it felt good to see him happy. He felt like a tortured soul, enlightened only by his stellar and virtuous play on the basketball court. Reports said that he refused to go outside after he lost in the finals last year. Basketball was everything to him, from when he was sixteen until as recently as June of last year.
Maybe it was time to rethink James after all. Especially considering he had just won his first NBA Finals MVP at the ripe young age of 27—Jordan won his first at 28, and Bryant didn't win his first until 30, as Shaquille O'Neal won the MVP the first two times that Kobe won the title
Watching him began to feel like a movie every time that he stepped on the court. It was all getting to be too much. He needed this for him more than any of the NBA fans needed his failure. 
It was about damn time. James could call himself a champion. But so could the rest of the world.