2012 Summer Olympics: Why a World Cup Can't Work in Basketball
June 22, 2012

Ronald Martinez/Getty Images
Australia released its men's basketball roster for the 2012 London Games today and, I must warn you, it doesn't look auspicious.
Having lost star center Andrew Bogut to a foot injury, Australia's remaining "big three" look something like this:
— Greek league bruiser Aleks Maric (who?)
— Spanish-based super sub Joe Ingles (ummm....)
— San Antonio Spurs backup point guard Patty Mills (he of the 10 playoff DNP's).
Mind you, this is an Australia team ranked in the FIBA top ten and one generally regarded as a medal threat. That won't be the case this year, almost exclusively because of one player's untimely injury.
And I bring this up, why?
According to recent reports, NBA brass wants to end player participation in Olympic basketball. The league's ultimate ambition, it seems, is to create a separate international competition modeled on the soccer World Cup—a kind of Olympic simulacrum where all the profits stay in-house.
I could spend days listing the potential pitfalls of that plan—low player buy-in, fan backlash, reduced international exposure—but the most acute can be found between the lines of that sorry Australian basketball roster. International basketball very simply doesn't have the parity needed to stage an entertaining and competitive World Cup—at least not yet.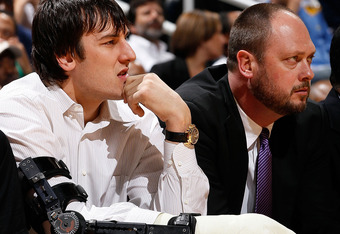 Kevin C. Cox/Getty Images
Let's go back to the soccer World Cup for a second, since that seems to be the template.
Entering every soccer World Cup, I'd bargain that about ten nations have a realistic shot at victory. Even larger numbers harbor legitimate hopes of qualification.
The combination of those two elements ensures fan interest across the globe and lends the competition an unparalleled sense of gravity. World Cup titles come with the deep and abiding satisfaction that every nation in the world wants what your nation has.
Basketball can't make that claim. When Team USA sweeps through the inaugural basketball World Cup, the competition will undoubtedly feel like a farce.
So why then does an Olympic basketball tournament work? After all, the same absence of parity exists, regardless of format.
Two reasons:
1.) The Olympics has its own latent appeal. For athletes and fans, Olympic competition holds a certain prestige that can only be accumulated over years of careful cultivation. Olympians take pride in simply competing, and home nations take pride in simply seeing their athletes compete. By its association with this larger festival of sport, a game can feel important even when the result isn't in doubt.
2.) Second and third place are matters of consequence in the Olympics. Thanks to the podium system, fans care about runners-up. So when Team USA romps to a gold, there's still intrigue surrounding the bronze medal game as well as sense of accomplishment inherent in second place.
As the basketball landscape exists today, only America has a proper claim to supremacy. Beyond that, you could only name two or three teams with a case for second best—Spain, France and maybe just maybe Argentina or Brazil.
After that, it's the Australias of the world—one-star rosters never more than a strained quad away from total irrelevance.
Distribution of talent is fundamental to any sports competition (just ask the NFL). Parity breeds interest and interest, because it inspires increased participation, breeds more parity.
The Olympics, by virtue of its diversity and larger reputation as an event of consequence, pokes a hole in that cycle. Sports that lack parity can survive under the Olympic guise.
International basketball needs the guise.