Jared Sullinger: Dallas Mavericks and Other Teams That Should Ignore Red Flag
June 22, 2012

Chris Graythen/Getty Images
Jared Sullinger got lucky. Because the doctor-issued red flag came with ample time before the draft, NBA teams now have time to investigate.
This means that rather than worrying tremendously about the implications of the back issues that Sullinger faces, teams interested in the athletic forward/center will be able to do proper research and learn what the red flag actually entailed. Sullinger, inevitably, will lose momentum heading into the upcoming NBA draft and will almost certainly fall from the top 10.
Some teams will still wonder about his ability, some teams will run away from the red flag, some teams will worry about his size, and some teams will worry about what he could provide for the team.
But when the NBA draft rolls along on June 28, there are certain teams that may actually benefit from drafting the former Ohio St. star. Not everyone believes that Sullinger's injury will be threatening to the fate of his career.
As his agent, David Falk, explains:
Jared has consulted with one of the foremost specialists of backs and spines who has vast experience treating professional athletes. He has explained to us that Jared had extremely tight hamstrings that became tight because he had suffered an injury that I don't think he was aware of to his hamstring. He needs to maintain vigilance with his flexibility. And if he does that and keeps his weight at an appropriate level, then he should have absolutely no problems over the next 15 years.
After all, the lower he falls, the more value he will have if he does prove to be a success in the NBA.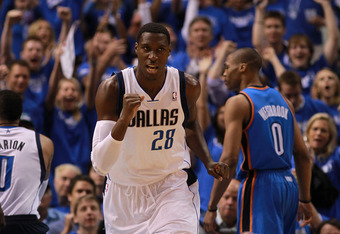 Ronald Martinez/Getty Images
Dallas Mavericks, No. 17 overall
Marc Cuban has become famous for boldly going where few NBA owners ever wish to go.
As the Dallas Mavericks leave behind a terribly disappointing season in which their chase for defending their 2010-11 NBA title utterly exploded in their faces, they look to improve significantly in the upcoming season. Dallas is a bold franchise and needs to make some kind of a mix to improve on their most recent expedition.
After the Lamar Odom project completely failed, it would be no surprise to see the Mavs look at another "questionable" athlete.
In the latest mock draft by Sam Amick on Sports Illustrated, he sees the Mavericks taking the young power forward with their first round pick. That's the highest that most see Sullinger going since he was originally red-flagged by doctors in Chicago.
Sullinger averaged 17.2 PPG and 10.2 RPG as a freshman and 17.5 PPG and 9.2 RPG as a sophomore.
Denver Nuggets, No. 20 overall
"I could be [a sleeper]," he told the Chicago Tribune. "A lot of people have been sleeping on me, and it's kind of fun. All my life I've kind of been known as the underdog."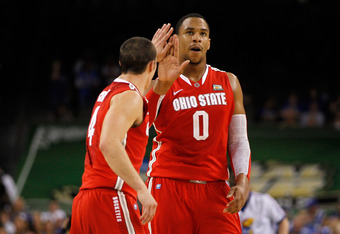 Chris Graythen/Getty Images
Sullinger fits the exact kind of offensive game that the Denver Nuggets are beginning to create. With one of the top offenses in the NBA last season, Denver offered many weapons and could be in the mix to add one more. And Sullinger is starting to seem like the exact kind of player that would fit in Denver.
"Everybody is over-analyzing my game," Sullinger said. "I'm always the bad guy in every gym. Everybody says I can't do this or that, everybody points out all the negative things I do. There are a lot of positives I think I do, but that's not for me to discuss."
After trading away Nene, Denver is looking to re-visualize their big man situation.
Said one NBA executive,"It's not like the fact that he has the physical issue is a shock. Anybody who was going to draft Jared wasn't doing so because he is an insanely good athlete. That's not his game. He is going to post up and bully you in the paint. The question is more, is the back thing something that is going to prevent him from developing at the NBA level? And no one knows the answer to that.
Denver would be a brilliant fit for Sullinger and for a team emerging with weapons left and right. I would be terrified of a team this deep from top to bottom and could see them making a legitimate run in the Western Conference next season.
Boston Celtics, No. 21 overall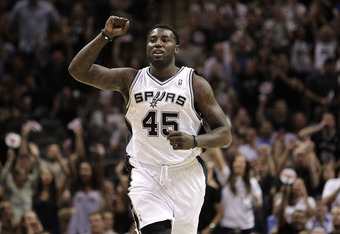 Ronald Martinez/Getty Images
In 2009, the NBA red-flagged DeJuan Blair for having no ACL in either knee.
He fell to the No. 37 pick and landed with the San Antonio Spurs in the second round of the NBA draft. Last year, he was an integral part of their incredibly impressive win streak and run at the Western Conference title. While the Spurs fell short to the Oklahoma City Thunder, Blair gives many fans reason to believe that the Spurs will be okay even once Duncan is no longer able to play.
Smart teams make smart draft choices.
Like Blair, we've seen that Sullinger can play. As his father explains:
You can call it a red flag if you want. But it's tight hamstring and tight quads. He's been to doctors, he's doing yoga and deep tissue massage. The flexibility is helping take the pressure off the area.We've got nothing to hide. At this stage it's all about what they can't do. Jared is a skilled player. A two-time All-American. He can play.
If Jared Sullinger is able to fall as low as the Boston Celtics, I wouldn't be surprised to see the team look to replace an aging Kevin Garnett—and a desperate need for rebounds—with someone like Sullinger.
Put him alongside Rondo and let the offense begin to speak for itself. He would be a steal this late in the draft, and Boston needs to take some gambles to stay relevant in coming years.
This would be a perfect gamble for their situation.
Cleveland Cavaliers, no. 24 overall
While I simply can't see Danny Ainge letting Sullinger go past the Boston Celtics, who have two picks at which they can snag Sullinger and may even be able to botch one of the picks, the Cavaliers would be an ideal fit for Sullinger.
Sullinger, who can find his own identity as the Cavaliers continue to find theirs, would be playing alongside a premier point guard, Kyrie Irving, a quickly emerging big man in Tristian Thompson and whoever the Cavaliers decide to pick with the No. 4 overall pick.
Right now, the rumors are that Cleveland likes Michael Kidd-Gilchrist and Harrison Barnes.
Imagine the top to bottom potential of the youth of a team that features Kyrie Irving, Harrison Barnes, Tristan Thompson and Anderson Varejao.