NHL Draft Start Time 2012: When and Where to Watch First-Round Action
June 22, 2012

Richard Wolowicz/Getty Images
Draft day in the NHL has finally arrived. It's a chance for prospects who have been working tirelessly for years to finally accomplish their dreams and a chance for teams to select the next wave of talent to help bolster the organization.
It all starts with the opening round tonight. The rest of the draft place will take place on Saturday. When it ends, a total of 211 players will have been selected with the Stanley Cup champion Los Angeles Kings making the final pick of Round 7.
Here's a look at the viewing information for the first round and some prospects to keep an eye on as the draft gets underway.
When: Friday, June 22 at 7 p.m. ET
Where: Consol Energy Center in Pittsburgh, Pa.
Watch: NBC Sports Network
Prospects to Watch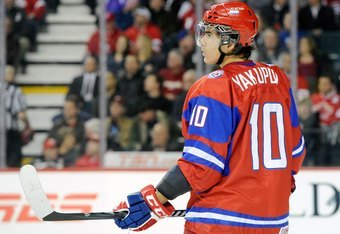 Richard Wolowicz/Getty Images
Nail Yakupov
Yakupov is the consensus top overall player in the draft. He's a dynamic offensive talent with the ability to become one of the league's top scorers within a couple of years. The 18-year-old Russian is also ready to make the NHL jump right away.
He's scored an astonishing 170 points in 107 games for the Sarnia Sting of the OHL. That type of production doesn't come around often, and when it does, the team with the first pick is very happy. That would be the Edmonton Oilers in this case.
Even though there are a couple other really good prospects on the board, Yakupov separated himself from the pack and should be a superstar in the league for many years to come.
Ryan Murray
Defensemen that are capable of joining the rush and putting up big point totals are more important than ever in today's NHL. Murray fits that mold and is the most well-rounded blueliner in the class given his elite defensive ability.
The Canadian sensation scored 20 goals and chipped in 84 assists during his career with the Everett Silvertips of the WHL. He's also gained international experience by playing for Canadian in the World Junior Championships.
Murray also has a mean streak and isn't afraid to play a physical style when necessary. He's got the type of versatility that team's are always looking for on defense and should have a long, successful career.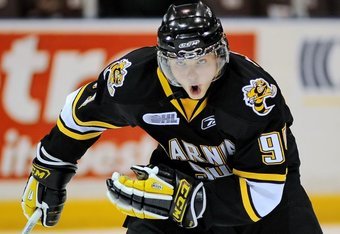 Alex Galchenyuk
Galchenyuk suffered a knee injury that forced him to miss all but two games last season. But his tremendous potential should still allow him to get selected early tonight as team's continue to search for centers with top-line potential.
He's been in a tight battle with Mikhail Grigorenko and Filip Forsberg for draft position. When healthy, Galchenyuk has more upside. He's got good speed, terrific vision and should eventually develop into a great two-way player.
As long as teams are confident with the medical information they've got about him, he should be one of the first few names called. And he'll be well worth that investment.