NBA Draft 2012: Why Anthony Davis Is the Consensus First Pick
June 22, 2012

Ronald Martinez/Getty Images
On Tuesday, Kentucky forward Anthony Davis made his way down to sultry New Orleans for a pre-draft workout.
He didn't take a single shot.
What was taken instead were pictures. Pictures of Davis in Hornets' home whites. Snapshots into the future of a fallen franchise.
At just 19 years old, Anthony Davis stands as the clear cut first pick in Thursday's NBA Draft. Fresh off a sparkling 2011-12 campaign, which saw the Chicago native capture All-American honors, the Naismith College Player of the Year award, and a national title, Davis will officially join New Orleans next week.
But what is it about him that made this pick such a no-brainer?
Defense Wins Championships
Like it or not, pro ball is becoming increasingly focused on the defensive end, as evidenced by the Miami Heat hoisting the Larry O'Brien Trophy last night.
Yes, the basketball statistics world still rotates on a points-per-game axis, and yes, slam dunks sell far better than blocked shots. But it's still more about defense than ever.
Last season, just three teams—San Antonio, Oklahoma City and Denver—averaged over 100 points a night. Just three years ago 13 teams were cracking triple figures. In 2011-12 three teams—Chicago, Boston, and Philadelphia—also held their opponents to under 90 a night. Three years ago not a single team did.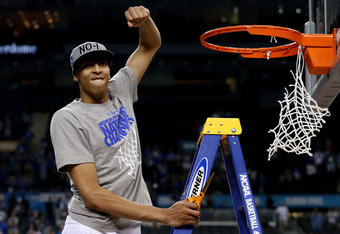 Jeff Gross/Getty Images
Davis' ferocious interior D is what makes him the right pick for today's nuanced league. His 4.7 blocks and 10.4 boards a game as a freshman speak volumes about his potential to anchor a defense down the road. Calipari's cornerstone notched seven or more stuffs eight times last year, and tallied at least three steals on six separate occasions.
In the formidable Southwest Division, New Orleans matches up against some of the best big men in the nation. With Dallas' Dirk Nowitzki, San Antonio's Tim Duncan, and Memphis' Marc Gasol waiting in the wings, Hornets general manager Dell Demps is wise to clamp down on the low-post game.
Nice Guys Finish First
By all accounts, Anthony Davis is an accommodating teammate and a self-motivated individual. While we can't tell for certain what goes on behind closed doors, Davis' grounded persona is the steady foundation a rebuilding franchise needs.
Davis has already displayed astounding maturity as a finalist for the 2012 Olympic team. Averaging just 8.4 shots per night, he's seemingly unselfish, and is already a proven winner on a national stage.
Per ESPN, Davis noted that "it's not a one-player sport. It's a team sport," adding, "If I get drafted here, it'd be great to win another championship in New Orleans."
Character plays an undeniable role in scouting, and Davis' behemoth wing span appears to mimic his insight and understanding of the game.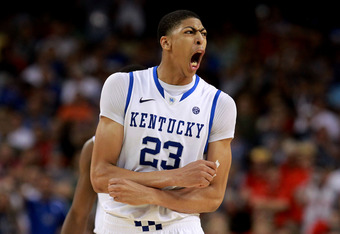 Ronald Martinez/Getty Images
They're Experts for a Reason
Scouts and analysts continue to rave about Davis. ESPN's Chad Ford calls him an "excellent rebounder and shot blocker," adding that he "excels at taking people off the dribble."
Per Sports Illustrated Draft analyst Sam Amick:
"Davis has all the ability and size to be a transcendent player with a Kevin Garnett-like impact on the defensive end."
Stephen Danley of the New York Times likened Davis' potential franchise impact to Miami's LeBron James, Orlando's Dwight Howard and Los Angeles' Blake Griffin, later pegging him as a "perennial All-Star."
Such lofty praise continues to speed through the world of sports media. Finding an analyst who doubts Anthony Davis' abilities is becoming a more arduous undertaking by the day.
If Not Him, Who Else?
The 2012 Draft class is heralded for its depth, not its star power. As an unnamed NBA executive put it to the Chicago Tribune:
"It's a good draft, but there's just one star."
Davis' contemporaries, including Kentucky teammate Michael Kidd-Gilchrist, Florida's Bradley Beal and Kansas' Thomas Robinson, have far more glaring weaknesses.
The Bottom Line
When David Stern takes the podium Thursday night and puts the Hornets on the clock, nobody will be surprised with the outcome. And with good reason; Davis is a natural fit for New Orleans. Then again, a player of this caliber is really a natural fit anywhere.