2012 NBA Draft: 5 Reasons Cavaliers Need to Avoid Taking Andre Drummond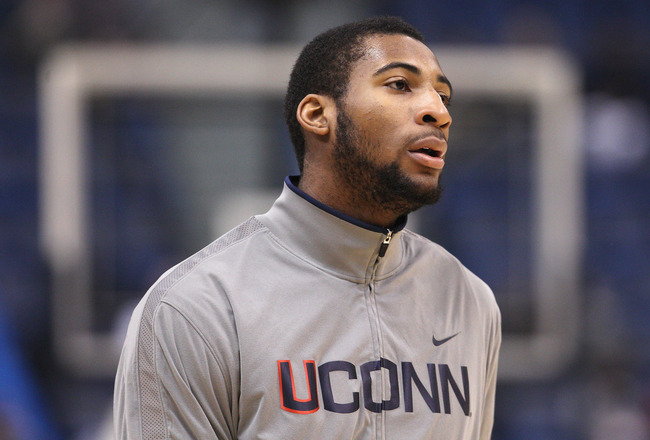 Elsa/Getty Images
Coming off another disappointing season topped off with a certain former Cavalier hoisting trophies, the time is now for the Cavaliers to nail down their future with a home run 2012 NBA draft class.
The Cavaliers began to lay the blueprint for a championship contender in last year's draft with the addition of Tristan Thompson and Rookie of the Year Kyrie Irving.
This year's draft may be even more important, however.
The Cavaliers currently own pick Nos. 4, 24, 33 and 34 in a loaded class that should help them take the next big step in returning to prominence, should they make the right selections.
Let's focus on the big one, the fourth overall pick.
Assuming the Cavaliers keep it, they will likely have their choice among Thomas Robinson, Bradley Beal, Harrison Barnes, Michael Kidd-Gilchrist and Andre Drummond.
While all represent tremendous upside, only one has extreme bust potential.
Here are the top five reasons the Cavaliers need to stay far, far away from Drummond.
5. Lack of Offense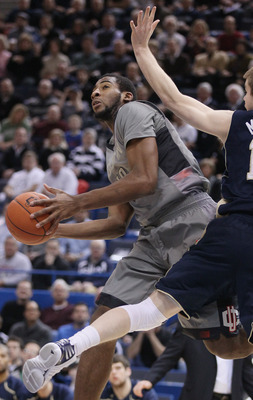 Elsa/Getty Images
Being possibly the most heralded center prospect in the draft since Greg Oden back in 2007, you would think Drummond would already have a solid offensive game.
If he does, he certainly did a good job of hiding it during his time at UConn.
When asked about his offensive skill set, or lack thereof, instead of defending himself Drummond stated in an interview with HoopsWorld; "I don't have a back-to-the-basket game, honestly speaking,"
Shouldn't a center going in the top five picks have a back-to-the-basket game? Yikes.
4. Poor Fit with Cavaliers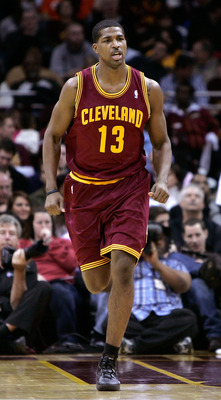 Mike Lawrie/Getty Images
On paper, one would say Andre Drummond and the Cavaliers would be a a great fit due to their need for a center.
Looking deeper, however, the fit would actually be quite poor.
With Antawn Jamison leaving, the Cavaliers will almost certainly begin the 2012-2013 season with Tristan Thompson as their starting power forward.
The soon to be second year man out of Texas is a great athlete, defender and rebounder, but doesn't have much of an offensive game at this point. If placed next to an offensive-minded center, his offensive deficiencies could be overlooked more easily.
Placed next to Drummond, however, you have two young, offensively-inept projects learning on the fly together. It could get very, very ugly.
3. Free-Throw Shooting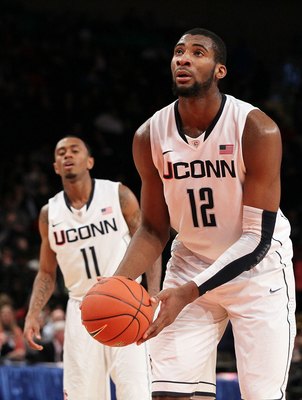 Jim McIsaac/Getty Images
In his lone season with the Huskies, Drummond stepped up and attempted 88 free throws.
The problem with this number is that he only converted 26 of them, coming in at a putrid 29.5 percent.
For comparison, Shaquille O'Neal still managed to make 52.7 percent of his free throws for his career, one in which he was constantly criticized for stinkin' it up at the line.
That's right, Shaq made nearly double the amount of free throws that Drummond made.
While there's no doubt he should improve on that number as he progresses, it would be surprising to see him become anything more than a poor-average shooter, something that NBA teams will take advantage of and that may force his team to keep him out of the game during crucial times due to a potential "Hack-a-Andre".
2. Lack of Motor and Work Ethic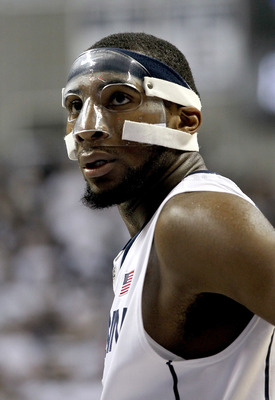 Jim Rogash/Getty Images
While Tristan Thompson and Drummond have a similar skill set, Thompson is expected to make significant strides due to his high work ethic and motor.
A major knock against Drummond has been his lack of these characteristics, as he often disappeared during games and didn't seem to give 100 percent while on the court.
According to Alex Kennedy of HoopsWorld, "throughout high school and college, his consistency and motor have been a constant concern. The game has always come easy to him, and his work ethic has been questioned in recent years."
Few things in sports are worse than seeing an athlete loaded with talent fail to live up to expectations due to laziness or a poor work ethic.
Drummond could easily go down that path.
1. Better Options Available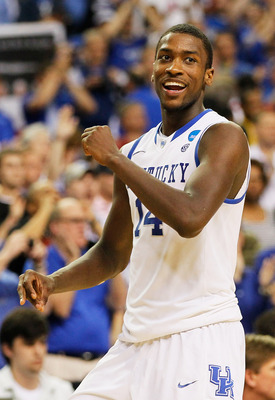 Kevin C. Cox/Getty Images
Drummond has enough upside and defensive ability right now to warrant a high pick, but not higher than this draft's other stars.
Cleveland would be much better off with a safer prospect on the wing like Beal, Kidd-Gilchrist or even Barnes. I would even prefer Thomas Robinson due to his premier offensive game and rebounding.
The bottom line is, Drummond is just too risky of a pick for a rebuilding team like Cleveland to make.
They are in a prime position to add a scorer and playmaker, one that they desperately need, and shouldn't pick a project like Drummond and cross their fingers hoping he'll work out.
Keep Reading

Cleveland Cavaliers: Like this team?