Can Roy Oswalt's Comeback Make the Same Huge Impact as Andy Pettitte's?
June 22, 2012

Christian Petersen/Getty Images
The Texas Rangers will be trotting out their new toy on Friday night. This new toy just so happens to be an oldie but goodie.
As the Rangers themselves reported via Twitter a couple days ago, veteran right-hander Roy Oswalt will be making his first start for the club on Friday evening against the Colorado Rockies at Rangers Ballpark in Arlington. The club signed him in late May, and he's ready to go, after making four minor league rehab starts.
Oswalt is walking into a comfortable situation. The Rangers have won nine of their last 10 games, including six in a row. Their starting rotation has an ERA of 3.31 this month, so it's not like the Rangers are expecting Oswalt to come rescue their rotation.
Except, well, they kinda are.
Texas' rotation was never exceptionally strong to begin with. It was good, mind you, but certainly not on the same level as teams like the Washington Nationals, San Francisco Giants or Los Angeles Angels. They, and a couple others, are the elites.
The Rangers and their collection of starters are a step below. (Don't take this as a slight, Rangers fans.)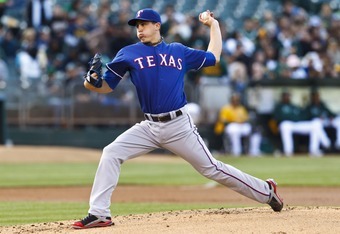 Jason O. Watson/Getty Images
The Rangers' rotation has since been robbed of a significant amount of depth. Left-hander Derek Holland and closer-turned-starter experiment Neftali Feliz are both on the disabled list, and the Rangers recently had to add former All-Star starting pitcher Alexi Ogando to the mix.
Those are three quality arms that the Rangers don't have right now.
Oswalt has a quality arm. In fact, he was an ace once—one of the premiere aces in the National League. The Rangers will be overjoyed if he returns to his old ace form.
If not, oh well. They'll gladly take whatever stability he can provide at the back end of their rotation. In a perfect world, Oswalt will be their very own Andy Pettitte.
Pettitte, of course, has been a godsend for the New York Yankees this season. The 40-year-old lefty has a 2.77 ERA and a 1.05 WHIP in his seven starts, and the Yankees' rotation, as a whole, has been much more consistent ever since he came aboard.
You can tell there's kind of a friendly competition going on, as the Yankees' starters have a good thing going and none wants to be the guy who screws it up.
Oswalt is a guy who could have that same effect on the Rangers' rotation. And if nothing else, it bodes well for the Rangers that a) Oswalt is younger than Pettitte by about six years and b) his return to baseball today shares a few similarities with Pettitte's return to baseball last month.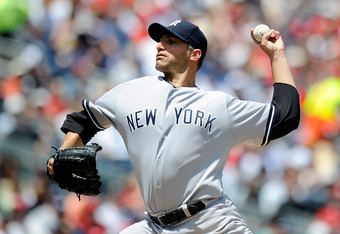 Patrick McDermott/Getty Images
Pettitte took a full season off in 2011, finally deciding that he wanted to pitch again during spring training.
Oswalt was hotly pursued as a free agent this offseason, but he chose to bide his time, rest, get healthy and wait for the right opportunity to present itself. Signing with the Rangers, baseball's best team record-wise, was an easy call.
The time off apparently did wonders for Pettitte, but Oswalt needed time off even more than Pettitte did. His 2011 season with the Philadelphia Phillies saw him make two trips to the disabled list due to lower back problems, and you could tell that he wasn't 100 percent healthy even when he was pitching.
Oswalt did have his moments, though. He ended up making six starts in September, winning four of them, while posting a solid 3.51 ERA in 41 innings of work (h/t Baseball-Reference.com). He'd had a rough season before that, but he showed then that he could still pitch.
That much probably hasn't changed.
Oswalt has always had good control, and he's always had a good notion of how to keep hitters off-balance and guessing. He didn't have his best stuff in 2011, but he was able to pitch effectively anyway.
The Rangers will be hoping Oswalt has his best stuff back now after taking some much-needed time off.
Per FanGraphs, he lost a mile per hour off his fastball last season, and his curveball didn't have the same sharp bite that it usually had when he was pitching with Houston all those years ago. It's no wonder hitters hit him at a .280 clip, the highest of his career. Oswalt just didn't have the stuff to baffle them like he used to.
If Oswalt has his old stuff, he's going to be able to give the Rangers seven good innings on an almost nightly basis, as he did for the Phillies after he came over from the Astros via a trade in 2010. He went at least seven innings seven times in 12 starts for the Phillies, in which he had an excellent 1.74 ERA.
Even if Oswalt doesn't have his best stuff, he should at least be able to give the Rangers a quality start every time out. That's something they'll gladly take from a guy at the back end of their rotation, even if his superstar name says he should be doing better.
Because the Rangers are capable of scoring so many runs on a nightly basis, they really don't need Oswalt to sport a Pettitte-like sub-3.00 ERA for the rest of the season. All they need him to do is give them innings and, above all, stay healthy.
If Oswalt provides the stability they're looking for, these Rangers will be set up for a very strong finish. They'll have an experienced veteran picking up innings at the back end of their rotation, and they'll eventually have Holland back in the rotation as well, with Ogando and possibly Feliz in what is already an excellent bullpen.
Teams around the American League already fear Texas' offense. Oswalt is the key to teams fearing their pitching as well.
Make no mistake about it, this Rangers team has scary potential.
If you want to talk baseball, hit me up on Twitter.