Wimbledon 2012 Draw: Breaking Down Novak Djokovic's Journey to Possible Repeat
June 22, 2012

Mike Hewitt/Getty Images
Tennis star Novak Djokovic took home his first Wimbledon championship in 2011 after a thrilling bout with Rafael Nadal, and he has his work cut out for him to get back to the final.
Arguably the world's most well-known tennis championship begins June 25. Djokovic isn't necessarily the clear-cut favorite. Recently coming off a loss at the French Open to Nadal, he's still got some left to prove. 
The Wimbledon draw was released Friday, and the full bracket can be seen here.
Let's break down Djokovic's tournament draw and how he can possibly win his second straight Wimbledon title.
First Four Rounds
Djokovic drew former tennis star Juan Carlos Ferrero in his first-round matchup, but he should have no problem getting past Ferrero after he overpowers him in straight sets.
It should be smooth sailing for Djokovic early on, and he shouldn't be seriously tested. Although, it's possible that he could have problems with No. 15 seed Argentinian Juan Monaco.
Quarterfinals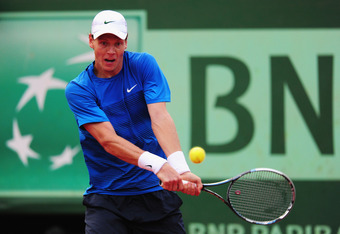 Mike Hewitt/Getty Images
If the bracket works out the way it should, Djokovic will face his first true test in No. 6 seed Czech star Tomas Berdych. 
Berdych is only two years removed from losing in the 2010 Wimbledon final, so he'll be hungry to get back. He should prove to be Djokovic's biggest test, and the Serb could easily get bounced if he's not ready for battle.
Semifinals
In possibly the most intriguing storyline of the Wimbledon draw, Djokovic is set to face aging great Roger Federer.
Federer dominated the sport for many years, but he has recently had to give up his throne to Djokovic and the aforementioned Nadal. 
The Swiss legend knows success at Wimbledon as well as anyone, having won the tournament six times. But if he's ousted in this tournament, it'll be his third straight year of being defeated at Wimbledon. 
Final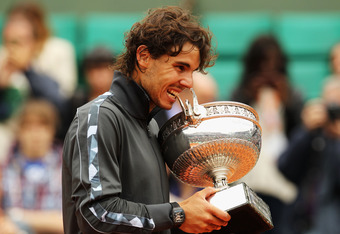 Matthew Stockman/Getty Images
Djokovic and Nadal seem to be on a collision course in every major tennis tournament, and this one is no exception. It's no surprise that they drew the top two seeds in the tournament.
It's obvious who the world's two best tennis players are, and it'd be catastrophic to see either player eliminated before the final. 
Nadal could be stopped by Andy Murray in the semifinals. But he shouldn't be any more of a test than usual, and Nadal should have smooth sailing to the final with most of the contenders on the other side of the bracket.