Pacquiao vs. Bradley: Timothy Bradley Contends Manny Pacquiao Is 'Declining'
June 22, 2012

Kevork Djansezian/Getty Images
With time, Timothy Bradley's statements keep doing him more and more damage.
With every chance he gets to speak up about Manny Pacquiao and his recent performance, Bradley aggressively attempts to downplay Pacquiao's abilities in the ring.
In a recent interview with BoxingScene, once again, Bradley went on a lengthy rant about Manny and where is he heading with his boxing career:
He's declining, honestly he is declining. He had me hurt in the fourth round, he didn't try to come out and finish me, and the old Manny would've. The old Manny would've, I just think there's a lot of wear and tear on him, and his mind is in 50,000 different places. He's got his new-found religion and stuff like that, and I just feel like maybe he's worn out, honestly. I have a busy schedule but his schedule is like all day busy, like 24/7, he never stops moving. Even when I saw him in the press conference I was like, 'This guy looks tired.' I saw his eyes; I saw the bags underneath his eyes. I was like this guy is tired. I don't even think this guy wants to be here.'
Maybe Manny Pacquiao is indeed declining. But it was not only evident that he beat Timothy Bradley during the fight, but now, Pacquiao has been solidified with the official decision from the WBO investigation.
One thing that Bradley is right on the dot about is the fact that congressman Pacquaio's mind is all over the place, and that may, at some point, catch him off-guard in a fight or its preparation.
Still, at this point in time, whatever Pacquiao is doing, he seems to be doing it well.
The politicians seem to be more pleased with him than they were when he just started his term. The people reap constant benefits of having him involved in their lives, as he is continually donating money in order to restore provinces after various natural disasters.
His boxing career—while it is probably coming to an end just because there is very little left to achieve—is still proving to be beneficial to the sport itself.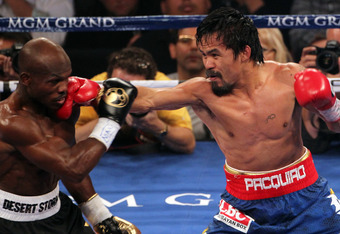 Jeff Bottari/Getty Images
For Bradley to say that Pacquiao looked bad and did not want to be there is self inflicting character harm.
Despite Pacquiao not being able to knock him out, which was a huge achievement for Bradley, being able to fight him again and win fair-and-square will be an even bigger one. Maybe that confidence boost is the reason Bradley is saying things that are way out of line, even for him.
At this point, there is only one thing that Bradley needs to focus on in order to reverse some of the damage he has created with his statements—the rematch with Manny Pacquiao.
Losing the rematch will put Bradley in a very uncomfortable position, and he might end up looking like a clown. His situation may turn out to be similar to that of Victor Ortiz, when he made the mistake of talking too much trash against Floyd Mayweather Jr.
Words cannot be erased, but they can prove to be authentic if the opportunity arises. For Bradley, that opportunity will come soon.
Hopefully he will once again be ready to show us a great performance.