Atlanta Braves: Comparing Andrelton Simmons to Other Recent Braves' Shortstops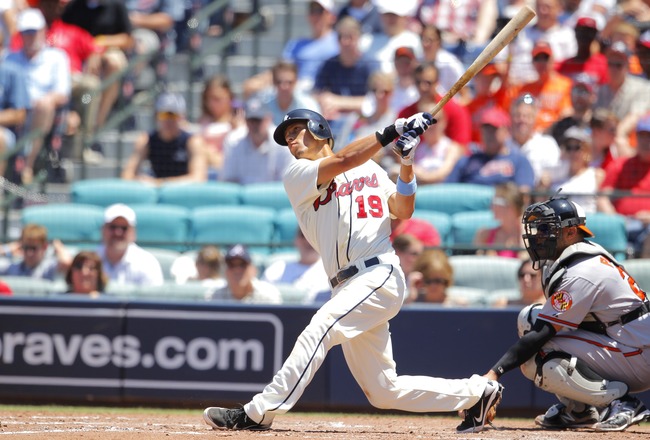 Todd Kirkland/Getty Images
When Andrelton Simmons got the call-up to Atlanta, most Braves fans were excited to see their shortstop of the future become the shortstop of now.
After a spring training season that saw him make great defensive play after great defensive play, fans were salivating over having another great defensive shortstop.
The only difference is that now we know he'll be the Braves' shortstop until the end of the decade.
Prior to the Braves' series with the Red Sox, Simmons was hitting .322 with two home runs, eight RBI and a .492 slugging percentage.
Defensively, he's made one error in 81 chances, having turned 15 double plays with Dan Uggla.
Here's a look at how Simmons compares to previous Braves shortstops.
Tyler Pastornicky
In 45 games with the Braves, Tyler Pastornicky hit .248 with one home run, 12 RBI and 39 hits.
Now, those aren't bad numbers considering Pastornicky is a rookie, but where he really lagged was in his defense.
In 134 chances, Pastornicky committed seven errors and had a .948 fielding percentage.
And, for a shortstop, that's not what the Braves needed.
They needed a guy who could field the position at a great level. If he became a great hitter, that would be a bonus.
The Braves found that in Simmons, who was batting .292 with three home runs and 21 RBI at Double-A Mississippi.
Alex Gonzalez
Defense is something Simmons has.
It's a little like last year's starter at shortstop, Alex Gonzalez.
Acquired from the Toronto Blue Jays in 2010, along with Pastornicky, for Yunel Escobar, Gonzalez did everything he was asked as Atlanta's shortstop.
In just a little more than a year-and-a-half, Gonzalez batted .241 with 21 home runs and 94 RBI.
On defense, he committed only 20 errors in 946 chances.
And, that's exactly what you need at shortstop: consistency.
Yunel Escobar
The one thing the Braves had trouble getting out of Yunel Escobar was consistency.
In 2009, he hit .299 with 14 home runs and 76 RBI, while 2010 saw him be disinterested in hustling and playing the game the way it should have been.
In his final two-and-a-half seasons in Atlanta, his defense really took at hit, as he committed 38 errors in a little over 1,500 chances.
To me, that's too many errors for a shortstop, as I think it's important for a player at that position to be fielding at or above 98 percent.
Don't get me wrong, I think Escobar was a valuable tool in Atlanta...when he wanted to be.
Because of these reasons, I had no problem with him being traded to Toronto.
Edgar Renteria
Edgar Renteria was another good shortstop to have in Atlanta.
During the 2006 and 2007 seasons with the Braves, Renteria hit .310 with 26 home runs, 127 RBI and 339 hits.
On defense, he helped turn 147 double plays, but his fielding percentage was under 98 percent as well.
One thing, however, that Renteria had over Escobar was that he cared all of the time. You never questioned whether his heart was in it.
Rafael Furcal
The Braves began the new millennium with Rafael Furcal at first base.
And, in his first year, he showed how valuable he would be to the Braves as he won the Rookie of the Year award.
During his six years in Atlanta, he batted .284 with 57 home runs, 292 RBI, 924 hits, 558 runs scored and 189 stolen bases.
His defense was a bit of a struggle as he committed 119 errors in 3,384 chances.
Not a great defensive shortstop, but he made up for it with his offense.
So, What Does It All Mean?
So, what does this all mean for Simmons?
While it's still too early to determine what he'll do at the plate over his career, I think I can confidently say he'll be the best defensive shortstop for the Braves out of this group.
His defense ranks with Gonzalez, while his hitting is comparable with Furcal, except for the stolen bases.
Any way you look at it, I believe Simmons will be the best shortstop the Braves have had since Jeff Blauser, or even since they've been in Atlanta.
Keep Reading

Atlanta Braves: Like this team?