2012 NBA Mock Draft: Talented Guards Who Will Follow in Kyrie Irving's Footsteps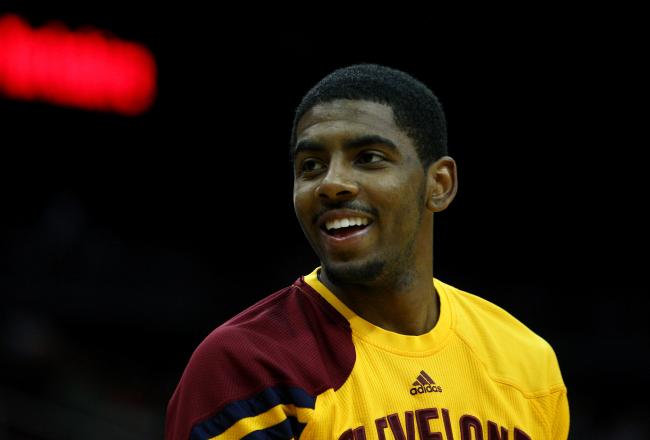 Chris Chambers/Getty Images
Kyrie Irving pulled off a miracle last season. He was the No. 1 draft pick of a Cleveland Cavaliers team that was completely devoid of talent. They didn't add much talent to support Irving, yet he managed to make that franchise respectable.
The 2012 NBA Draft is not the most guard-heavy draft in recent years. There are a number of intriguing players who have great upside but have at least one flaw that will prevent them from reaching that ceiling.
This latest mock draft is all about the guards who can have an Irving-like impact.
Combine numbers from Draft Express.
1. New Orleans Hornets: Anthony Davis, PF (Kentucky; scouting report here)
Davis is the most talented player in this class, regardless of position. No surprise to see him at the top of the draft.
2. Charlotte Bobcats: Thomas Robinson, PF (Kansas; scouting report here)
Robinson has done a remarkable job of improving his stock during his time at Kansas. Three years ago, he was not a first-round pick. Now, I believe the Bobcats will make him the No. 2 pick.
3. Washington Wizards: Bradley Beal, SG (Florida; scouting report here)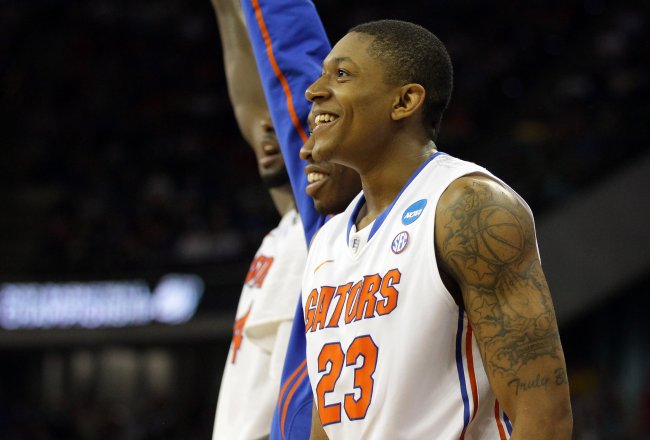 Doug Pensinger/Getty Images
While Beal is not a point guard like Irving, he can match him shot-for-shot. In fact, there are few players in this draft who can match Beal's ability to create his shot. He has Irving's shooting touch, with a more aggressive approach to getting to the basket.
The Wizards getting the most dynamic scorer in the draft with the No. 3 pick is a steal. Imagine the backcourt tandem of Beal and John Wall.
It is going to take some time, but this franchise is on its way back up.
4. Cleveland Cavaliers: Michael Kidd-Gilchrist, SF (Kentucky; scouting report here)
As much as the Cavaliers would have loved to have paired Beal with Irving, they will have to "settle" for arguably the second-best player in the draft.
Kidd-Gilchrist is not a finished product. He is still working on his offensive game, but his defense and aggressiveness will give the Cavaliers two legitimate stars for the first time in a long time.
5. Sacramento Kings: Harrison Barnes, SF (North Carolina; scouting report here)
Given all the problems the Kings have, they need a do-it-all player like Barnes who can step in right away and be the face of the franchise.
6. Portland Trail Blazers (from Brooklyn Nets): Andre Drummond, C (UConn; scouting report here)
Drummond is not one of my favorite players in this draft. He has great potential, like every lottery pick, yet he always seems to find the banana peel at the biggest moments. Perhaps it has just been a case of him being young and finding himself.
The Blazers will hope that's the case.
7. Golden State Warriors: Perry Jones III, SF (Baylor; scouting report here)
Jones seems to fit what the Warriors want to build: an uptempo team that wants to outscore its opponents.
The Baylor product is more versatile than anyone else on the Warriors' roster, but, like Drummond, has had issues with consistency and playing up to his potential.
8. Toronto Raptors: Damian Lillard, PG (Weber State; scouting report here)
Here is where we find our first true point guard, and one who just feels like an impact player, a la Kyrie Irving in his rookie season.
Despite not getting a lot of press during the regular season because he played at Weber State, he has done everything he possibly can to get noticed. It has paid off. He is going to be a lottery pick.
Lillard isn't quite as physical as Irving, though he isn't afraid to drive to the basket. He is a great shooter and scorer. His passing skills keep getting better, so there is no reason to think he won't turn into at least a starting point guard in the NBA for the next decade.
9. Detroit Pistons: John Henson, PF/C (North Carolina; scouting report here)
Henson' lack of bulk doesn't make him an ideal four or five in the NBA, so he will have to add muscle to hit his full potential. As a defender, rebounder and shot-blocker, he should be able to succeed right away.
10. New Orleans Hornets (from Minnesota): Kendall Marshall, PG (North Carolina; scouting report here)
Which Guard Will Most Closely Resemble Kyrie Irving Next Season?
I was tempted to highlight Marshall's attributes and compare him to Irving, but it is so hard to do because they are completely different players.
Irving is more of a scoring point guard, with good passing skills that will continue to improve over time. Marshall is still trying to find his shot, yet he is one of the best passers in the draft. His career trajectory is more likely going to be Rajon Rondo than Irving.
11. Portland Trail Blazers: Austin Rivers, SG (Duke; scouting report here)
Rivers is not as advanced as Irving coming out of college. Both have the obvious Duke connection, but where Irving was clearly a star waiting to happen—at least when he was on the floor—Rivers is still trying to figure himself out.
12. Milwaukee Bucks: Meyers Leonard, C (Illinois; scouting report here)
Another big man, Leonard doesn't have the upside of Drummond or Henson because he doesn't score enough. If he can figure out how to develop an inside offensive game, his defense will make him a star.
13. Phoenix Suns: Dion Waiters, SG (Syracuse; scouting report here)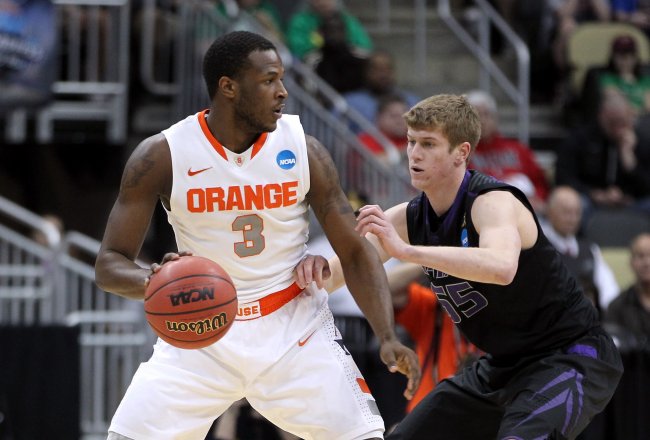 Gregory Shamus/Getty Images
Waiters is a much better shooter than Irving was coming out of college. Part of that is by design, since Waiters' position is a two, but somehow Irving figured out how to take over games and shoot 47 percent from the field.
If Waiters is able to build off the momentum he built at Syracuse last season, he has a good enough shooting touch to come close to that percentage. He won't average five assists or grab four rebounds, but as a shooter, he could easily turn into Irving.
14. Houston Rockets: Arnett Moultrie, PF/C (Mississippi State; scouting report here)
Moultrie is one of the most underrated big men in the draft. He is more likely to reach his ceiling than, say, Drummond. He doesn't have as much upside, though his defense and rebounding will make him a valuable asset.
15. Philadelphia 76ers: Terrence Ross, SG (Washington; scouting report here)
Ross might be the closest to matching Irving as far as sheer athleticism. He will not be as dynamic on defense as Irving, so his offense will have to carry him.
That's a good thing because the 76ers need more offense. They have plenty of defense already. Ross needs to start getting more aggressive, so he can show off his shooting skills.
Ross is a good sleeper pick to follow Irving as the NBA Rookie of the Year.
16. Houston Rockets (from N.Y. Knicks): Jeremy Lamb, SG (UConn; scouting report here)
Lamb has tremendous upside, which would make it a bit of a shock to see him fall to this spot. He has athleticism and an incredible 8'5" reach, which helps him on defense.
His offensive game needs a lot of work, so I don't see him making the impact with the basketball that Irving did. Lamb should be a much better defender right away, however.
17. Dallas Mavericks: Moe Harkless, SF (St. John's; scouting report here)
Speaking of long limbs, Harkless is a freak of nature. He has an 8'8" reach and makes great use of that when he goes to the basket and jumps over opponents. He is a sleeper star waiting to happen.
18. Minnesota Timberwolves (from Utah): Terrence Jones, SF (Kentucky; scouting report here)
Jones was inconsistent at Kentucky, so I don't know exactly what to expect from him. He is a strong defender and the potential to be a good scorer, though he needs to get more consistent with his shot.
19. Orlando Magic: Tyler Zeller, C (North Carolina; scouting report here)
Eventually the Magic will have to find Dwight Howard's replacement. They could stand to upgrade their point guard position, though there is not someone like Kyrie Irving available here.
Zeller is not a replacement for Howard, but he is the best big man available. Sometimes that is all teams can ask for.
20. Denver Nuggets: Quincy Miller, SF (Baylor; scouting report here)
Despite not having the ceiling of Baylor teammate Perry Jones III, Miller is more likely to hit his ceiling. He is versatile and understands the game better than a lot of players his age.
21. Boston Celtics: Royce White, PF (Iowa State; scouting report here)
White has some personal concerns that prevent him from being a lottery pick that his talent suggest he should be. Given the Celtics need to find young, athletic players who have upside and risk, White is the perfect pick for them.
22. Boston Celtics: Jeffery Taylor, SF (Vanderbilt; scouting report here)
After grabbing the inside player they need, the Celtics will go after an outside shooter to possibly replace Ray Allen, who is a free agent.
23. Atlanta Hawks: Tony Wroten Jr., PG (Washington; scouting report here)
Wroten is a lot like Marshall, though not as consistent. He is a great passer who is still finding his shot. He needs to figure out what kind of player he wants to be. He has the talent to be a star He just needs to show it game-in and game-out.
24. Cleveland Cavaliers (from L.A. Lakers): Fab Melo, C (Syracuse; scouting report here)
Melo is a one-dimensional center. He can defend and grab rebounds as well as any big man available. Just don't expect a lot of offense.
25. Memphis Grizzlies: Evan Fournier, SG (France)
Fournier might end up being the European Irving whenever he ends up making his NBA debut. He has the shooting touch to be a dynamic scorer. He needs to add bulk to his frame. B ut if you can shoot, it doesn't matter how big you are physically.
26. Indiana Pacers: Marquis Teague, PG (Kentucky; scouting report here)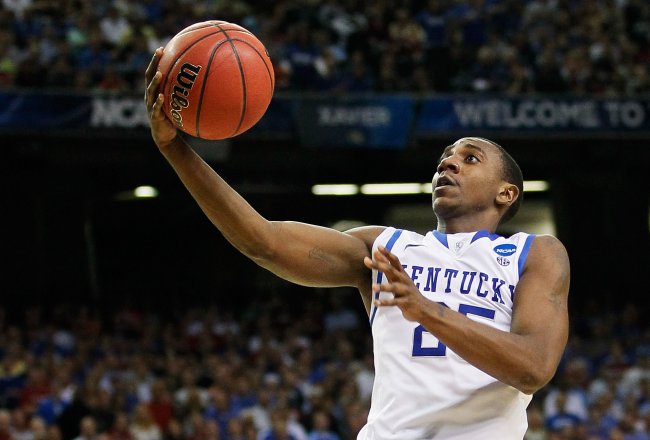 Kevin C. Cox/Getty Images
Teague did not reach his full potential during his one year at Kentucky, yet he still has off-the-charts upside. Teams are going to back away from him because of what they saw last season, which will be to Indiana's advantage.
I love Teague becoming the 2012-13 version of Irving because he is going to a team that has pieces in place to help him succeed. The talent is clearly there for him to be a superstar. I don't think he will be as effective with his shot as Irving, but everything else is in place for him.
The Pacers are desperate for a point guard, and they will end up getting one of the best in the draft.
27. Miami Heat: Festus Ezeli, C (Vanderbilt; scouting report here)
The Heat need size in the middle, if for no other reason than to fill out their starting lineup with a real big man. Ezeli is the kind of defensive presence they need. He grabs rebounds, and that is the one weakness this team has right now.
28. Oklahoma City Thunder: Draymond Green, SF (Michigan State)
Green is the kind of player the Thunder need after losing the NBA Finals. They have more than enough flash and flair, but need more players who are not afraid to do the little things.
29. Chicago Bulls: John Jenkins, SG (Vanderbilt; scouting report here)

Jenkins has a great shooter's touch, even more than Irving did coming out of college. He is not close to the athlete Irving was, so his game is wrapped up in being able to hit outside shots. Jenkins is a valuable player who will have a future, but he won't be a star.
30. Golden State Warriors (from San Antonio): Andrew Nicholson, PF (St. Bonaventure; scouting report here)
Nicholson gives the Warriors the long, athletic big man they need in the middle. Their dynamic offensive will get a little bit better.
This article is
What is the duplicate article?
Why is this article offensive?
Where is this article plagiarized from?
Why is this article poorly edited?