Euro 2012: 8 Things England Must Improve Heading into Knockout Stage vs. Italy
Martin Rose/Getty Images

So far, so good for England at Euro 2012.
Group D has been won, Spain have been avoided in the quarterfinals and Roy Hodgson seems to have his squad marching to the beat of his tactically disciplined drum.
Italy, a similarly well-organised unit, stand between England and a place in the last four—a match the bookies are struggling to call.
Here are eight improvements Hodgson's side should look to make to stand a better chance of progressing further.
Begin Slideshow

»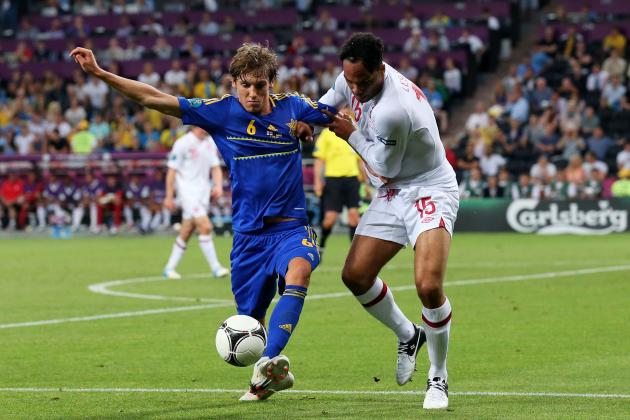 Alex Livesey/Getty Images

Employing such a cautious, defensive system, it is easy for England to begin a game on the back foot, essentially calculating their opposition's threat before eventually constructing some form of offence.
Against Ukraine this was very much the case, as Roy Hodgson's men were far too slow getting into gear.
They had minimal possession, invited the tournament hosts onto them—facing seven shots before they could register their first, on 27 minutes—and should have been punished.
Against better opposition, which Italy certainly are, such a lethargic beginning is far more likely to lead to a potentially irreparable disaster.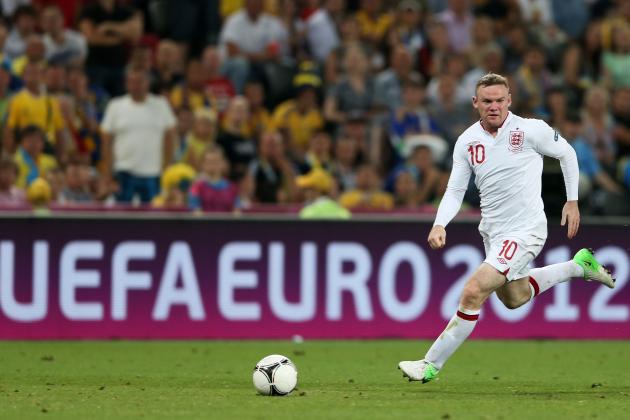 Scott Heavey/Getty Images

England are drilled to keep their shape at all costs and challenge the opposition to play through or around them.
They stay rigid, rarely press the ball-carrier—unless he enters the final third—and are encouraged to be reactive and penetrative when the ball is finally won, attacking with nous and precision.
Italy are renowned for having a sturdy rearguard, are experts at preventing counterattacks and thrive on being tough to break down.
For this reason, it is crucial England have several direct attacking scenarios in store for when they do win the ball, with the key aspect being around pace.
When a player regains possession with the Italians up the field, if England can attack decisively, with their attacking players in unison, they will have a greater chance of breaking through their resilient opponents.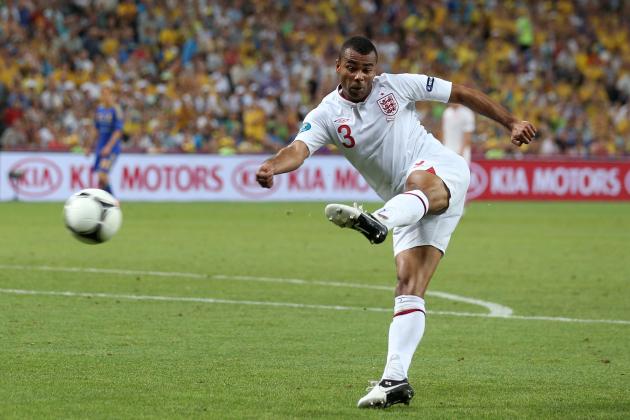 Scott Heavey/Getty Images

It is no good England bursting up field on the counterattack if they finish the move by coughing up the ball.
Italy would then be gifted several opportune instances to strike, and instead of Roy Hodgson's side attacking the less-organised defence, it would be the Azzurri.
England's positioning over pressing style only works with each man in his assigned zone. For that reason, attackers must be ultimately aware of the need to slow or even stop play at the end of each forward surge in order to provide the defence with time to stabilise.
If most England attacks end with a shot, a set-piece won or even a foul conceded in the opposition's half, Hodgson's men will disjoint the Italian rhythm and be better prepared at the back.
Not the prettiest spectacle for fans, and, of course, this is not something that can be implemented every time, but each time they do, they will pose Italy with a much tougher task of breaking them down.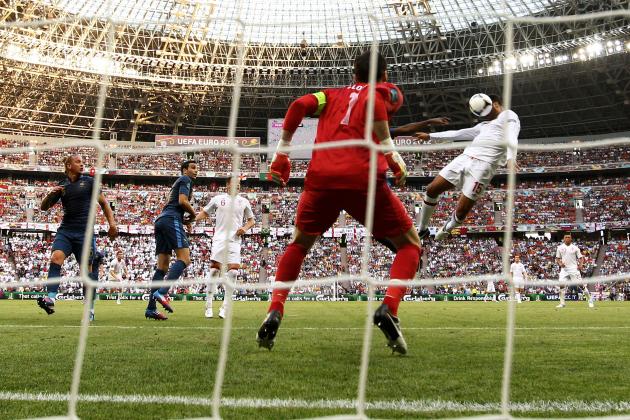 Ian Walton/Getty Images

Apart from counterattacking at pace, another avenue where England seek to attack is via set pieces, where many of their chances have been fashioned out this tournament.
Steven Gerrard's accurate, crisp delivery has troubled each defence he has faced, yet despite his side's proficiency in these situations, opponents have done an equally impressive job limiting these opportunities.
In fact, only three teams have had less corners than England (13) so far, none of whom remain in the competition, whilst only two teams have won fewer free kicks (33).
Combined, only Sweden have had fewer set-piece opportunities than England at Euro 2012 as a whole, something the team must try and rectify against the Italians.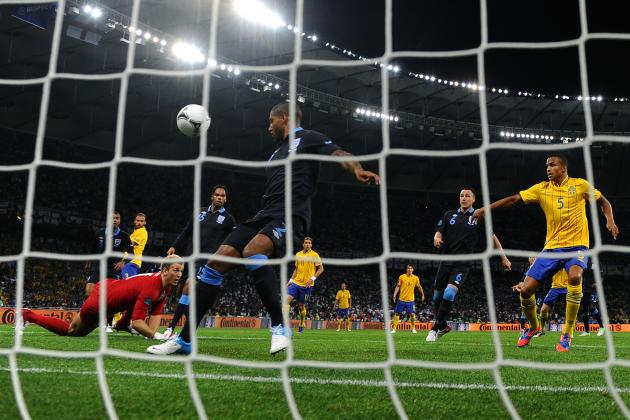 Laurence Griffiths/Getty Images

Whilst Roy Hodgson's men have looked dangerous when afforded a dead-ball situation for themselves, at the other end, when defending such scenarios, England have looked strangely vulnerable.
Two of the three goals conceded so far have been from set pieces, both against Sweden, and there seemed to be little understanding or communication on display when those two strikes went in.
Whilst the organisation seemed to improve in the next match, Ukraine were still able to keep England under sustained pressure for several phases via set pieces as the English defence struggled to avert the danger.
It is strange for such a well-directed, cohesive team to be toiling with this aspect of the game, but against Italy—who have scored three of their four goals from set pieces—there obviously needs to be a drastic improvement.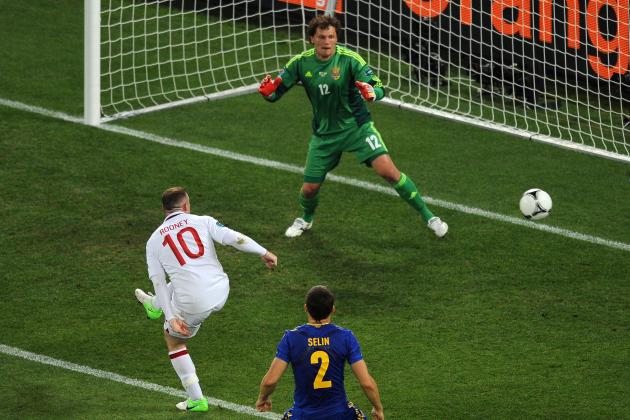 Christopher Lee/Getty Images

A far more basic upgrade is how England cannot afford to fluff clear-cut openings against the Italians.
Should opportunities crop up such as Wayne Rooney's mistimed header against Ukraine or James Milner's one-on-one against France, they must be buried—or it could be curtains.
In the tournament so far, Italy have managed 52 shots, with 18 on target, to England's 31, with 10 on target, which suggest the Three Lions will carve out chances at an inferior ratio of almost 1:2.
All these numbers do is further emphasise how England must be composed in front of goal and capitalise on whatever openings they can craft together.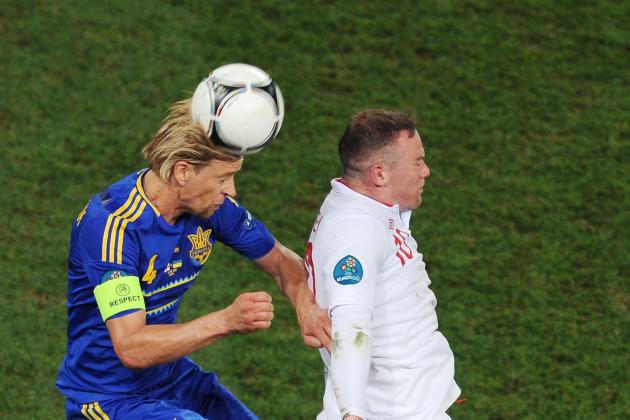 Christopher Lee/Getty Images

England are using Wayne Rooney behind the striker. Roy Hodgson intends for his talisman to be heavily involved in play, creatively link up attacks and have a freer license to roam.
However, a flaw to this role is that against Ukraine, neither Steven Gerrard or Scott Parker were able to find him anywhere near as much as planned. Both were closed down and pressed too quickly to thread a ball through.
By the end of the game, Parker had only found Rooney seven times, and Gerrard six times, tallies that are nowhere near what England's game plan demands.
Taking Germany as an example—who employ Mesut Ozil in this role—against Greece, both deeper-lying midfielders looked to find Ozil over any other teammate.
Ozil plays in front of Bastian Schweinsteiger and Sami Khedira, and both players ended the game recording over twice as many passes to him compared to anyone else. Schweinsteiger found him 28 times, and Khedira 23, numbers that dwarf England's production.
True, Hodgson is not adopting as much of an offensive approach and will not look to produce as many passes as the Germans, but there were several other more frequently used combinations against Ukraine that did not involve Rooney.
England's No. 10 needs to be on the ball as much as possible and must be found far more against Italy.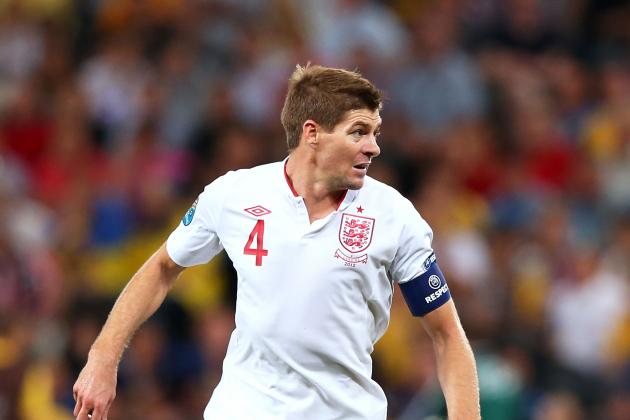 Alex Livesey/Getty Images

Carrying on with the possession theme, England must spend more time on the ball against Italy and be weary of playing too many long balls.
Against the Ukraine, they passed fewer times than in any other match this tournament. Of the game's top nine passers, only two (Scott Parker and Steven Gerrard) were English.
Italy have gone from having 34 percent of the play against Spain, to 67 percent against Ireland, whereas England have yet to occupy the ball for half a game.
Given Roy Hodgson's style and system for this tournament, this is not disastrous, yet the team must show greater intelligence and versatility when in possession.
Diagonal long balls have been the backup plan if the counterattack is not on, but against a stronger team it is too risky to seek this so often and risk handing the ball straight back.
Hodgson's tactics must still be to attack with pace where possible, but if the ball is won and the break is not on, the alternative must be to maintain possession and spread the play slowly, otherwise Italy are going to have the ball too long.
Sunday's quarterfinal is unlikely to be the most attractive affair. It will be tight, cagey and tactical, and England need to feel comfortable having periods of time with the ball, instead of panicking and going for the all-or-nothing pass.
Thanks for reading! If you liked this article, follow me on Twitter for more football chat.