Morgan Rielly: New York Islanders and Other Teams That Must Draft Defensive Star
June 22, 2012

Canadian defenseman Morgan Rielly is slated to be a top-10 pick in the upcoming 2012 NHL Draft, but he has the talent to be a difference maker.
In this year's draft class, defensive players are found atop the list of most mock drafts. Names like Ryan Murray, Griffin Reinhart Mathew Dumba and Jacob Trouba highlight this year's class. One of the blue-chip prospects that many teams may be forgetting, however, is Morgan Rielly. Rielly is a star in the making, and is an asset that all NHL teams would be proud to call a member of their squad.
Defense, after all, wins championships.
Just ask the Los Angeles Kings—who despite only scoring 2.29 goals per game in the regular season (second worst in the NHL) won the Stanley Cup behind their impressive 2.07 goals allowed per game (the second best in the NHL).
There's simply no way to outscore a team if you're allowing shots on goal left and right. There's no way to begin an offensive attack if the other team constantly maintains possession, and the team begins to press if playing from behind.
Morgan Rielly has a mental tenacity already NHL groomed, and after recovering from an ACL injury, he seems ready for success at the next level.
For these teams, it would be a mistake to pass on the defensive star when the NHL Draft comes along this evening.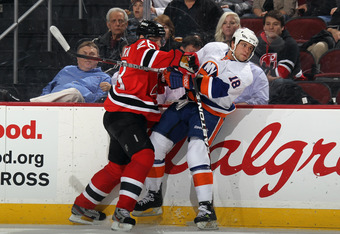 Bruce Bennett/Getty Images
New York Islanders, No. 4 overall
The New York Islanders currently offer only four defensemen with a renewed contract for the upcoming season.
Rielly, perhaps the most offensively gifted blueliner in the entire upcoming draft class is known for being a scorer even from the defensive side of the ice.
Of the teams with a top-five pick, it seems as if the New York Islanders have struggled the most on both sides. The 3.06 goals allowed per game was the fourth highest in the NHL last season, and their 2.39 goals scored per game was the third worst in the entire league.
The difference of -0.67 was the second worst in all of hockey, behind only the Columbus Blue Jackets.
While their record (34-37-11) in the 2011-12 season was an improvement over their effort in the 2010-11 season (30-39-13), they were the far and away worst team in the Atlantic Division.
A player with the toughness of Morgan Rielly would be an instant improvement to a team ailing like the Islanders are.
With the core being John Tavares and a heap of other defensive prospects, the Islanders could be a great fit for Rielly if they're willing to gamble on the young star.
Anaheim Ducks, No. 6 overall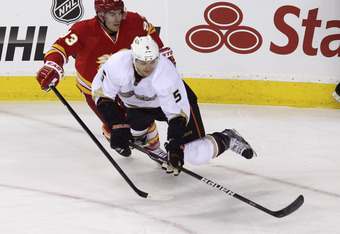 Mike Ridewood/Getty Images
The Anaheim Ducks need a change of pace, and they need it quick.
Last season, Teemu Selanne led the Anaheim Ducks in scoring. This, of course, should be a concern considering that Selanne was 41 years old and he is far from a permanent fixture in this franchise.
Anaheim needs youth as they continue to rebuild, and as their crosstown rivals just won their NHL Stanley Cup on the heels of impressive defense, it may be time for Anaheim to take note.
Their goals allowed were in the bottom half of the league, and their goals scored were in the bottom 10. Rielly would be an immediate, youthful help to both fronts.
Rielly was the second overall selection in the WHL Bantam Draft, has won a bronze medal in the World U-17 Hockey Challenge, and as a defenseman, scored 18 points in only 18 games played.
He's an integral part of any team that he plays for, and he would make a huge impact in Anaheim.
Minnesota Wild, No. 7 overall
Minnesota is known for having offensive striking talent in their prospect wings, but adding a defensive player as elite as Rielly would be a stellar addition to their roster.
Rielly, who can create plays even from the defensive side of the ice, scored 24 times in only 23 games including postseason play. As one of the better passers, fluid skaters and smarter players in this draft class, the Minnesota Wild would certainly benefit from Rielly.
Look at Rielly for his upside, and you have a stellar player who will get solid playing time and high potential. Look at him for his down side, and you see a defenseman nursing an ACL injury.
But when Rielly came back, he showed that he was indeed 100 percent healthy and dominated the ice.
In his future, his best comparisons seem to be Erik Karrison and Drew Doughty.
On where he will end up, Rielly explained: "I'm pretty anxious," says Reilly. "I want things to come to a close. I've enjoyed it up to this point, but it's been a pretty long road and I'm just looking forward to hearing what the end of it is going to be. I'm looking forward to Friday and hearing what my future has in store."