NBA Finals 2012: Message to LeBron James Haters...Shhhh
June 22, 2012

Ronald Martinez/Getty Images
Absolutely nothing went Oklahoma City's way last night.
Shots were constantly rimming out, their defense was incredibly poor and Scott Brooks' rotations—or lack thereof—continued to limit the the potential we all see in his team.
Between LeBron James putting up a triple-double and the Heat knocking down 14 three-pointers, the inexperienced Thunder had no chance as host Miami closed out the series with a 121-106 win to end the series in five games.
The Heat took matters into their own hands, went pedal to the metal and suffocated the Thunder with one of the most dominant third quarter runs in NBA Finals history. After some discussion with the Metta Chronicles team, we agreed it was like an NBA 2K video-game, and someone moved Mike Miller's sliders over quite a bit.
Oh, and by the way, LeBron's 13 assists led to 34 Miami Heat points; he assisted on eight of the Miami Heat's three-pointers. But some of you still want to look away from his obvious dominance, right?
From Grantland:
For the past two years, the sportosphere has been focused on the fallacy of deconstructing greatness. Although daily arguments over behavior in late-game situations and historical placement are part of the natural sports discourse, the NBA fan has been stuck in an unhealthy, argumentative state. We are more interested in analyzing individual body language than in deconstructing a team's pick-and-roll defense.
That LeBron narrative changed last night.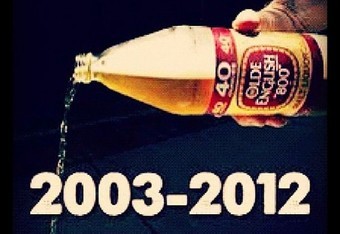 After the game, Twitter was a like gigantic group hug—everyone was, in a sense, finally relieved that LeBron achieved what we all knew he could. The haters and all the doubters (including myself), lost their biggest ammo when LeBron hoisted that elusive hardware.
But you wouldn't know it if you saw my Facebook feed. Most my friends live in Los Angeles, and this so-called hate might have even grown after the victory.
But before I even get into that, just look at these stats:
James becomes the first player ever to record at least 650 points, 200 rebounds and 100 assists in one playoff run. LeBron has now scored 25 or more points in 15 straight playoff games in a single postseason.
Not even Michael Jordan accomplished that feat.
By recording his eighth playoff triple-double in Game 5, LeBron became just the fifth player in league history to deliver a triple-double in a closeout game in the NBA Finals, joining the likes of Tim Duncan (2003), James Worthy (1988), Larry Bird (1986) and Magic Johnson (1985 and 1982). He has also led his team in points, rebounds and assists in 25 games during his postseason career, easily the most of any other player in league history. Second on that list is Larry Bird, who did it 13 times.
Okay, now back to the people on my Facebook wall who just couldn't appreciate the moment.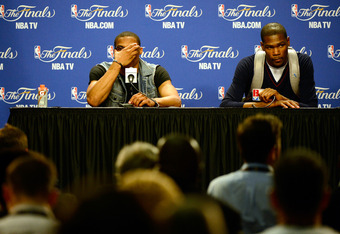 Ronald Martinez/Getty Images
Fans are the best and worst parts about sports, usually depending on who wins the game. What's most intriguing though is how we look to fit the headline into our own narrative. 'Kobe's 6-24 shooting is irrelevant because he grabbed 15 rebounds in the final game of a defensive-minded series against Boston a couple years back.'
'Miami's domination in Game 5 was a team effort, and it was guys like Battier and Mike Miller that carried them to victory.' Oy vey.
Y'all mad? Well, obviously.
Was I jumping up and down with joy when it was clear that LeBron and his Heat were winning it all?
Not one bit. I was upset, and disappointed that my prediction of LeBron never winning a ring while the likes of Kobe, Duncan and KG were still in the league was proved wrong. I wasn't happy that it took 'Bron this long to do something we all knew was inevitable.
Just in terms of physical dominance, he's on a level only guys like Wilt, Shaq, or MJ have reached. And that's a big reason why many of us "hated" on him for the last nine years—he's so unbelievably gifted that his past shortcomings in the postseason have been a complete travesty.
Well, not anymore.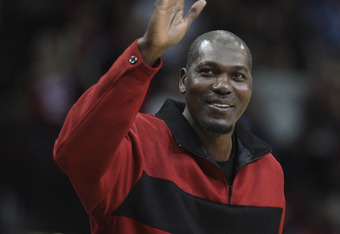 Bob Levey/Getty Images
I was wrong about James. I thought he would never focus just on what was on the court—that he'd continue to let the hype keep him above the clouds while the real game was being played on the hardwood. I thought he'd never consistently attack the basket or use his post game to impose his will on the opposing team. I never imagined LeBron being the one to carry his team, while Dwayne Wade ended up being the more inconsistent member of the duo.
I was wrong...and I have no problem admitting it.
(Side note: Hakeem Olajuwon must have really helped LeBron; James said he talked with Hakeem three times during the playoffs, getting advice and motivation.)
More importantly, I don't understand the notion that one player's greatness takes away from that of another. If I hadn't watched the NBA Finals and was only listening to all these people in L.A. who continue to put LeBron down, I might conclude that it was Kobe's Lakers that lost to the Heat.
Sorry guys, our Lakers were eliminated an eternity ago. And it had nothing to do with Kobe's ability.
It was our inability to defend OKC's Big Three of Durant, Westbrook and Harden. It was our inability to hit open shots from the perimeter. In fact, Kobe did as much as he possibly could, but we lost to a better team. Just like the Thunder lost to the better team in the NBA Finals. It's a best-of-seven series, and the better team, like Dallas last year, always wins.
So why can't Lakers fans (and old MJ fans who need to let go of the past) accept this moment as a special time for LeBron James and the Heat? I mean, at least be happy for Juwan Howard for becoming the first member of the 'Fab Five' to win a ring. We all know Kobe has five rings, and LeBron's legacy is far from becoming that of Kobe's. No one is arguing that.
But to say LeBron didn't deserve this, or the notion that he took some easy way out is ridiculous.
The Heat went on a postseason run with Chris Bosh being out until the final series. They won plenty of games without Dwayne Wade playing to his full potential, whether it be injury-related or just him getting older. They played tons of games with Shane Battier as their power forward.
See, the consistent play we saw of guys like Battier, Chalmers, and even Mike Miller last night, is a result of how great LeBron really is.
By facilitating primarily out of the post, LeBron garnered so much attention from the defense that guys had open looks all night. James averaged 17.6 points per game in the paint during the 2012 Finals. James scored at least 16 points in the paint in every game during the series, after not scoring more than 12 points in the paint in any game during last year's finals.
But, but...LeBron had to go to Miami to win. Duh, point proven. True—Kobe, MJ, Magic, Bird didn't do that. I know I wasn't happy with the way he made 'The Decision', but he was a free agent!
Did he hurt his hometown and loyal fans at the time? Yes. Even I used it as a reason to ignore his play on the court and focused on his off-court attitude. But at the end of the day, especially in this year's postseason, there is no doubt who the main guy was for Miami.
The only guy I've ever seen win without any other stars was Hakeem with his back-to-back rings in the '90s. I might even put Tim Duncan's 2003 title in that category. But Magic, Bird, Jordan, Kobe, Shaq...every other star in league history has won with a stacked team. True, some may have been more stacked than others, but the point is that no one does it alone.
All these guys played with Hall-of-Fame coaches, and HOF teammates. Why can't LeBron James do the same?
The only thing ever stopping LeBron James in the past—other than the 2007 Spurs D led by Bruce Bowen of course—was his own mentality. He finally overcame that, maturing and reaching a plateau of greatness that many have come to expect.
And I'm asking those who still want to hate, why can't there be appreciation without adoration?
Why do people really hate LeBron James? Why have I always found ways to criticize him even in the face of his greatest achievements? Because we're all afraid that—when it's said and done—he will be better than virtually every other player in NBA history.
I think that what finally washed away all the negative emotion I had towards LeBron was what I heard him say in his interview with sideline reporter Doris Burke.
He said that he finally moved away from the hate that he uncharacteristically played with last year and instead focused on just playing with pure joy. Success comes from authenticity, and LeBron finally kept it 100 percent with himself.
As fans, we can have any opinion we want. I'm not saying you have to all of a sudden love the guy, but let's not be blind to his on-court achievements.
Watching his play this postseason, I've grown to acknowledge such abilities. I still prefer players who rely on a jump shot to get their offense rather than strength and athleticism, but I can now finally lay off the hate. I'm still a much bigger fan of a Zach Randolph or a J.R. Smith, but that's just based on my preference of what I like in a player. It doesn't detract from me that I, at the very least, recognize how well LeBron played.
He proved me wrong, and that's what sports is all about. It's about growth, about leaving the past behind and It's not unlike life itself and not repeating the same mistakes. 
And as LeBron James said himself, "It's about damn time."