NHL Draft 2012: Should the Washington Capitals Trade Up?
June 22, 2012

Patrick McDermott/Getty Images
With just hours remaining before the start of the 2012 NHL entry draft, things are already starting to heat up.
As reported by NHL.com earlier, we have seen our first significant trade of the day with the Philadelphia Flyers dealing goalie Sergei Bobrovsky to the Columbus Blue Jackets for three draft picks, including No. 45 in this draft.
The Washington capitals are another team that figures to be rather active today. With three picks in the first and second rounds—and eleven overall—the Caps can stand pat and stockpile some excellent prospects.
Or, they can try and trade up and really make some waves.
If you have read my complete two-round mock draft, you will see I have the Capitals taking Radek Faksa at No. 11 and Hampus Lindholm at No. 16.
My suspicion however, is that the Caps might be looking to trade up in an attempt to draft one of the top defensive prospects available—such as Ryan Murray, Matthew Dumba, Morgan Rielly, Jacob Trouba or Griffin Reinhardt.
That is not to say the Caps would not be delighted to have a shot at Filip Forsberg, Alex Galchenyuk or Mikhail Grigorenko. But I believe Faksa is an excellent fit for what the Caps want to do on offense.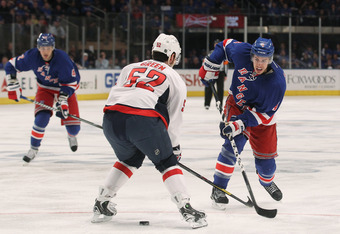 Bruce Bennett/Getty Images
Lindholm is a bigger question mark, and if the Caps could land one of the aforementioned defensive prospects, that is something they may indeed want to pursue.
To do this, however, the Caps will have to trade up.
Should they?
To trade up, one has to figure that the Caps will have to offer the No. 11 pick and/or—to sweeten the deal—they may have to part with a player.
When the Caps and trade rumors are mentioned together, one name consistently seems to appear: Mike Green.
I mean, there is a Facebook page dedicated to this topic.
Green would be a valuable asset to any team looking for an offensive-minded defenseman with a booming shot—and one who showed signs in the playoffs of possibly developing into a two-way defender.
So who might be a willing trade partner if the Caps wanted to deal Green?
I think Anaheim would make a lot of sense here. The Ducks will be looking to improve defensively. It does not hurt that the Ducks' coach just happens to be Bruce Boudreau—someone who obviously is very familiar with Green and knows exactly what he can do and whether he could help the Ducks.
If Boudreau still has confidence in Green, this is a deal that could potentially happen, despite the qualifying contract offer the Caps previously made to Green.
While moving up to No. 6 in the draft would probably not be enough to secure the right to draft Murray, it would create the opportunity for the Caps to go after someone like Dumba, who I feel would be a great addition to the Caps.
If the Caps want to go after Murray—who is generally regarded as the best defensive prospect in the draft—I figure they will have to move up to No. 2 or No. 3 to pull it off.
I do not see Montreal being that interested in Mike Green.
But Columbus might be. The Blue Jackets have needs all over the place. The trade with the Flyers will help with their goaltending situation. If the Caps were to offer Green and the No. 11 pick in exchange for the No. 2 pick—well let's just say the possibilities are nearly endless there.
True, that may be a steep price to pay, but consider this: If the Caps move up to No. 2 and draft Murray, they could still select someone like a Sebastian Collberg or a Tom Wilson at No. 16—two players with different styles, but who would both fit in very well with the Caps.
Obviously, there are lots of variables here.
To trade or not to trade—that is the question.
Fell free to leave comments as to your thoughts on this interesting issue.