NBA Finals 2012: Why LeBron James Wasn't the Most Deserving for a Title
June 23, 2012
Ronald Martinez/Getty Images
I'll be the first to tell you that I am ecstatic for LeBron James. He was finally able to take home a championship for the first time since he first graced the court in the Cavaliers' season-opening game against the Sacramento Kings in 2003.
It's truly been longer than expected for James to win a title. He had been to the NBA Finals twice prior to this season, and both trips were mediocre and detestable.
Since James first came into the league, there have been many superstars to win the championship—his current teammate Dwyane Wade, Kobe Bryant, Tim Duncan, Shaquille O'Neal, Paul Pierce, Dirk Nowitzki, Kevin Garnett, Tony Parker, Ray Allen and the list goes on.
When the Mavericks finally won their first championship last June, it was one of the greatest moments of the decade. The fans finally got to see long-time veterans Dirk Nowitzki, Jason Kidd, Peja Stojakovic, Jason Terry, Shawn Marion, Brian Cardinal and Brendan Haywood all win their first rings.
It was truly a great sight to see all those guys hoist the Larry O'Brien Trophy for the first time in their respective careers.
But, once the clock hit 0:00 on Thursday night, there were really not a lot of "true" veterans on the roster. Yes, there was Shane Battier and Mike Miller, both former players for the Grizzlies, who have both been in the NBA for 11 and 12 years, respectively. The next most experienced veteran, superstar Dwyane Wade, won his second Larry O'Brien Trophy that night.
Some say that LeBron James deserved to win the title. And for the most part, I agree with those people. LeBron paid his dues in Cleveland, as he was an intricate part of some of the Cavaliers' good and horrendous teams.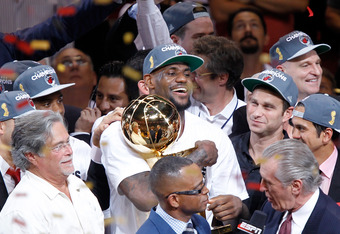 Mike Ehrmann/Getty Images
He made that conscious decision to head to Miami prior to the start of last season and teamed up with fellow stars Wade and Chris Bosh, in the process. While Miami fans were exuberant, Cleveland fans were wallowing in their own footsteps and creating many problems for their city.
Some can blame LeBron for his decision, while some can't. That's just the way it works. When a superstar like LeBron comes around, it's a great sight to see. Whichever team he initially lands on is automatically in title contention. And if he ultimately decides to walk away from that team, all hell breaks loose.
The bottom line is that LeBron did deserve that title on Thursday night. But, he wasn't the most deserving player on the roster.
That belongs to Juwan Howard—a 18-year veteran of the NBA. Howard has waited exceptionally long for an NBA title, as he has played for some great teams and some atrocious teams, whether he played a systematic part or not.
Howard had a great collegiate career while attending the University of Michigan. He was one-fifth of the highly touted "Fab Five" that featured himself, Chris Webber, Jalen Rose, Ray Jackson and Jimmy King. After declaring for the 1994 draft, he was taken with the fifth overall selection by the then-Washington Bullets.
Howard played six full seasons in Washington and had very miniscule results. During his first year in Washington, the Bullets compiled a 21-61 record—one of the worst teams in the NBA. The next season, things did get slightly better, as they went 39-43, but still missed the playoffs. However, statistically, Howard had his best season that year, as he registered averages of 22.1 points and 8.1 rebounds per game.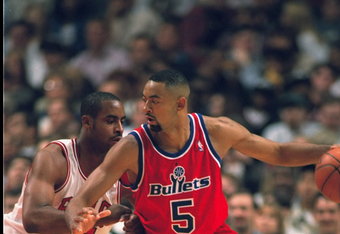 Jonathan Daniel/Getty Images
When the season ended, Howard became a free agent for the first time in his career. Washington offered Howard an $89 million contract but were outbid by the Miami Heat on what was believed to be a seven-year deal worth between $98 and $101 million.
However, the Heat's front office miscalculated its available salary, as they failed to include performance bonuses for P.J. Brown and Tim Hardaway. They also failed to realize the impact of Alonzo Mourning's renegotiated contract before coming to concluded deal with Howard.
The league rejected the contract on July 31 because the Heat were $9 million over on the salary cap. A few days later, Howard then signed a seven-year, $105 million deal with Washington, successfully becoming the first player in NBA history to sign a contract that exceeded $100 million.
The 1996-97 season would undoubtedly be the Bullets' best campaign while Howard was there. They started off the season with a 22-24 mark, which led head coach Jim Lyman to be dismissed. However, they would then go on a 22-14 run and make the playoffs for the first time since the 1987-88 season. Unfortunately, they would go on to be swept by the Chicago Bulls in the first-round.
The following campaign, they would go 42-40 but failed to miss the playoffs once again. In the strike-shortened 1998-99 season, the team was awful and accumulated an 18-32 season. The 1999-00 season would be Howard's final full season, and they were horrendous, as they finished the season with a paltry 29-53 record.
At the conclusion of the Wizards' 54th game of the 2000-01 season against the Vancouver Grizzlies, Howard was part of an eight-player trade to the Mavericks that included Christian Laettner, Etan Thomas, Courtney Alexander, Loy Vaught, Hubert Davis, Calvin Booth and Obinna Ekezie.
Doug Pensinger/Getty Images
Over the course of Howard's Washington career, he saw seven different head coaches—Jim Lyman, Bob Staak, Bernie Bickerstaff, Jim Brovelli, Gar Heard, Darrell Walker and Leonard Hamilton.
Howard was also never given a solid supporting cast, as some of his teammates over the years included Chris Webber, Tom Gugliotta, the 7'7" Gheorghe Muresan, Scott Skiles, a declining Kevin Duckworth, an inexperienced Rip Hamilton, Mark Price, a young Rasheed Wallace, Chris Whitney, Tracy Murray, Robert Pack and aging players Rod Strickland, Mitch Richmond and Otis Thorpe.
Additionally, during his tenure in Washington, his teams compiled a record of 203-308. Needless to say, he just didn't have a solid supporting cast that was able to win him a championship, much less a playoff series.
Howard played the rest of the season with the Mavericks and then participated with them for 53 games during the following season. On Feb. 21, 2002, Dallas traded Howard, Tim Hardaway, Donnell Harvey and a 2002 first-round pick to Denver for Raef LaFrentz, Nick Van Exel, Avery Johnson and Tariq Abdul-Wahad.
He played out the final year of his contract in Denver before becoming a free agent for the 2003-04 season. He ultimately signed a five-year, $28 million contract with Orlando, although it was thought he would go to either Detroit or Minnesota. In that season with the Magic, the team won just 21 games—tied for the second-worst record in the franchise's history.
Howard played just one season in Orlando before being part of a mega-trade to Houston that included players Tracy McGrady, Tyronn Lue, Reece Gaines, Steve Francis, Cuttino Mobley and Kelvin Cato.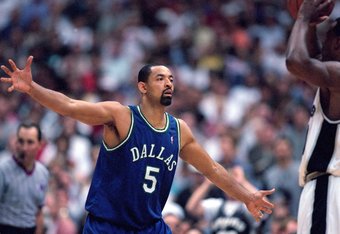 Tom Hauck/Getty Images
However, for the first time in Howard's career, he was going to a team that had a veteran head coach (Jeff Van Gundy) with a stellar supporting cast that consisted of Yao Ming, Tracy McGrady, Dikembe Mutombo and others. In his first season with the Rockets, the team recorded a 51-31 campaign. Unfortunately, they lost in seven games to the Mavericks in the first round.
After not making the playoffs the following season, they went back during the 2006-07 season, but they lost in the first round once again to the Utah Jazz.
Prior to the 2007-08 season, the Rockets dealt Howard to Minnesota for Justin Reed and Mike James. However, he was waived by Minnesota prior to the start of the season.
He would then latch on with the Mavericks for a second time with a one-year deal, just a few days after his dismissal from the Timberwolves. After playing sparingly throughout the season, the Mavericks neglected to re-sign him.
Instead, Howard signed a one-year deal with the Nuggets but was waived after participating in three games for them during the 2008-09 season. A little over a month later, Howard signed a deal with the Charlotte Bobcats and played in 39 games.
The former Wolverine signed a deal with the Portland Trail Blazers prior to the 2009-10 and started 27 games over the course of the season—the most games he had started since the 2006-07 campaign with Houston.
After failing to re-sign with Portland, Howard signed a deal with the Miami Heat. Of course, he remained there for the 2010-11 and 2011-12 seasons. Last season, Howard took his first trip to the NBA Finals, but the Heat lost to the Dallas Mavericks in six games.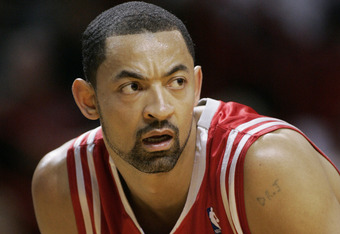 Eliot J. Schechter/Getty Images
However, they were able to come out on top this season, after defeating the Thunder in five games. For the first time in his career, Howard was able to hoist the Larry O'Brien Trophy over his head.
If anyone on the Miami Heat squad deserved a championship ring, it was Howard, not LeBron. Howard has played for some horrendous teams over the years, but he was able to luckily latch on with the Heat and their "Big Three".
Over the course of his long, 18-year career, Howard's team compiled a 722-787 record and made the playoffs just eight times. In five of those eight playoff appearances, his team lost in the first round five times.
His 2000-01 Mavericks lost in the semifinals, while the 2010-11 Heat lost in the finals, and of course, this year's Heat squad won the championship for the second time in the franchise's rather young history.
In other words, Howard did not have much success since his professional career began in 1994. He has played for eight different teams since his rookie season but has also had two tenures with the Mavericks and Nuggets. Howard was also traded four times throughout his career—three of which have contained seven or more players.
Clearly, Juwan Howard paid his dues, and he was the most deserving of a championship than LeBron James. It's likely that Howard will now call it quits after a respected career in the NBA, in which he has accumulated career averages of 13.4 points and 6.2 rebounds per game. If he does decide to retire, he will have the opportunity of leaving the game on top—something few athletes have been able to do.