NBA Draft 2012: 5 1st-Round Picks Who Will Wash out of League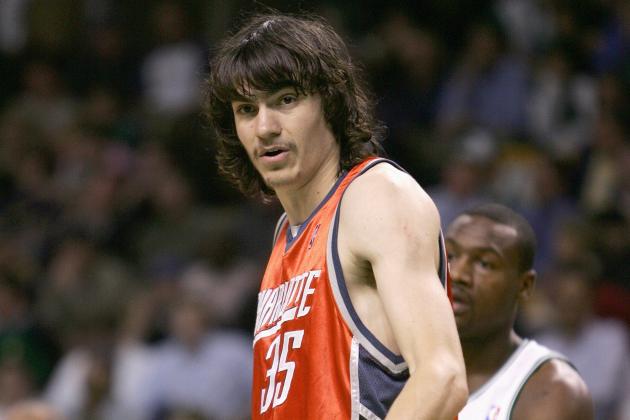 Elsa/Getty Images
Is there another Adam Morrison-type "bust" in next week's Draft?
Every year when the NBA draft rolls around, teams and fans alike get their hopes up that a young player might step in and immediately translate to wins.
However, the reality of the draft is that there are far more players who fizzle in the league than those who flourish at the professional level.
There are countless recent examples of NBA draft "busts," but perhaps no draft class teaches a better cautionary lesson than the 2006 draft. It was a true story of a little good, a lot of bad and even more ugly.
Several players have had sustained success since coming into the league in 2006; top pick Andrea Bargnani has averaged at least 10.2 points per game every season, second overall pick LaMarcus Aldridge enters 2012 coming off an All-Star season in 2011, while the 21st pick Rajon Rondo has developed into one of the league's top point guards. So, there's the good.
After the first two selections that both have paid off, numerous lottery picks have failed to live up to their lofty expectations. Tyrus Thomas was selected fourth overall, and he's now a forgotten man in a weak Charlotte frontcourt, while the fifth pick, Shelden Williams, has bounced around to seven NBA teams in six professional seasons. As top-10 draft picks, both players certainly fit the label of bad.
Whereas Williams and Thomas are considered to be nothing more than role players with their current NBA teams, several players from the 2006 draft class are no longer in the league. The ninth and 10th picks that year, Patrick O'Bryant and Mouhamed Sene, combined for just 137 game appearances and six starts between the two of them, and neither player is currently in the league.
The most well-known "bust" from the 2006 NBA draft is the man Michael Jordan tabbed with the third overall pick—Gonzaga's Adam Morrison. After just three seasons with the Bobcats and Lakers, the former top-three pick is currently out of the league. He is now better known for his long hair and sloppy mustache than his ability as a player. Ugly.
In next week's draft, rave reviews and promising previews will be given after every selection is made. Every single first-round pick will be counted on to live up to his draft position, and certainly every player taken in the top 10 will be expected to be more than just a role player.
Simply based on potential, some players will be taken far earlier than their production in college, or lack thereof, would suggest. This can be the devil in a red dress for general managers in the NBA.
While it's up to the player to make sure he reaches his "ceiling" of ability and and has a sustained professional career, let's look at five first-round picks who could wash out of the league in a few years.
Begin Slideshow

»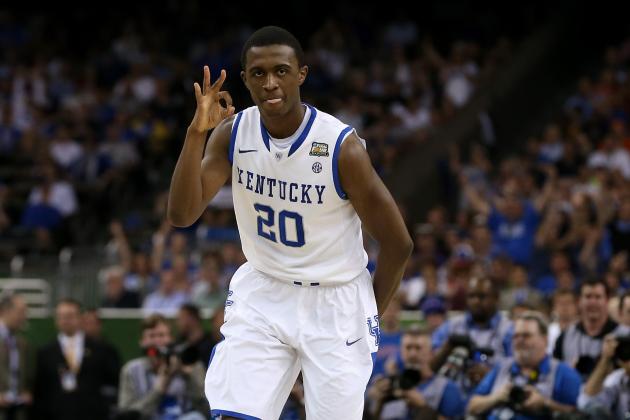 Jeff Gross/Getty Images

Height: 6' 3.25" (barefoot)
Weight: 199 pounds
Projection: Late-first round
Best-Case NBA Comparison: Jodie Meeks
Lamb relies heavily on his outside shot, and that may be enough to fill a role on an NBA roster as a spot-up shooter—but nothing more. Athletically, he isn't anything special, and he'll likely struggle to match up with more fluid athletes at the professional level.
He's worth a flier in the late first round, but whoever drafts him shouldn't hope for anything more than a situational three-point shooter.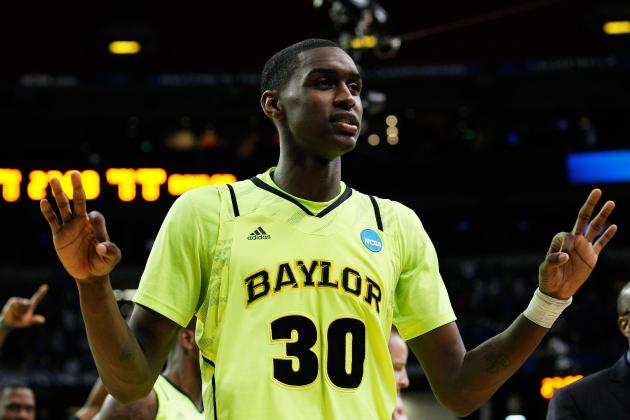 Kevin C. Cox/Getty Images

Height: 6' 8.75" (barefoot)
Weight: 217 pounds
Projection: Mid- to late-first round
Best-Case NBA Comparison: Rudy Gay
Coming out of high school in 2011, Miller was one of the premier recruits in the country. However, he was rather inconsistent during his lone season at Baylor, and he certainly fits the label of "boom or bust."
Although he's only 19 years old, he has the build of Kevin Durant but lacks the same athleticism and creativity. For a team picking late in the first round, Miller is worth the gamble, but teams picking in the middle of Round 1 should stay away from this guy.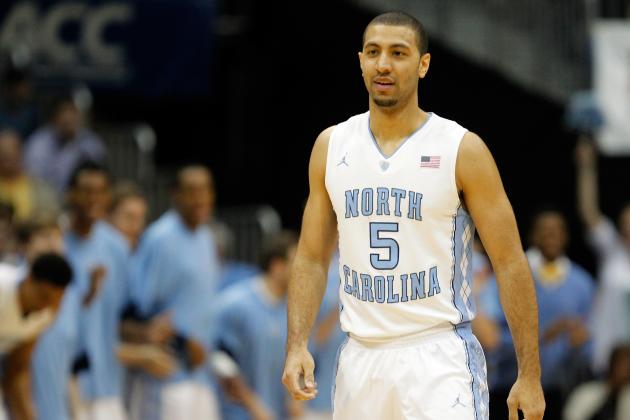 Streeter Lecka/Getty Images

Height: 6' 3.25" (barefoot)
Weight: 198 pounds
Projection: Mid-first round
Best-Case NBA Comparison: Andre Miller
Marshall has been one of college basketball's best and most consistent point guards during his time at North Carolina; however, point guards in the NBA are generally expected to be more than just floor generals.
Marshall reminds me of former UConn point guard Marcus Williams in that he's a pass-first point guard who struggles to consistently hit jump shots. Williams has fizzled out of the league since he being drafted in 2007, and Marshall will have to improve as a scorer if he wants to stick around the league.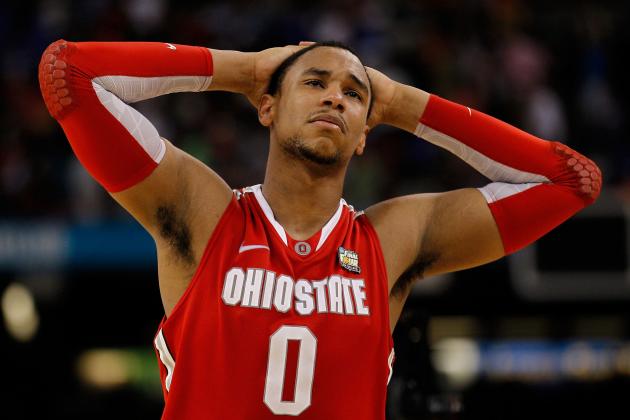 Chris Graythen/Getty Images

Height: 6' 7.75" (barefoot)
Weight: 268 pounds
Projection: Lottery to mid-first
Best-Case NBA Comparison: Elton Brand
Post players who aren't superior athletes can spell trouble for NBA teams. Whereas other frontcourt players in this year's class are explosive and consistently finish above the rim, Sullinger relies heavily on his own craftiness to score the basketball.
Sullinger has a chance to have a long NBA career as a solid role player, but his potential is very limited due to poor lateral quickness and an immature build. Teams picking in the lottery should look elsewhere with their top pick—this is Sean May 2.0.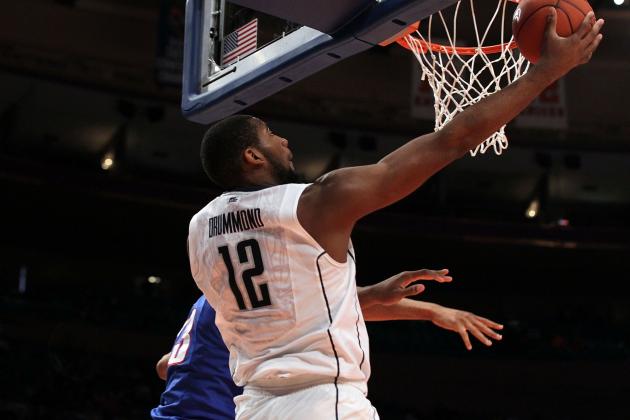 Jim McIsaac/Getty Images

Height: 6' 9.75" (barefoot)
Weight: 278 pounds
Projection: Between the top five and the top 10
Best-Case NBA Comparison: DeAndre Jordan
Drummond won't turn 19 until August, so his ceiling may be as high as any post player in the entire draft. However, for being as heavily recruited as he was coming out of high school, Drummond failed to live up to expectations as a freshman at Connecticut.
Drummond may one day reach his potential and become a dominant post presence in the NBA, but he shouldn't be selected in the top five, and whoever drafts him should proceed with extreme caution.