Fedor Emelianenko: Mixed Martial Arts' Greatest of All Time
June 22, 2012

Not very often is there a consensus "Sport's Greatest of All Time",  but that is what Fedor Emelianenko was for MMA; and not just heavyweights.  He could dominate every facet of the fight game against the greatest of all disciplines.
With news of "The Last Emperor's" retirement coming out of Russia after Fedor's first round KO victory over Pedro "The Rock" Rizzo, the career of the greatest mixed martial artist of all time came to an end.  In a fashion that is "Fedorian", the quiet, nondescript former PRIDE and WAMMA Heavyweight Champion closed the book on his G.O.A.T. career in his Motherland.
Yet, many of today's UFC fans do not know who Fedor Emelianeko is, or rather who he was.  No, they only know him from his limited appearances in American fighting organizations.
From June 23, 2002 until November 7, 2009 Fedor ruled the mixed martial arts heavyweight division with an iron fist – ironic because throughout his career he was met with numerous hand injuries that canceled or postponed much anticipated fights.
His victim list is a "Who's who" of heavyweight fighters: Antonio Rodrigo Nogueira twice, Heath Herring, Mark Coleman twice, Semmy Schilt, Gary Goodridge, and Andrei Arlovski to name a few.  But his most impressive victory came in what was the 2005 fight of the year, the 2000's fight of the decade, and to some MMA observers, the greatest fight of all time, against Mirko "Cro-Cop" Filipovic.
When these two gladiators met on August 28, 2005, there was belief a changing of the guard would occur with Cro-Cop defeating Fedor.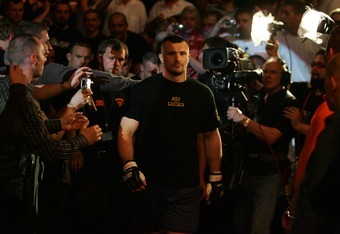 Gary M. Prior/Getty Images
Going into this fight Cro-Cop was a buzzsaw chopping down the competition – almost literally. His leg and body kicks were devastating, and his head kick was legendary.
Prior to this monumental clash, Cro-Cop was on a seven-fight win streak with victories over the likes of:  Mark Coleman, Kevin Randleman, Josh Barnett, and "The Last Emperor's" younger brother Aleksander Emelianenko.
Cro-Cop was considered the new breed of heavyweight.  With his seemingly easy transition from K-1 to PRIDE he instantly became the best heavyweight striker in all of MMA.  Along with his rapidly improving ground defense, he was beginning to be viewed as nearly unstoppable.
However, there were still questions about the level of his ground game; offense and defense.  Cro-Cop never needed a true ground offense since he was so dominant on his feet. 
And if you were able to watch any of Cro-Cop's fights, you know his sprawling and ability to escape were second to none, allowing him to bring the fight back to the feet; exactly where he wanted it.
But how would his premier defense fare against the highest of the highest levels of MMA competition?
That question was answered, albeit in a loss, against "Big Nog" on November 9, 2003 in a fight for the interim PRIDE Heavyweight Championship.
Through the first round, Cro-Cop thoroughly dominated "Big Nog" on the feet and frustrated him by escaping from submission after submission while inflicting significant damage on the ground.  But in the second round "Big Nog" was able to latch on an arm-bar submission for the victory. To this day I still cannot comprehend how Cro-Cop did not see that transition coming.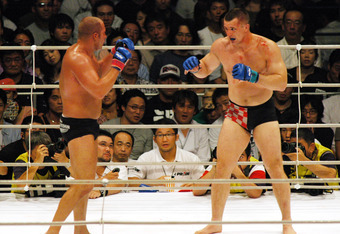 Tomokazu Tazawa/Getty Images
But I digress.
Yet, regardless of the outcome, Cro-Cop gave definitive proof of the level of his ground game with the defensive clinic he put on that night against a man who was considered the best BJJ practitioner in all of MMA.
Now fast-forward roughly 22 months to the showdown between Cro-Cop and Fedor.  Cro-Cop was considered the greatest and last hope for any fighter to be able to pry the Heavyweight Championship belt from the cold grip of Fedor Emelianenko.
But, Fedor proved he was the best heavyweight in the world by absorbing kick after kick, punch after punch from his Croatian counterpart, and continued to press the fight to a backpedaling Cro-Cop – his greatest weakness.  He was able to secure takedowns almost at will, negating Cro-Cop's infamous sprawling technique.
Fedor had an answer for everything.
As the fight reached the latter stages, Fedor's superior conditioning kept him relatively sharp throughout the fight, while Cro-Cop became sloppy.  Fedor was able to catch some of Cro-Cop's kicks, which had lost a little bit of their lightning-fast quickness, and throw his opponent to the ground where he was able to inflict considerable punishment to the face and body of the challenger.
After 20 minutes of proving mixed martial arts is indeed a science, Fedor looked worse than he had after all of his other PRIDE fights combined.  Both fighters came out battered, bruised, and exhausted.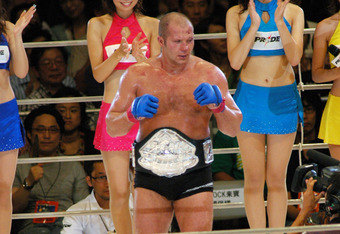 Tomokazu Tazawa/Getty Images
Emelianenko had a broken nose and the right side of his torso looked as if it had been slammed with a 2x4 time and time again.  Cro-Cop's face looked like Chris Farley's in "Tommy Boy" after David Spade smacked him in the face with a board; and he may not have had any broken bones, but "The Last Emperor" had broken his spirit.
In the end, though, Fedor Emelianenko proved he was still the greatest heavyweight in all of mixed martial arts by retaining his PRIDE Heavyweight Championship over a challenger who was debated to also have been the greatest heavyweight in all MMA prior to that encounter. 
This fight became the definitive definition of a Championship Bout.  It was a fight that was for more than a belt.  It was for the title of "World's Greatest Mixed Martial Artist."
That is the Fedor Emelianenko we should all remember.  Not the Fedor who looked slow in an early 2009 victory over Andrei Arlovski, or the Fedor who lost his last three fights of notable competition—I know technically he has won his last three fights, but against lesser competition.
So closes another book of a G.O.A.T.  I feel blessed to have witnessed such talent in my lifetime at an age I could quantify his greatness.
Fedor Emelianenko is arguably the Greatest Mixed Martial Artist of All Time.  Not just heavyweight, nor PRIDE heavyweight.  Mixed Martial Artist.  Period.
There may be others who come along to challenge his title, but in his time there was no other equal and none prior.
MMA G.O.A.T.s will be debated as the sport continues to grow, and becomes more and more mainstream.  But as MMA history becomes distorted and dissolved into UFC history, and the accomplishments of non-UFC greats are overshadowed, we must never forget the accomplishments the Greatest of All Time.
In the future, MMA fans will debate who is that generation's Fedor.  "Fedor" will become a term substituted for greatest of all time.
But there will always be only one greatest of all time.  Only one Fedor.