Predicting Top Offensive, Defensive Stat Leaders for the New York Jets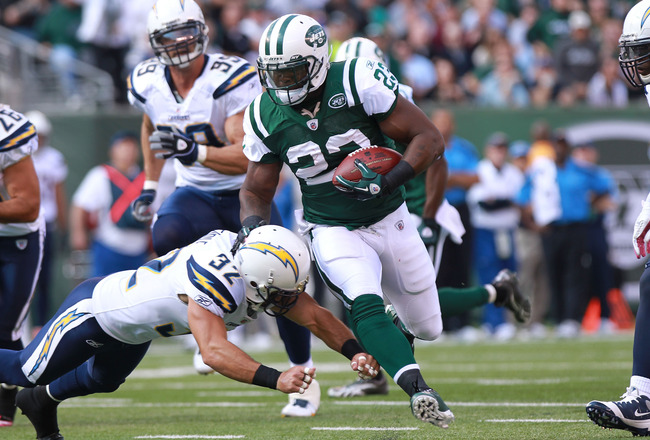 Nick Laham/Getty Images
As the Jets tried to take the next step into 21st-century football last year with a pass-first offense, they saw a spike in passing numbers but a drop in the win column.
This season, the Jets are putting more of an emphasis on being an efficient and physical offense, with the running game at the forefront of their attack. As a result, passing numbers and interceptions should drop, and rushing numbers with yards per attempt should rise.
Here is a prediction of statistical leaders for the Jets in 2012.
Top Passer: Mark Sanchez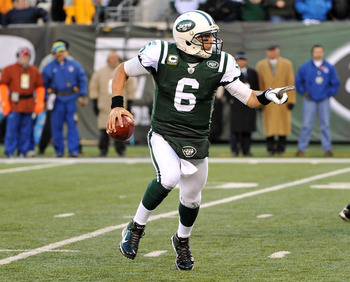 Christopher Pasatieri/Getty Images
Even if Tim Tebow does take over for Mark within a month, he still will not throw for more yards than Sanchez will in 2012.
That said, I would expect Sanchez's total yardage to go down from his 3474 mark he set last year, as the Jets are fully expected to revert to a run-first offense after failing to be more balanced a year ago.
I would also expect Sanchez's touchdown numbers to take a tumble as well. Last year, they scored a vast majority of their touchdowns through the air, as they took advantage of their red-zone mismatches.
When the Jets get close to the end zone, I could see them using more Wildcat and run plays than they did a year ago without Plaxico Burress to on the field to draw coverage.
Top Rusher: Shonn Greene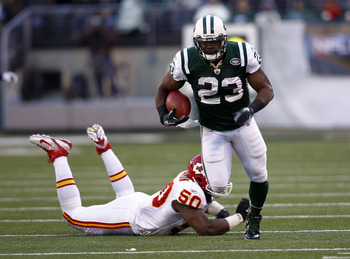 Jeff Zelevansky/Getty Images
2011 was a bit of a disappointment for Shonn Greene in his first season as the full-time starter, despite eclipsing the 1000 yard-mark.
Even though we hear the Greene hype machine just about every offseason, I would not be surprised if he took off in 2012. Not only did he shed some weight, but his offensive line will be healthier at the guard position, which is huge for a downhill runner like Greene.
A perfect fit in Tony Sparano's physical offensive system, this is the year for Greene to break out if he is ever going to.
Top Receiver: Santonio Holmes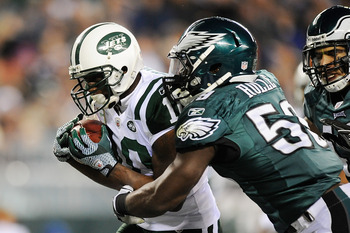 Patrick McDermott/Getty Images
Hate Santonio all you want for being a drama queen, but there is no question that he is the Jets' best receiver and that he will be the primary target of the Jets' passing game.
While Tony Sparano's offenses in Miami have not exactly been world-beaters, I give him credit for never letting the opponent dictate what he was going to do. No matter what, he was going to try to get the ball into Brandon Marshall's hands, even if it meant throwing at Darrelle Revis.
I expect Sparano to take the same mindset with him in New York and do everything he can to get the ball in the hands of the Jets' most dynamic offensive players.
Not only will Holmes get the highest passing totals, but he should get the most targets and lead the Jets in receptions.
Top Tight End: Dustin Keller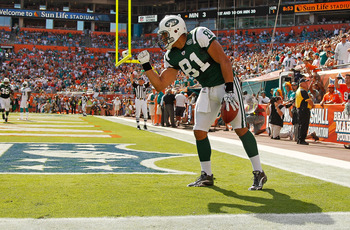 Mike Ehrmann/Getty Images
No-brainer here. Keller was Sanchez's favorite target last year, and he is one of the better receiving tight ends in the game.
He will have to continue to improve in the blocking aspect of his game in the Jets' run-heavy approach, which is an area where he took a bit of a step back last season.
The only issue for Keller right now is whether or not the Jets can extend his contract before he hits free agency. With every big game Keller has next season, it is going to be that much more expensive for the Jets to keep him around.
Most Touchdowns: Shonn Greene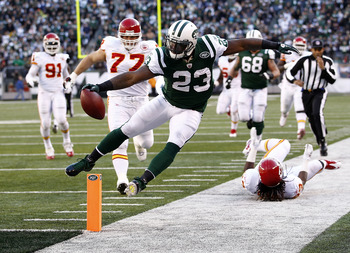 Jeff Zelevansky/Getty Images
So far, Shonn Greene's touchdown totals have been modest at best, as he had just six touchdowns last year.
However, that is not all Greene's fault. The Jets loved to score touchdowns either through the air (Mark had 26 TD passes) or let Sanchez do his fake hand-off that fools teams over and over again. In fact, Sanchez had just as many rushing touchdowns as Greene did last year.
Basically, the Jets did everything possible to limit Greene's goal-line touches. The fact that Greene had very few long, explosive runs did his stats no favors either.
With Sparano running the show, I expect him to not want to get cute and just punch it in, 2009 Jets-style, which will make Greene's touchdowns skyrocket.
Sack Leader: Quinton Coples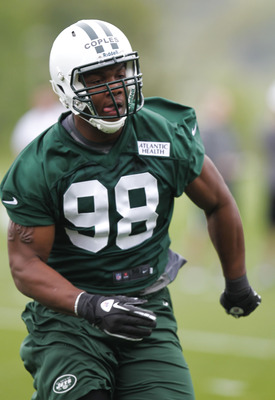 Jeff Zelevansky/Getty Images
Without a proven, consistent pass-rusher on the team, it is difficult to make a prediction as to who will lead the Jets in sacks this year.
To me, the leader will be either one of these two players: Quinton Coples and Aaron Maybin.
Maybin, despite notching six sacks in limited action last year, is not developed as a pass-rusher. Most of his sacks came from good coverage and sheer effort, as opposed to hi overpowering his opponent.
While he will continue to give the Jets the same type of speed and hustle, it is difficult to maintain such a high sack ratio without having developed a full repertoire of moves and techniques.
Meanwhile, Coples will also see the field more often than Maybin, particularly on earlier downs. Rex Ryan will also move him around to give him as many opportunities to get pressure as possible, whether its from the interior or standing up as a linebacker.
Most Tackles: David Harris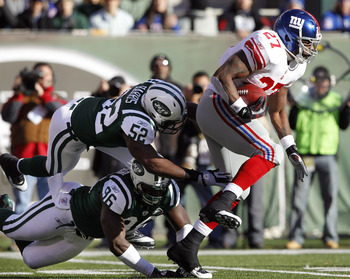 Rich Schultz/Getty Images
Not too much competition here. Not only does David Harris see the field much more often than Bart Scott, but he is now playing behind a very deep and athletic defensive line. That should open up more opportunities for Harris not only to make more tackles but to get more tackles for loss.
I also expect the Jets to blitz more this year, which should help Harris' sack totals as well.
However, Harris was picked on in coverage last year, so he will have to improve in that area in order to stay on the field in third-down situations.
Most Interceptions: Antonio Cromartie
Rob Carr/Getty Images
It is really a toss-up between Revis and Cromartie here, but after watching Revis single-handedly beat the Dolphins earlier in 2011, I think teams have all but confirmed their belief that throwing at Darrelle Revis is just not a good idea.
Cromartie has steadily become more consistent over the past year, and I expect him to continue to improve as he gets more and more comfortable in the system.
Also, because the Jets added new bodies at safety, the middle of the field will not be as wide open, forcing teams to test the Jets' corners.
Most Forced Fumbles: Calvin Pace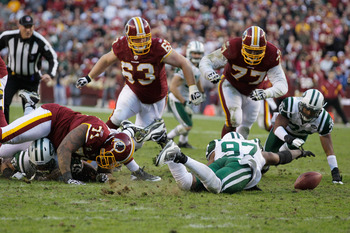 Rob Carr/Getty Images
Calvin Pace has become a bit of a forgotten man in the Jets' D, as he has been underwhelming as a pass-rusher.
However, after leading the starting defense in forced fumbles last year with three, he has shown that he does know to dislodge the ball.
This is another one of those stats that could really go either way, but I would put my money on the proven veteran who will see the field on all three downs.
Most All-Purpose Yards: Joe McKnight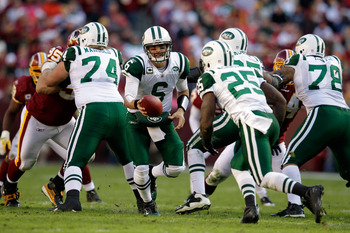 Rob Carr/Getty Images
Not only is Joe expected to be the Jets' kick returner, but his role as a runner will increase now that LaDainian Tomlinson is out of the picture.
While most teams have adopted a strategy of making touchbacks if the ball is kicked deep in the end zone with the new kickoff rules, Mike Westhoff's unit is a bit more daring and will attempt a return that few teams would.
If McKnight manages to hold on to both jobs this year, he should have no problem becoming the next Leon Washington and leading the Jets in all-purpose yards without breaking a sweat.
Keep Reading

New York Jets: Like this team?