The Cincinnati Bengals have one of the better defenses in the NFL, and they've done so in part by taking a fiercely rotational approach to their defensive line. Eight different defensive linemen saw significant playing time in 2011, and this season, 10 players should get significant snaps on the line.
So let's take a look at the snap counts for the Bengals defensive linemen from last year to try to determine just who will be used and when this season.

The Bengals use a 4-3 defensive alignment, with four defensive linemen on the field (two defensive tackles, two defensive ends). As you can see from this chart (data courtesy of Pro Football Focus), the team is more prone to rotating its defensive ends than its tackles, dependent on what the opposing offense is showing.
The first thing that jumps out is the three players who got the majority of playing time: defensive tackles Geno Atkins and Domata Peko and defensive end Michael Johnson.
Atkins was used more often in pass-rushing situations than in run-stopping ones and was sparingly used in coverage. As such, he notched 47 tackles last year and 7.5 sacks.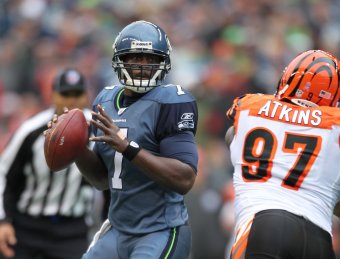 Otto Greule Jr/Getty Images
He's the Bengals' most important and effective pass-rusher (and he's not too shabby in the run-stopping department either), and as the league continues to be more pass-heavy, he'll yet again have the most time on the field of any Bengals defensive lineman.
Johnson was on the field for 64.8 percent of the Bengals' defensive snaps last year and is all about pass defense. He dropped back into coverage more than any other lineman and had almost 200 more pass rush snaps than run defense snaps. This will be his job again this season.
On the other end of the spectrum is defensive tackle/nose tackle Peko. Much as you'd expect from a nose tackle, Peko played more of his snaps as a run defender (399 to 297 in the pass rush and three in pass coverage). He was spelled on occasion by Pat Sims, who had more snaps as a run defender but also had more pass rushing snaps.
Jared Wickerham/Getty Images
Sims injured his ankle late in the season and will likely be eased back into the rotation this year. Word spreading now is that rookie Brandon Thompson will take on the backup nose tackle job and be used when they need more pass-rushing out of the position.
But the biggest question mark on the defensive line remains defensive end. The Bengals lost two veterans at the position in free agency, as Frostee Rucker and Jonathan Fanene moved on to secure themselves more playing time.
The Bengals responded by adding two free agents, Jamaal Anderson and Derrick Harvey, the latter playing just five games for the Denver Broncos last year after being a 2008 first-round draft pick for the Jacksonville Jaguars.

Rucker and Fanene were each used less than 45 percent of the time, with the majority of defensive snaps going to Carlos Dunlap and Robert Geathers. Just looking at Anderson's and Harvey's snap numbers compared to those of Rucker and Fanene, it's easy to see who replaces whom.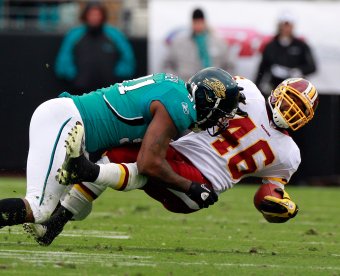 Sam Greenwood/Getty Images
Though Harvey's sample size is small, clearly he was used in Denver (and also in Jacksonville) as a pass-rusher, which is what Fanene's purpose was in Cincinnati. As such, Harvey will replace him and rotate in and out of the game with Dunlap and and Johnson.
Anderson is more of a run-stopper, much like Rucker. But Rucker also took on a good number of pass-rush snaps and was used in coverage more often than Anderson was last year with the Indianapolis Colts, which means his snaps could be more limited this year than Rucker's were last year.
But a look at all these defensive linemen's snap counts from last year, and you can see the Bengals have built themselves a well-balanced rotational system. It keeps players fresh, utilizes them for their specific talents and, most importantly, keeps offenses on their toes.
This system is proven to work, and now that the Bengals have done some upgrading—and, in turn, infusing the line with more youth—it should be even more successful in 2012.