Oklahoma City Thunder: Will This Team Return Intact Next Season?
June 22, 2012
Ronald Martinez/Getty Images
Even after losing the NBA Finals 4-1 to the Miami Heat, the Oklahoma City Thunder have built a team that is capable of being a force in the Western Conference and the NBA for the foreseeable future. But can the team stay together to make that happen?
The Thunder have been able to acquire four core pieces of their roster through the NBA Draft—Kevin Durant, the second overall pick in '07; Russell Westbrook, fourth overall in '08; Serge Ibaka, 24th overall in '08; and James Harden, third overall in '09.
General manager Sam Presti was also able to acquire key role players, Thabo Sefolosha and Kendrick Perkins, via trades that didn't cost OKC key assets.
Presti came to the Thunder after working for the San Antonio Spurs. Presti has done his best to take what he learned in San Antonio and instill those principles with Oklahoma City.
The result is a roster with only four players over 30 years old, and of those four players, only Derek Fisher and Nick Collison are part of coach Scott Brooks' rotation.
Meanwhile, the Thunder's four stars are 23 and 22 years old.
With four players who are yet to reach the peak of their careers and two trips to the Western Conference Finals and a trip to the NBA Finals this season, OKC has what it takes to become the NBA's next dynasty.
This all, of course, hinges on the Thunder being able to keep their four stars together.
So far they have locked down Kevin Durant and Russell Westbrook to five-year extensions.
Durant's is for $86 million and Westbrook's is for $80 million, meaning they will cost Oklahoma City an average of $33 million combined each season.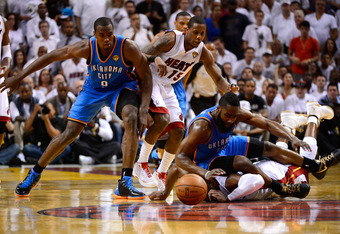 Ronald Martinez/Getty Images
This season the salary cap was at S58 million. If the cap were to remain at this level, that would give the Thunder only $25 million left to spend on the rest of their roster before they reached the luxury tax.
That's without counting the salaries of Kendrick Perkins ($7.8 million), Thabo Sefolosha ($3.6 million), Nick Collison ($2.9 million), Daequan Cook ($3 million), Cole Aldrich ($2.4 million) and Reggie Jackson ($1.2 million).
Those five players total $20.9 million in salary, giving OKC only $4.1 million room in cap space—not counting Harden and Ibaka's current contracts ($5.8 million and $2.25 million respectively).
With the new CBA signed as part of the lockout, the luxury tax will become much more punitive against teams starting in the 2013-14 season.
This is very key for the Thunder as this is when any extension they give Harden or Ibaka this offseason will begin to count against their salary cap.
However, neither Harden or Ibaka can become unrestricted free agents until the end of the 2013-14 season.
They will be restricted free agents after next season, and even though the Thunder will have the right to match any contract offered to Harden and Ibaka, it will be tough for them to keep both and avoid having to pay the luxury tax penalties.
Both players will command a lot of money on the open market. James Harden has future star written all over him. Serge Ibaka brings athleticism and a defensive presence that few players in the NBA can match.
The best hope for Oklahoma City to keep these two players will be to try and extend them at reasonable prices this off season.
If they are able to get Harden and Ibaka to take $10-12 million a season for four years, that would bring them to around $57 million a season for their core four players, just slightly under the salary cap.
Having that much money tied up to four players would not be as problematic as it may seem.
OKC still has their amnesty clause available to use—Kendrick Perkins, anyone?
And since each player brings something different, the Thunder will be able to plug holes using their mid-level and bi-annual exceptions.
By contrast, the Thunder's opponent in this year's NBA Finals, the Miami Heat, pay their trio of LeBron James, Dwayne Wade and Chris Bosh a total of 47 million.
Yet, there is one free agent that the Thunder need to first secure before they worry about what to do with Harden and Ibaka.
That free agent is none other than head coach Scott Brooks.
Brooks is no longer under contract with the team, and it is critical that the Thunder are able to bring him back and sign him to a long and much-earned extension.
Brooks has helped oversee steady improvement year in and year out ever since taking over for PJ Carlisemo.
Brooks has gained the players' respect and has led OKC to the Western Conference Finals and the Finals in the past two seasons.
Brooks is young himself; at 44 years old, he is the second youngest coach in the NBA behind only Miami's Erik Spolestra.
It's not going to be cheap for owner Clay Bennett, and it's going to take more shrewd moves by Presti, but I believe that the Thunder will be able to keep Durant, Westbrook, Harden, Ibaka and Brooks together for the next five years.
If they do, there will be plenty more finals appearances for Oklahoma City.
Follow Brandon on Twitter: @jeffeb91 
Follow Brandon on Tumblr: http://i-w-r-i-t-e.tumblr.com/