England vs. Italy: Lineup Changes Roy Hodgson Must Make to Defeat Italy
June 22, 2012

Alex Livesey/Getty Images
Roy Hodgson has taken an English team many claimed too weak for a tournament and has won a place in the Quarterfinals against Italy. The battle will take place June 24th in Kiev, Ukraine where they will fight for a spot in the Semi-finals. Faced against a defensively strong Italian team, Hodgson must make a few bold alterations to his lineup in order to win. Here is a look at those changes. 
Now that England is in the quarterfinals, they must be able to widen the pitch and increase their speed on the wings by using Alex Oxlade-Chamberlain and Ashley Young in the starting line up. With the return of Wayne Rooney, Hodgson must play him up front and take Jermain Defoe off the bench. Defoe has scored 17 goals this season for Tottenham Hotspur and 15 goals in his international career, yet less experienced strikers such as Andy Carroll and Danny Welback get the nod over him. 
Placing Defoe alongside Rooney will keep the Italian defenders busy as the Tottenham striker can move around the penalty area and shoot from different angles. The wingers will also be able to cross the ball into the center for the strikers to collect.  
Although it may benefit Hodgson to maintain the standard English formation 4-4-2 at first, he must allow his team to become more flexible. The formation can adapt to 3-4-3 during the attack and a defensive 4-5-1 to restrict counterattacks.  
This is how England's 4-4-2 lineup should look for the team to succeed against Italy:
Joe Hart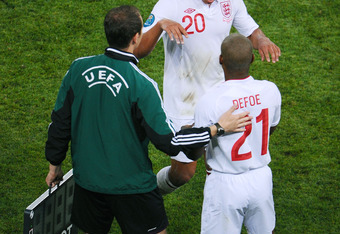 Lars Baron/Getty Images
Glen Johnson, John Terry, Joleon Lescott, Ashley Cole
Oxlade-Chamberlain, Scott Parker, Steven Gerrard (19 goals), Ashley Young (6 goals)
Rooney (29 goals), Defoe (15 goals)
Substitutes: Theo Walcott (4 goals), Phil Jones, and Carroll (2 goals).
Thus far, Italy has played defensively, and has had no problem maintaining this style of play for the entire match.
To tackle Italy's defense, Hodgson will need to push Oxlade-Chamberlain and Young forward into the opposite corners of the penalty box. They will need to make quick and accurate crosses into the middle for Rooney to head. Hodgson must instruct the wingers to create passes between themselves and Defoe in the penalty area to create gaps in Italy's defense. Steven Gerrard and Scott Parker should wait just outside the penalty area to receive the rebounds. With this formation, the midfielders can rely on one or two strikers to be in the penalty box at all times. 
Defenders Terry, Lescott and Cole must hold the defense firmly as Italy tends to rely on counterattacks to score. The back four gives the team the width to cover the pitch defensively. As Johnson has the tendency to move forward, he can position himself as a right wingback within the game in order to take long-range shots and make crosses. In this scenario, England can create more options to push players forward and still have three defenders back in defense.
Since Rooney has the tendency to move back into the midfield, Hodgson can also substitute Carroll for Young and Walcott for Chamberlain to form a 4-1-2-3 formation for the second half, with Scott Parker as a defensive midfielder and Rooney as the playmaker. 
These are a few alterations Roy Hodgson could make in order to strengthen his side to take on Italy and then potentially Germany. In a few days, we will find out what the English manager has in store.