Where Does LeBron James Rank All-Time with 1 Ring?
June 22, 2012

Ronald Martinez/Getty Images
For all those who argued that LeBron James would never be considered an all-time great because his fingers were all empty, well, I've got some news for you. James just capped off an MVP-season with a title, confirming his place among the greatest to ever play the sport. 
Now that the Miami Heat superstar has that much-desired ring to put around his finger, the only argument that works against him is his lack of longevity, which is more a function of his young age than anything he's actually done on the basketball court. 
After his triple-double in Game 7 made him the first player in any of the four major American sports to win a title and a regular season MVP in the same season since the NHL's Martin St. Louis did so in 2004, there simply aren't that many players ahead of LeBron in the historical rankings. 
For those of you that have faithfully followed the majority of my articles, you probably know that I refuse to explicitly rank players historically. I'm fine sorting them into tiers but the flow of basketball and the moments make it impossible to make valid statistical comparisons in a vacuum. 
Without watching every clip of Wilt Chamberlain and Kareem Abdul-Jabbar, who am I to make the distinction as to who is better? I'll feel confident doing so one day, just not yet.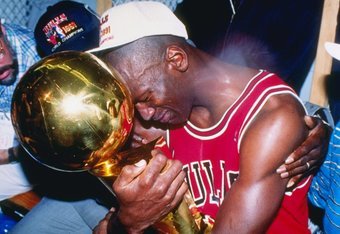 Ken Levine/Getty Images
With that in mind, it's well established that—in no order other than alphabetic—Kareem Abdul-Jabbar, Larry Bird, Kobe Bryant, Wilt Chamberlain, Tim Duncan, Magic Johnson, Michael Jordan, Hakeem Olajuwon, Shaquille O'Neal, Oscar Robertson, Bill Russell and Jerry West stand in a tier of their own, one that can be further subdivided if necessary. It's not necessary here though because LeBron still isn't in it. 
Those 12 players have enjoyed the duration of their primes, winning multiple rings or establishing dominance for such a prolonged period of time that we can't help but place them in that upper echelon. Some lucky few have met both of those criteria. 
LeBron has been in the league for less than a decade, but his list of accolades are simply astounding. He's now added a championship and a Finals MVP to his resume, which includes three regular season MVPs, two other Finals appearances, a scoring title, eight All-NBA selections, eight All-Star selections and four All-Defensive selections.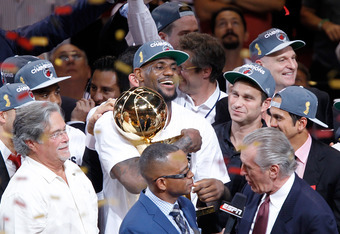 Mike Ehrmann/Getty Images
He's dominated ever since he was drafted in 2003 and now has career averages of 27.6 points, 7.2 rebounds and 6.8 assists per game, establishing himself as one of the most well-rounded superstars of any generation, let alone just the current one. Not many players have ever contended for scoring titles and Defensive Player of the Year selections at the same time. 
Comparing him to Michael Jordan this early is ridiculous. Frankly, calling him a top-10 player at this moment borders on ridiculous. 
He's on pace to work his way into the top 10 and more than likely the top 5, with a shot at contending for the legendary status as the G.O.A.T., but let's not get ahead of ourselves. 
Right now, he's on the outside looking in at that pantheon of greats. When ESPN's Bill Simmons published his updated rankings from The Book of Basketball, he had LeBron coming in at No. 20, just ahead of Bob Cousy, Kevin Garnett and Isiah Thomas while just behind Charles Barkley, Karl Malone and Bob Pettit. 
The addition of the ring to LeBron's collection surely pushes him even higher than No. 20, even into the top 15. Just not the top 12. 
Let's settle for that now and revisit the argument once his career is even more fleshed out.