2012 Carolina Panthers: The Panthers Biggest Concern on Special Teams
June 22, 2012

Streeter Lecka/Getty Images
In week four of the 2011 season, the Carolina Panthers faced the Chicago Bears. That was the game in which Devin Hester set the record for the most touchdowns off a punt return. Hester picked apart the Panthers special teams, dodging tackles and returning the punt 69 yards for a touchdown.
That was just one of the big hits the Panthers took in that game. It also didn't help that Olindo Mare missed two field goals in that game. The Panthers lost 29-34.
Hester is an awesome punt returner; this point seems rather obvious. Credit is given to players who deserve it and Hester definitely deserves credit, but that was not the first time the Panthers special teams performed poorly. Throughout the 2011 season, special teams struggled quite a bit.
The Panthers have definitely addressed some of the issues on special teams over the last few months. They signed guys like Mike Tolbert, Haruki Nakamura and Kenny Onatolu. Joseph Person from the Charlotte Observer pointed out how valuable these guy will be on special teams. 
Person noted how Tolbert's and Nakamura's old coaches have each pointed out how important those guys were to their special teams squad. For instance, Norv Turner claimed that Tolbert's role on special teams will not be easily replaceable. Likewise, Harbaugh had this to say:
"I thought it was really smart for Carolina to bring him in and sign him because, at worst, you've got yourself a really good backup and a really good special teams player. And at best you might have yourself a legitimate starter"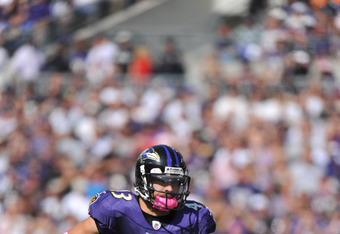 Larry French/Getty Images
Onatolu should also be a huge contribution to special teams. According to Person, Onatolu had 49 tackles on special teams during his three years with the Minnesota Vikings.
But in addition, the Panthers also drafted punter, Brad Nortman (out of Wisconsin), and released Jason Baker prior to the draft. Releasing Baker, however, could've also been attributed to clearing up a good amount of cap space. According to Person, Baker would've accounted for two million dollars against the Panthers' cap.
In my opinion, the biggest concern on special teams is field goals.
Mare was signed by the Panthers to take over kicking duties that were previously John Kasay's from 1995 to 2010. At many times, Kasay came through for the Panthers when they needed him most. Kasay was a Panther favorite and has probably been missed ever since the day of his release.
Although Mare has only been with the Panthers for one season, one can not help but notice that he isn't starting off on the right foot. Mare was 22 for 28 last season. Not bad, but some of those kicks he missed were pretty important. The game against Minnesota is a great example; Mare missed a field goal that could've sent the game into over time. The Panthers, however, ended up losing 21-24.
To be clear, I'm not trying to say that Mare is to blame for the Panthers 6-10 record, but his missed kicks definitely did not help his team win some of those games.
In my first article on Mare, I argued that Mare's kicks lack a game-changing quality. That point seems especially clear in those five games he missed field goals in.
When Mare first started struggling last season, the Panthers signed Adi Kunalic to compete against Mare. We never saw much of Kunalic though and for some reason, the competition between Mare and Kunalic seemed to be more of a friendly competition. I say that because Kunalic didn't seem to present much of threat to Mare, especially since the Panthers ended up waiving Kunalic. 
The Panthers did, however, sign Justin Medlock, who will now compete against Mare just as Kunalic was supposed to. Unlike Kunalic, Medlock will have the opportunity of getting to compete before the start of the 2012 season. Whether or not the situation is different with Medlock is uncertain. But at the same time, it doesn't seem that the Panthers are too worried about Mare's future just yet. Thus, I believe field goals are still a big concern for the Panthers' special teams.