LeBron James: Why the Miami Heat Winning the NBA Title Is the American Dream
June 22, 2012

Ronald Martinez/Getty Images
LeBron James finally got his first title. The implications of that championship reach far beyond personal redemption or validation for the Miami Heat's team-building tactics.
The 2012 NBA Championship is an affirmation of the American Dream.
"Preposterous."
"He was already rich beyond his wildest dreams and lives what many would consider to be a charmed life. How could that possibly be the equivalent of pulling yourself up by nothing but your bootstraps?"
That definition of the American Dream is entirely too narrow.
Just being born in a developed country makes life better than 50 percent of the world's population.That isn't an indictment of the struggling nations, but a confirmation of the luck of the draw.
For instance, the United States enjoys a stable government, has welfare programs to assist the poor, and has appropriate defenses against invaders and rebels.
"But LeBron James created his own downfall. His hubris allowed him to think that 'the Decision' was a good idea. His cockiness led him to declare that the Heat would win eight titles during that ridiculous welcoming party."
You're right.
But since when did the American Dream have to be born of others' actions?
Self-inflicted wounds are just as damaging as those created by others. If not more so.
People have much more to do with the creation of their problems than they care to admit. At the very least, we exacerbate them to become larger than necessary. 
LeBron had to overcome much more than opposing teams on his journey. There was more to it than handling the lessons of losing that previous greats endured.
Michael Jordan had to get through the Detroit Pistons.
Larry Bird and Magic Johnson were constantly battling each other.
James had to deal with the Boston Celtics and another rather large obstacle to reach the mountain top—himself.
LeBron seemingly (and rightfully so) had the entire world cheering against him.
In the 2011 NBA Finals, he shrank from the pressure.
After the Dallas Mavericks closed out the series, he didn't come out of his house for weeks. He didn't speak to anyone.
It was during that time that he apparently started to realize the situation he made.
It was also during that time the he matured into the player, and most importantly the man, that he is today.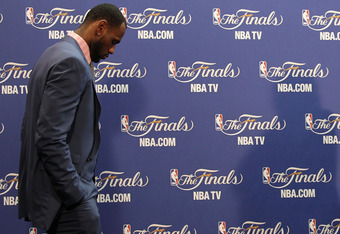 Mike Ehrmann/Getty Images
LeBron's march to the 2012 title is not the American Dream just because he pulled himself out of the depths to rise to the top. It represents the American Dream because of the inspiration that can be gained from it.
Some people figure out who they are by the time they graduate college. Others never do.
James screwed up in his mid-20s. That's something I can understand.
Personally, I made a decision that forever altered my professional life. I earned a DUI in the summer of 2010. In fact, my incident occurred just a couple weeks after the Decision.
Coincidentally, that summer doubled as my last semester of law school.
I had worked hard for three years to graduate near the top of my class.
Due to that decision, I was denied my law license. Much like LeBron, I got what I deserved for making a terrible decision.
Watching the way that LeBron has handled his self-made disappointment has been incredible. His actions have proven that hard work, dedication and a mature and honest attitude can lead you to the desired outcome.
The lesson is that self-pity does nothing. You must get up and do whatever it takes to improve your situation. 
Which in LeBron's case, required him to develop a post game.
He didn't ask for sympathy. Which is good because none was warranted.
Instead, he "manned up" and grew up.
James overcame the adversity he created and persevered.
In the process, he provided confirmation to me that the only way out of my self-dug hole was to address my deficiencies and get to work.
If that isn't the American Dream, I'm not sure what is.