Yuriorkis Gamboa: 3 Fights He Could Make Without Top Rank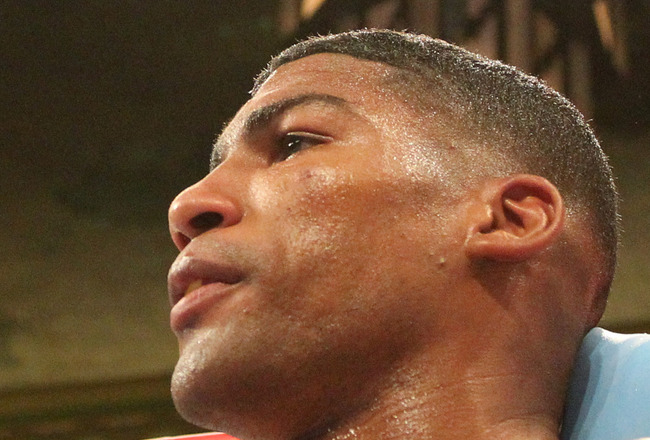 Yuriorkis Gamboa look toward the future
Hunter Martin/Getty Images
Yuriorkis Gamboa is a free agent after settling a big dispute with former promoter Top Rank.
Gamboa is rumored to be potentially signing to Mayweather Promotions or Golden Boy. There are a slew of big fights the former featherweight could aim for, but three instantly shoot to mind.
Here are those three options.
3. Abner Mares at Featherweight (126 Lbs.)

Abner Mares highlights in promotion of his last fight against Eric Morel.

Abner Mares (24-0-1, 13 KO) is currently a Golden Boy fighter and just recently moved up to take the WBC super bantamweight (122 lbs.) world title.
Gamboa last fought at the featherweight (126 lbs.) division. Though Gamboa may be outgrowing the division, it's possible he could train hard to stay down there long enough for Mares to come up.
The exciting Mexican fighter is quickly expanding his fanbase and has gone through one of the toughest gauntlets of competition of any fighter in recent years.
Not only would this give Gamboa an action-packed matchup, but becoming the first to defeat Mares would propel his career and name to new heights.
2. Adrien Broner at Super Featherweight (130 Lbs.)

Adrien Broner shows his cocky persona after knocking out Vicente Martin Rodriguez

Adrien Broner (23-0, 19 KO) is the current WBO super featherweight (130 lbs.) after a sensational third-round knockout of Vicente Rodriguez.
Broner, a Golden Boy fighter, has since defended his title against Eloy Perez and is set to defend his title against Vicente Escobedo on July 21.
Gamboa has journeyed up to 130 lbs. before and was quite successful. Gamboa has already stated that he wants to make the move.
After a tune-up or two, Broner is the man to make the move for. Broner is very fast and powerful, similar to Gamboa.
Floyd Mayweather has already made it known he wants this fight made.
The clash of styles has the makings of not only a classic fight, but a career-changing event. Both fighters could become household names if enough people were to see them fight each other.
1. Sharif Bogere at Lightweight (135 Lbs.)

Sharif Bogere's highlights

Sharif Bogere (23-0, 15 KO) is a 23-year-old lightweight (135 lbs.) contender with Golden Boy who possesses speed and power.
As far as big matches go, Broner is the bigger fight right now, but Bogere is growing and getting better with every fight.
Gamboa was ready to move up to lightweight to face Brandon Rios not too long ago, so Bogere wouldn't be too much of a stretch.
Bogere might need two big tests before he's absolutely ready to take on a fighter of Gamboa's caliber, but the matchup screams all kinds of potential awesome.
Bogere is a more open and less defensive fighter than Broner, who may be moving to 135 lbs. after his next fight. If so, Gamboa facing Bogere first would give him a dazzling introduction to the division and if promoted well, a reintroduction to the general public.
Keep Reading