LeBron James Nike Ring Commercial: Title Cements LBJ as Most Marketable Athlete
June 22, 2012
Ronald Martinez/Getty Images
Since breaking into the NBA with the Cleveland Cavaliers in 2003, LeBron James has been a marketing darling. He was immediately snatched up by upon turning pro and has been a great flag bearer for the past decade.
After winning the NBA Championship, however, King James has reached a different level.
James finally got the monkey off his back on Thursday night, as he and the Miami Heat closed out the Oklahoma City Thunder in Game 5 to win the Larry O'Brien Trophy. James was the most valuable player for Miami all postseason long, and he was awarded NBA Finals MVP honors.
After the game was over, with the celebration ongoing, Nike aired a spot that featured a ring maker crafting a championship ring for James. 
In the commercial, highlights of LeBron's career flash on a television screen with the ring maker anxiously following along. The ring maker becomes frustrated when James comes up short in the NBA Finals on two separate occasions, but is all smiles when LeBron finally wins it all, allowing him to put the finishing touches on his creation. 
The commercial was a perfect representation of LeBron's career, as everyone knew that he was destined for greatness. It was simply a matter of having to wait for him to accomplish his ultimate goal. 
There were plenty of bumps along the way, and despite his three MVP Awards, James experienced failure on several occasions. But even with all of the letdowns, his pure talent and regular-season production made him a fantastic representative for Nike and all of his other sponsors.
Until he won a championship, however, there was obviously something missing. The likes of Michael Jordan and Kobe Bryant may not actually be more marketable in terms of their respective images, but their rings were a big part of what made them special.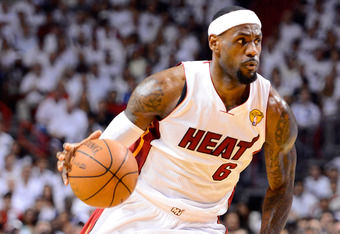 Ronald Martinez/Getty Images
James finally got his on Thursday, and it launched him into a new stratosphere in terms of marketability.
Many consider Peyton Manning, Albert Pujols and Sidney Crosby to be the most marketable athletes in their respective sports. They are all former MVPs like LeBron, but more importantly, they are all former champions. That was the one thing that was holding James back.
Before winning his first title on Thursday, most viewed LeBron as a great statistical player who didn't deserve to be called the best in the game due to his postseason struggles.
There was still resentment that he was crowned "King James" upon his entry into the league despite having not really accomplished anything. Now that he has earned his spot on the throne, however, things will be different.
Of course, there will still be detractors who claim that the title is tainted. James may have bolted to South Beach in a power play and left Cleveland in the lurch—but that is irrelevant. Dwyane Wade and Chris Bosh clearly did their part to help the Heat win it all, but this was LeBron's team, and he was the biggest reason that Miami reigned supreme.
When people see LeBron in ads from this point forward they will no longer consider him to be a hotshot who has been gifted everything. Instead, he will be viewed on the same level as champions like Jordan and Bryant.
He obviously has a long way to go in order to reach their ring count, but when you mix his pure talent with the fact that he is a champion, James has unquestionably become the most marketable athlete in sports.
Follow @MikeChiari on Twitter