England vs. Italy: Weaknesses Each Team Must Exploit in Quarterfinal Match
June 22, 2012

Christof Koepsel/Getty Images
The last quarterfinal match in Euro 2012 is Sunday between England and Italy. The winner will face the winner of the Germany vs. Greece match. But before they start looking ahead, both teams must look to exploit the other team's weaknesses on Sunday.
England went into the tournament flying under the radar for the first time in years. Yet they still have a lot of fire power and can't be taken lightly by anyone. They won Group D ahead of France, and they have the experience to get the job done. Italy finished second in Group C behind favorite Spain, whom Italy played to a draw.
The Italians have been aggressive on offense, a strategy they will stick with against the English.
Both teams have played well, but both teams have shown areas of weakness. Here are four weaknesses to look for on Sunday.
England
Injuries in the Midfield
England has lost both Gareth Barry and Frank Lampard to injury. Barry is more of a defensive-minded midfielder, where as Lampard is more of an offensively minded player. The loss of these two takes away some of England's experience.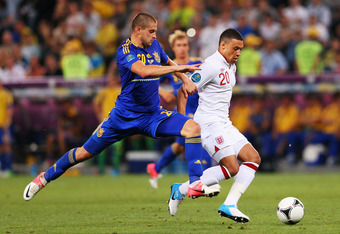 Alex Livesey/Getty Images
However, the biggest issue is that it could open up the midfield for Italy's strong attack.
Italy has shown a variety of offensive ability so far, as well as some more unusual looks and formations. The loss of Barry and Lampard may give Italy more space to create and exploit the defense.
Defense vs. Italian Offense
This might be the biggest storyline in the match. England did not have to face an opponent in the group stage with as much offensive ability or variety as the Italians have. Although they only gave up three goals in three games, England's defense has shown a few weaknesses, especially against Sweeden.
The Italians, led by Andrea Pirlo, have shown several different looks and an aggressive nature in group play. With the three attackers of Antonio Cassano, Mario Balotelli and Antonio De Natale, England's defense is really going to have to step up if they want to beat Italy, especially if the midfield is struggling.
Italy
Giorgio Chiellini's Injury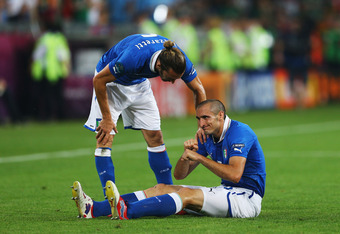 Christof Koepsel/Getty Images
Giorgio Chiellini's injury could really hurt the Italians. He is the most experienced defender on the team, and that is something that can't be replaced.
Chiellini's replacement on the field is going to be 25-year-old Leonardo Bonucci. Bonucci is going to be tasked with keeping tabs on Wayne Rooney, who, despite looking a little rusty last game, will be the best player on that side of the field.
Look for England to also take the ball down the sides, as the two defensive full-backs Federico Balzaretti and Ignazio Abate have just 12 international caps combined. That much youth on defense against an experienced England offense could be something that worries the Italians.
Themselves
Italy has a lot of talent.
This includes their coach Cesare Prandelli, who is considered by many to be a tactical genius. Yet that genius didn't work with their weird configurations in the first two games of group play (granted one of those was against Spain). Italy switched two a 4-4-2 setup in their third game which proved a winner.
Hopefully Prandelli doesn't overthink the setup for Sunday's game.
Another question mark is Mario Balotelli. Balotelli is extremely talented and extremely temperamental. He scored a late goal against Ireland but had to quickly be silenced by Bonucci before he got himself in trouble. Prandelli is going to have to decide whether Balotelli or De Natale will get the start. It could be a game-changing decision, in a positive or negative way.
Look for these as you watch Sunday's game. It is sure to be a good one.