Mike Williams may be asked to line up in many different spots on offense in 2012.
Grant Halverson/Getty Images
June 22, 2012
Each morning, I like to start the day off with a workout—usually a morning jog. I can clear my head, plan my day, and think about what's going on around the NFC South.
The Buccaneers receivers may be called on to play multiple roles in this new offense. [Tampa Bay Times]
Michael Bennett is looking forward to playing in this new revamped and revitalized defense. [Pewter Report]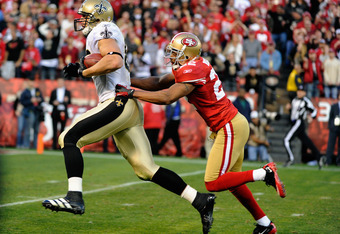 Thearon W. Henderson/Getty Images
Mike Freeman of CBSSports.com graded all the bounty evidence Thursday.
Tight end Jimmy Graham landed on the NFL.com "Top 100: Players of 2012" list at No. 14. He was the top tight end in the NFL.
Michael Turner dispels the rumor that he is overweight. [Atlanta Journal-Constitution]
John Abraham and Mike Nolan have played together before; during Abraham's rookie year for the New York Jets. [Video]
Steve Smith commented on his return to form after the arrival of Cam Newton. [NFL.com]
Like the new article format? Send us feedback!