Have the Miami Heat and Kentucky Wildcats Changed Basketball Forever?
June 22, 2012

Ronald Martinez/Getty Images
The 2012 championship tales of the Miami Heat and Kentucky Wildcats are eerily similar. 
Having lost in the final stages of the playoffs last year, both teams were able to ignore the hangover of their forgotten seasons and reach the end of redemption road just 12 months later.
The most striking similarity, however, is not what they achieved but how they achieved it. Both teams have completely abandoned previous formulas for success, instead adopting new methods that have changed the landscape of professional and collegiate basketball forever.
Before this year's Final Four, Grantland's Chuck Klosterman wrote a great piece titled Kentucky's Death March, explaining how John Calipari's new one-and-done system is destroying the college game. Why would future NBA stars go anywhere other than Kentucky now that they know they can win a national championship in their one-year college career? 
Klosterman claims that the only way to compete in this new era of college basketball will be to adopt Calipari's same strategy. Teams like Duke, UNC, Kansas and Syracuse might be able to do it, but there simply isn't enough talent to go around the entire country. The smaller Division I schools will be left behind, unable to keep up in the arms race.
Sound familiar? It's exactly how the bottom-feeders of the NBA are feeling about this new "Big-Three" era.
Kevin Garnett, Paul Pierce and Ray Allen were the first ones to join forces with the Boston Celtics, and once they won the NBA Finals in 2008, it became the model for success. Miami soon followed suit, and last night, the spending spree paid off.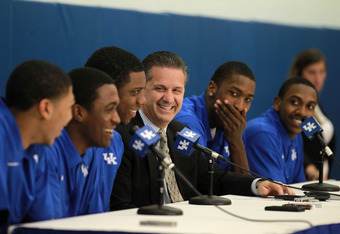 Andy Lyons/Getty Images
But are these new methods the ones we want dictating our beloved game?
Miami and Kentucky are two of the most polarizing teams in the world, and it comes as no surprise.  Klosterman put it best when he described Calipari's new formula: "It's not unfair, but it feels that way."
As I watched the Heat pull away from the Thunder in the third quarter last night, I literally felt nauseous. It very easily could have been the tacos I had for dinner, but as an avid sports fan, I decided it must have been a symptom of the game itself.
I was witnessing the end of basketball. 
I imagined myself in the same position with the same pit in my stomach a year later: "The Miami Heat have won their second straight NBA title!" 
Would LeBron really win not one, not two, not three…championships? My stomach continued to turn.
I remember watching the Kentucky-Kansas game back in March, and even though I was sitting with two Jayhawks fans, I was the biggest Kansas supporter in the room. I would pump my fist after each defensive stop, raise my arms with every three-pointer that was launched: "Rock Chalk, Jayhawks!!"
In their runs to the pinnacle of basketball, it was Kentucky and Miami versus the world.
Some will call John Calipari and Pat Riley the Einsteins of basketball. Others will compare them to the harshest dictators in history. They each found a new way to be successful, and does it feel like they are cheating?
Absolutely.
There is no telling how many titles the Heat and Wildcats will win in the next decade. Teams will try to mirror their success, and the leagues will become incredibly top-heavy. Five to 10 teams will be labeled as contenders, while the rest compete for consolation prizes. Teams will try and bend the rules—especially in college basketball, where 10 programs have already been ruled ineligible for the postseason tournament in 2012.
Isn't it a little sad that we can already predict the future of the biggest and brightest stars? Go to college for a year, play five seasons for a lottery team, then form a powerful alliance with two or three other guys in New York, Los Angeles or Miami. The rest of the markets will be forgotten, swept under the rug for all intents and purposes. 
Kentucky and Miami's championships are more bitter than sweet, but there is nothing that can be done. The ways of winning have changed, and their infringement on basketball will be leaving that same sour feeling in our stomachs for many more years to come.