New Jersey Devils
NHL Draft: Why the New Jersey Devils Should Draft Defense Before Goaltending

Will New Jersey go defense again in 2012?
Bruce Bennett/Getty Images
June 22, 2012
With the 2012 NHL Draft scheduled to begin later tonight in Pittsburgh, the New Jersey Devils will sit well through the night until the 29th pick.
The Devils have become accustom to picking late in the draft, as they have selected earlier than the 20th pick just twice since 1996, per Tom Gulitti. New Jersey selected D Adam Larsson with the fourth overall pick last year.
The majority of the mock drafts for this year have the Devils drafting either an offensive forward or a goaltender, more specifically OHL Belleville goaltender Malcom Subban. Subban, brother of Montreal Canadiens D P.K. Subban, has gotten mixed reviews from the field and could either go early in the first round or drop to the 30th pick.
Although Martin Brodeur is aging and backup goaltender Johan Hedberg could test the market at age 40, the Devils have other priorities to attend to. While many believe New Jersey will draft a forward of a goaltender, the Devils should be focusing once again on defense.
The reason is simple: With an average age of 30, the Devils defensive front is getting old. By the second month of the 2012-2013 season, Mark Fayne and Adam Larsson will be the only two current starting defensemen under 30, and Fayne is a restricted free agent this offseason.
Playoff hero Bryce Salvador is expected to test the market and, depending on the signings of Zach Parise and Martin Brodeur, will likely sign elsewhere before next season. Peter Harrold is also an unrestricted free agent whose future with the Devils is cloudy, leaving only six defensemen from last year's roster.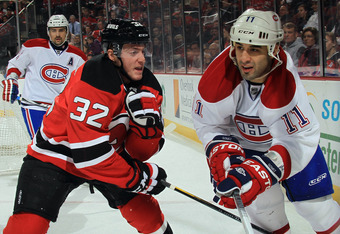 Matt Taormina got playing time last year, and should see more action in the 2012-2013 season
Bruce Bennett/Getty Images
New Jersey does have a few prospects in Albany, but none of their youth have really proven themselves when called upon in the NHL. Alexander Urbom has been up and down the past two seasons, and Matthew Corrente has not seen NHL action in two years. Matt Taormina will likely be called up sometime next season after a successful 2011-2012 season, but New Jersey will need more young talent on the defensive side especially with the injuries that piled up this past year.
Brodeur and Hedberg may be aging, but both goaltenders played extremely well last year and didn't look like they were heading toward retirement. Even if one of the two decide to leave, New Jersey still has 22-year-old Keith Kinkaid in the AHL with NHL experience and recently signed 19-year-old Scott Wedgewood to a minor league deal.
This draft is expected to see a ton of trades over the weekend, which could give the Devils the opprotunity to trade up if they please. Two names that could potentially come up are Swedish D Ludvig Bystrom and D Mike Matheson, both of whom are rated between 22-25 on the top prospects lists and can play both sides of the puck well, something the Devils love about defensemen (Larsson, Zidlicky).
The best option at defense would be Brady Skjei, who is considered one of the better skating defensemen in this year's class. However, many mock drafts have him going before the 20th pick, which may be a bit unrealistic.
New Jersey will certainly have plenty of options with the 29th pick, but it doesn't seem smart to draft a goaltender under the circumstances.
Like the new article format? Send us feedback!