NBA Finals: LeBron James Silences His Critics with MVP Championship Performance
June 22, 2012

Mike Ehrmann/Getty Images
For nine seasons, LeBron James has had to deal with expectations.  Being drafted first in the 2003 NBA draft by the Cleavland Cavaliers, James was seen as the savior of Cleavland, the next Michael Jordan who was going to make his hometown fans jubilant for years to come.
But the championships never came, and after seven seasons of only moderate success, James left for Miami and with it, came millions of detractors calling him everything from a bum, a quitter, a coward and much, much worse.
That is what made last night's series clinching 121-106 win over the Oklahoma City Thunder so much sweeter. Despite all the criticisms, despite all the hate that LeBron has endured for two years now, it was James standing tallest, earning his first championship and a Finals MVP award as he closed out the series with a triple double; 26 points, 13 assists and a 11 rebounds.
Though many people dreaded this moment, most notably the scorned fans at the city on Lake Erie, James got the last laugh as he rides into the Miami sunset with a title that he may not let go of until the Olympics start in late July.
Let me be the first to say I am not a LeBron James apologist.  I have been one of many people rooting for him to fail and took irrational joy at his performance against the Dallas Mavericks last year.  And to be fair, LeBron James has more than earned some of the criticisms of the past few years. 
He was very immature in how he departed Cleavland and has had many quotable "gems" such as chiding his critics after losing to the Dallas Mavericks last year by saying they all had their own personal problems to wake up to tomorrow and he's going to essentially enjoy his life. But when you see a postseason performance like James had this year, you have to give credit where it is due. 
Entering the 2011-12 season ranking right up there with Tiger Woods as the most hated athlete on the planet, people began to see a different LeBron James. Off the court, he seemed much more humble.  Gone were the egomaniacal quotes we saw from the year before.  Here today was a man respectful to the media. 
But it was on the court where you could see the biggest differences.  Upon arriving in Miami, there were those that believed that Dwyane Wade was actually better than LeBron James.  People said the team was still Wade's; after all, this was "Miami-Wade" county.
Well in 2012, LeBron James took what was the "Big Three," and turned it into the "Big One."  Instead of Wade and Chris Bosh being co-stars, LeBron instead made them look like Horace Grant and Scottie Pippen respectively, with James taking the role of the great Michael Jordan.
No one, not even Dwyane Wade will argue whose team it is now.   That's what happens when you are a league and Finals MVP in the same season and personally willing your team out of the depths of defeat.
Instead of being a disappearing act like we all saw in last year's NBA Finals, James instead was a star from the first playoff game until the last.  What makes his run and his dominance even more impressive is his two sidekicks dealt with issues throughout the playoffs. Dwyane Wade at times looked like a shell of his former self, while Bosh missed nine games due to injury.
Despite all this, James averaged over 30 points, five assists and nearly 10 rebounds per game.  He also saved Miami's season with an epic 45-point performance in Game 6 against the Boston Celtics.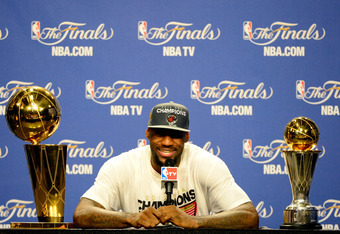 Ronald Martinez/Getty Images
The game against Boston, to me, will be remembered for decades to come, as I have not seen a leader so personally take over a game and save a team's season like that since Mark Messier guaranteed a victory and subsequently scored a hat trick in Game 6 against the New Jersey Devils in the 1994 Eastern Conference finals. 
There will be those that will still criticize James.  It's clear there was some irreparable damage caused by his actions from 2010-2011.  One thing is clear: If people cannot give him any respect or "props" for what he did these past two months, then they are people who will never do it.
Simply put, this playoff performance is one of the better ones in NBA history.  While people have spent countless hours on airtime saying that James is not on the elite level of Jordan, Magic Johnson or Larry Bird, he put forth a performance that will rival many of those men.
Moving forward, NBA players should be very worried that this win will start the type of dominant run we saw in the 1990's when Michael Jordan won six championships in eight seasons.   And what's even scarier is James will not be leaving basketball to try and become a major league baseball player.
He has truly sat down on this throne now, with his "Big Three" teammates assuming their roles as mere princes. And now, the gigantic amount of weight on his shoulders has been lifted off of him.
Some may love him.  Many more may hate him.  But while I myself may not like LeBron James and did not appreciate his antics of the past, one thing is clear.  He has earned my respect, and I have a feeling that feeling is mutual for other sports fans around the world.