Breaking Down What OKC Thunder Must Do to Win an NBA Title Next Year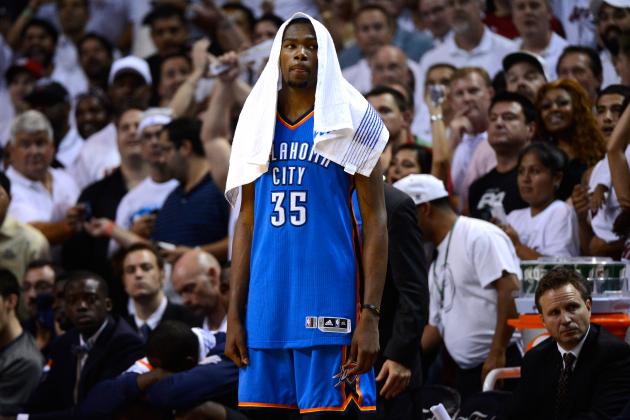 Ronald Martinez/Getty Images

The Oklahoma City Thunder are a great basketball team with two young superstars and another two in the making. Despite their disappointing 4-1 exit in the 2012 NBA Finals, they'll be back again.
If the Thunder want to ensure that "again" happens next year and that they emerge from the NBA season as the victorious champions of the 2013 NBA Finals, here's what they'll need to do.
Everyone on the team can improve, and—seeing as Thabo Sefolosha is the only starter that has hit 27 in the years department—everyone should improve.
I'm not concerned with personnel moves here. Who the Thunder draft or who they sign as free agents is irrelevant.
I'm just focused on what the individual players on the roster can do to ensure that they cuddle up with the Larry O'Brien Trophy next season.
Begin Slideshow

»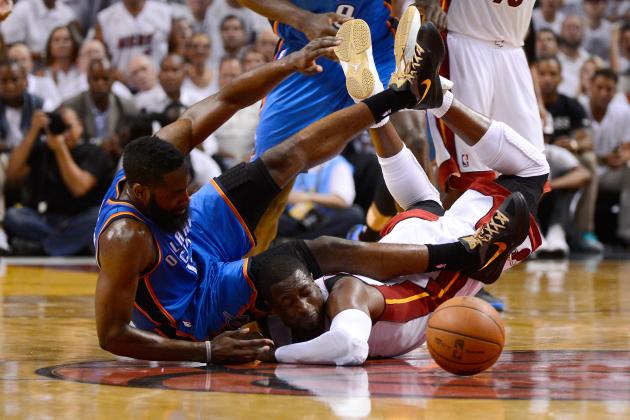 Ronald Martinez/Getty Images

Maybe James Harden thought he was playing a different sport during the 2012 NBA Finals.
Apparently, at Arizona State, they teach players that you play basketball until you get to the finals. Then, it switches gears and football is the soup du jour. At least, that's what I'm assuming based on this picture.
All kidding aside, Harden was completely ineffective against the Miami Heat after absolutely tearing apart everyone else in the playoffs. The Thunder needed him to dominate off the bench, but he was dominated by the moment.
This was never more true than at the end of Game 4. He received a pass but looked off a wide-open shot. Then, he failed to pass to a wide open Kevin Durant before forcing a shot that had no choice but to clank off the rim. He looked terrified—beard and all.
Harden scored in single-digits four times during the regular season. Through the first three series of the postseason, he never did and instead upped his averages each time the pressure went up a notch.
However, after averaging 18.5 points per game against the San Antonio Spurs, Harden averaged only 12.4 in the finals. That average is boosted by 21 and 19 performances, the latter coming in the Game 5 blowout.
Harden can't afford to score five, nine and eight points during the biggest games of the season. For a player that gives off such an aura of confidence, he has to actually back it up.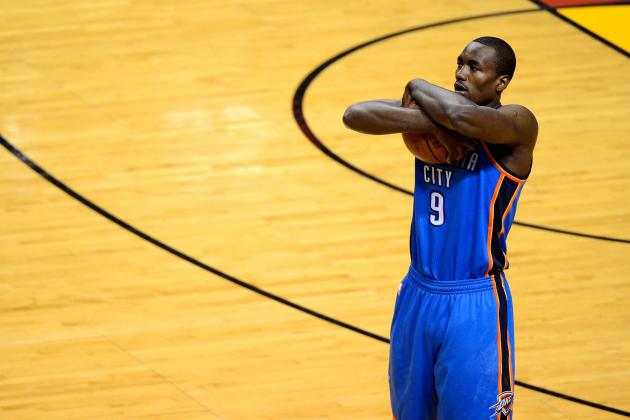 Ronald Martinez/Getty Images

Serge Ibaka's disappearance on the offensive end of the court really plagued the Oklahoma City Thunder during the 2012 NBA Finals, as the defense could then focus even more attention on stopping Kevin Durant and Russell Westbrook.
This Congolese power forward is one of the few players in the league who can contend for the shot-blocking crown while playing with enough offensive finesse to hit pick-and-pop jumpers with ease. However, he wasn't one of them during the finals.
Ibaka only broke into double figures in the scoring column once, during the Game 1 victory when he recorded—wait for it—just 10 points. He finished the series averaging seven points per game on 42.4 percent shooting. That's just not going to cut it.
When Ibaka is hitting his shots, the defense has to spread out more, which allows for easier penetration by the OKC guards. When he's not, the penetration is far easier to prevent.
In the postseason, Ibaka scored in single digits 12 times. Seven of those came in losses, and the Thunder only lost seven games.
Coincidence? I think not.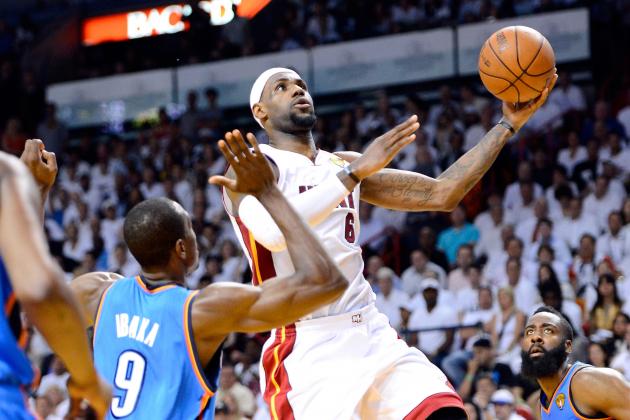 Ronald Martinez/Getty Images

As much as I love Serge Ibaka, I'm going to continue to pick on him for a little while longer.
Ibaka is a terrific shot-blocker, capable of rejecting anything and everything that enters the paint. If you drive against him, there's a solid chance that you'll leave the area with a basketball imprint on your forehead while your pride leaves the building.
The power forward knows this, which in some ways is problematic for the Oklahoma City Thunder. He tries to block everything, and by doing so, he creates other opportunities for his opponents. Because Ibaka is so focused on rejection, he often neglects his defensive rotations.
He also tends to shy away from playing man-to-man defense in favor of helping on another person's man and trying to swat away that shot.
Ibaka was a major part of the reason that Shane Battier was so effective in these finals. While Battier was roaming free on the perimeter, Ibaka was scooting down to the paint, so he could attempt to block more shots.
While the blocks are more glamorous, Ibaka must realize that he'll be more valuable if he prevents points on every possession.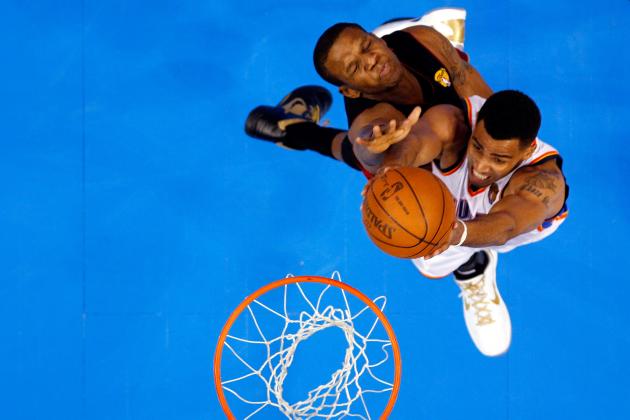 Mike Ehrmann/Getty Images

Thabo Sefolosha is athletic enough that he should be able to finish his fast-break opportunities, whether he's slamming home a Thunder-ous dunk or he's simply laying it in.
This is obviously an exaggeration, but the defensive shooting guard has to be one of the worst finishers in the NBA. How many times did we watch Sefolosha have a fairly easy opportunity, only to either miss it entirely or get sent to the foul line?
Transition points are the easiest type of points to get, and they make a huge impact on the game. Capitalizing on the opportunities you have is a must.
Sefolosha had his moments, like the reverse finish against Dwyane Wade, but he just wasn't consistent enough. He's not going to score often in the half-court sets, but the Thunder could use his offensive contributions on the run.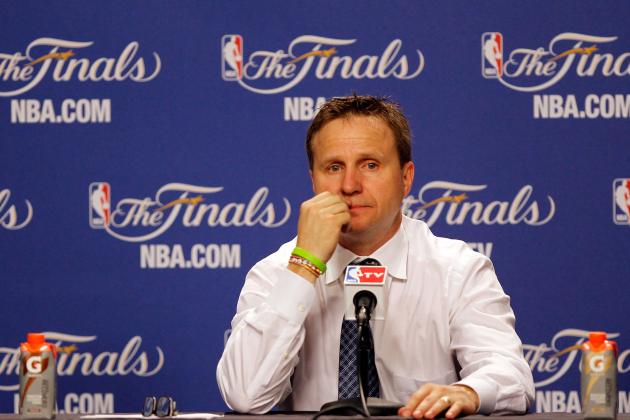 Mike Ehrmann/Getty Images

A great motivator, Scott Brooks was firmly out x-ed and o-ed in every way by Erik Spoelstra and the Miami Heat staff.
The coach was way too hesitant to buck the trend and change his rotations, even if it severely damaged his team's chances of winning games.
Brooks took too long to insert James Harden in the game during the beginning of the series, and the bearded shooting guard was forced to attempt to put the team on his back and dig them out of a major hole. After starting from behind in game after game during the playoffs, Brooks still refused to make changes.
His minutes management was also terrible. You can't leave your two best players on the bench for an extended period of time in a crucial situation. It doesn't matter if they're in foul trouble. Yet that's exactly what Brooks did to Kevin Durant and Russell Westbrook.
He also played Kendrick Perkins, who was laboring away with a torn groin. That in itself is a mistake.
Brooks is a terrific coach, but the big stage may have gotten to him a little bit. He needs to be less stubborn and more willing to experiment to see if something will work.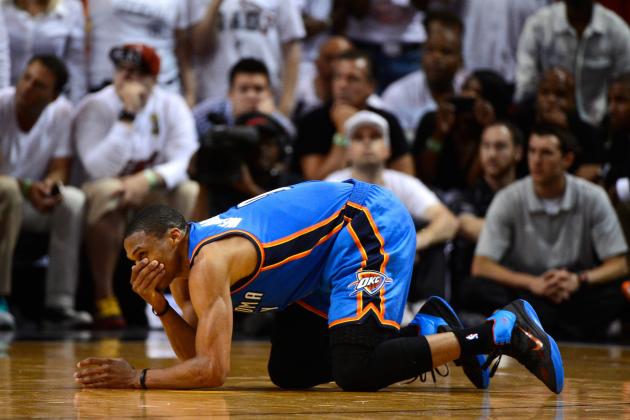 Ronald Martinez/Getty Images

Russell Westbrook is a great basketball player and a game-changer on the offensive end of the court, but he needs to improve his shot selection.
I'm not suggesting he start playing with less aggression because that reckless abandon is what makes him so effective. Teams don't know what he's going to do or how they're going to stop him when he has a full head of steam.
Moreover, his pull-up jumper is one of his more effective weapons. He never misses too many of them in a row, and he's good enough with the shot that it has to be respected, thereby making defenders all the more prone to getting blown by.
That said, Westbrook still needs to pick and choose his spots a little better. He isn't a three-point shooter, for example.
During the finals, he was 3-of-22 from downtown, good (bad?) for 27.7 percent from long range. When he was at his best in Game 4, dropping 43 points and carrying the team, he didn't hit a three-pointer and attempted only three all game.
By all means, continue to be aggressive. Just do so in an intelligent manner.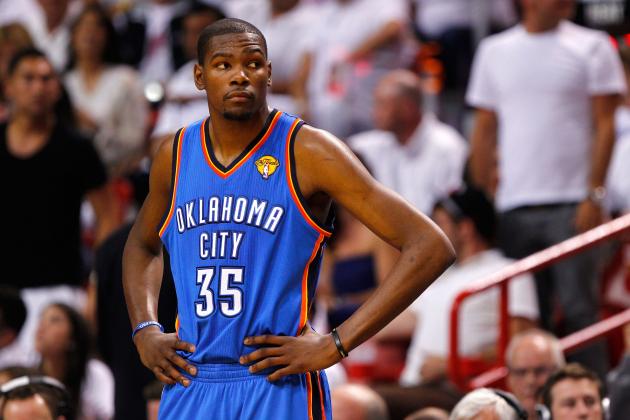 Mike Ehrmann/Getty Images

Kevin Durant is already a tremendous scorer and a solid, albeit unspectacular, defender. It's going to be hard for him to make leaps and bounds in either of those areas.
However, Durant could still get significantly better if he started passing the ball more effectively and rebounding like the lanky monster that his body indicates he should be.
After averaging eight rebounds per game during the regular season and hovering around that mark during each of the first three postseason series, Durant failed to crash the boards effectively in the NBA Finals. He pulled down eight in Game 1 and 11 in the final loss, but he only grabbed 11 missed shots in total during the middle three games of the series.
Preventing offensive rebound opportunities for opponents and getting the ball in his hands to start a break is crucial.
As for the passing, Durant doesn't possess elite court vision with the ball in his hands, but he has to start creating for his teammates. While turning the ball over 3.8 times per game in the finals, he only racked up 2.2 assists per game.
Generally, his teammates had to create their own offense if they wanted to score. Whether it's drive-and-kicks or hitting cutters in the right spots, Durant has to be able to get others involved, like LeBron James does so well.