NHL Draft 2012 Results: Pick-by-Pick Grades and Results for Day 1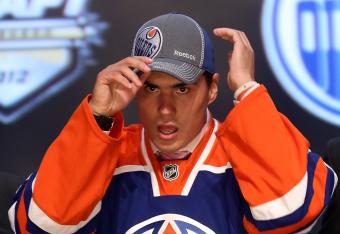 Bruce Bennett/Getty Images
The NHL entry draft. The day 211 prospects will be chosen by NHL teams and start their climb to be an NHL player. For some, it's a sure thing. For others, they have to work really hard to make it, and some will play in the NHL.
Nail Yakupov, Ryan Murray, Alex Galchenyuk and Filip Forsberg are the names at the top of most teams' lists. For the Edmonton Oilers, Columbus Blue Jackets, Montreal Canadiens, New York Islanders and the Toronto Maple Leafs, there's a good chance that they will get the best players needed to improve their hockey teams.
But then there is the matter of trades.
This year's draft has been largely overshadowed by the names on the trading market the past few days. Rick Nash, Roberto Luongo, Jordan Staal, Bobby Ryan and James van Riemsdyk have all heard their names bandied about in trade talks. Will any of these big names be on the move today? We'll have to wait to find out.
Throughout the day, I will be sharing my opinion on certain prospects, trade rumors that pop up and hopefully a few trades that actually happen. Then, starting at 7:00 pm EDT/4:00 pm PDT, I will guide you through the NHL draft, pick by pick.
What prospects would you like to see your team take? What players would you like to see your team trade for today? Feel free to ask questions. I'll do my best to answer them.
Here we go.
Well, that's it for the 2012 NHL Entry Draft. It was a surprising first round. Jordan Staal became a member of the Carolina Hurricanes, Nail Yakupov was drafted by the Edmonton Oilers and a total of 13 defenseman were drafted in the opening round, tying a record.
The biggest winner of the day has to be the Pittsburgh Penguins. Acquiring Brandon Sutter and Brian Dumoulin while drafting Derrick Pouliot and Olli Maata give them a quartet of young assets for the future. The Islanders and Capitals did pretty good as well.
The craziness of the 2012 NHL draft will only continue tomorrow. For now, I'm gone. Thanks for sticking around.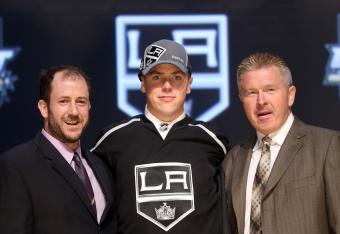 The final pick goes to the Stanley Cup Champion Los Angeles Kings. The newest member of the Kings is... Tanner Pearson. Passed over last year, Pearson excelled this season and made a name for himself. Not a bad team to go to if you're Pearson.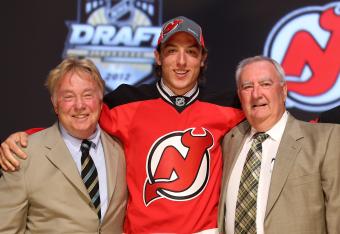 The Eastern Conference Champion New Jersey Devils are up next. They select... Stefan Matteau. Well there's irony for you. Did they pick him just to get back at the Rangers? Anyways, this is a great pick for New Jersey.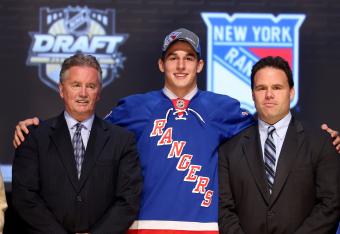 The New York Rangers are up next. This has to be Stefan Matteau. They select... Brady Skjei. Wow, that was a surprise. No storybook ending for the Matteau family. That being said, the Rangers could have used a defenseman, and Skjei was one of the best remaining.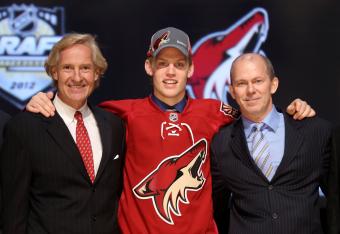 The No. 27 belongs to the Phoenix Coyotes. Wait, did I just say that right? It's their own pick, wow. It's been that kind of season in Phoenix and they select... Henrik Samuelsson. I have to say this again. Called it. That's at least three picks I have been right on, outside of the top five. The son of Ulf could be a steal.
The Vancouver Canucks are up at No. 26. They select... Brendan Gaunce. It's about time. I was expecting him to be gone in the 10-20 range, but Vancouver snaps up a player in Gaunce that could be a huge steal.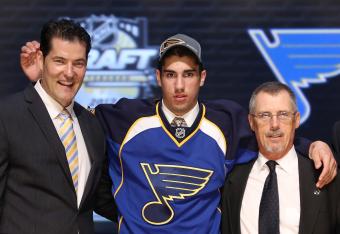 St. Louis selects... Jordan Schmaltz. Another second-rounder gets picked on the first day, Schmaltz is a player that will have lots of time to develop in the Blues system.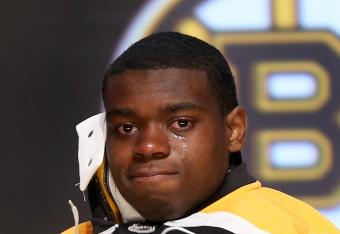 The 24th spot belongs to the Boston Bruins, who select... Malcolm Subban. Pierre McGuire just got really excited at the fact that one day it will be Malcolm's Bruins vs. PK's Canadiens.. I mean really excited, freakishly excited.
The Florida Panthers select... Mike Matheson. Another player that could have gone in the second round, Matheson becomes part of a great prospect core in Florida.
Pittsburgh is up again at No.22. They select... Olli Maata. In my first mock draft, I had Maata going No. 21. I was told there was no way he was going to be available at that spot. Pittsburgh is sure glad I was right.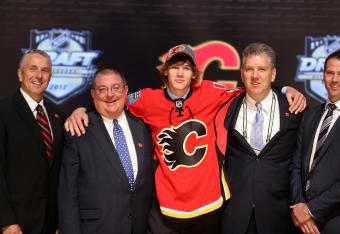 The Calgary Flames are now on the clock. Would not be surprised to see them go after Olli Maata. They select... Mark Jankowski. Off the board pick here, although as kid from my hometown of Hamilton, Ontario, I'm rooting for him.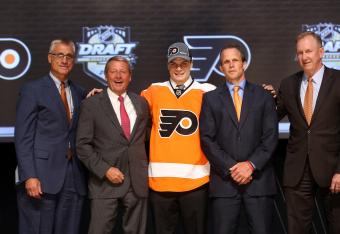 Here come the boos. Philadelphia must be up. With the 20th selection, the Flyers pick... Scott Laughton. Another player going higher than expected, this draft is going to be interesting to look back on in a few years.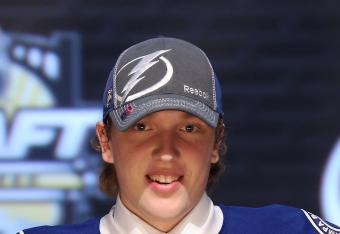 The Tampa Bay Lightning are up next. They select... Andrei Vasilevski. I have to say it. I called this one. Tampa Bay picks up a goalie with some great potential.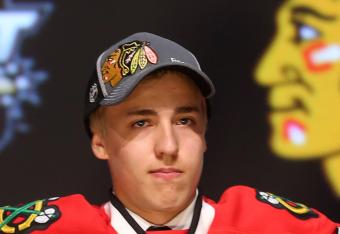 The Chicago Blackhawks, with the 18th pick, select... Teuvo Teravainen. Teravainen is a dark horse to play in the NHL next season, but with a team such as the Blackhawks, he will probably get a year of development.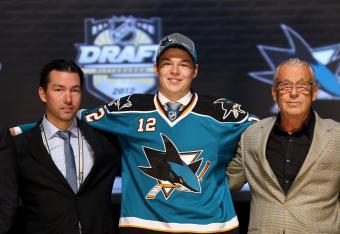 The San Jose Sharks are up next. Really don't know what they're going to do here, but Teuvo Teravainen is still available. They select... Tomas Hertl. Wow. This is one surprising first round. Hertl isn't a bad player, not at all, but with Teravainen and Brendan Gaunce still available, I'm not sure.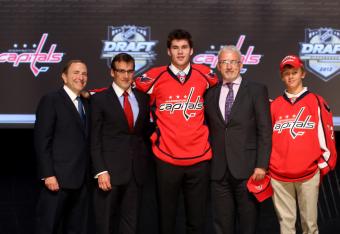 Washington has their second pick coming up next. I expect them to take a defenseman. They select... Thomas Wilson. Well, guess I was wrong. The Capitals add a big power forward to their depth chart.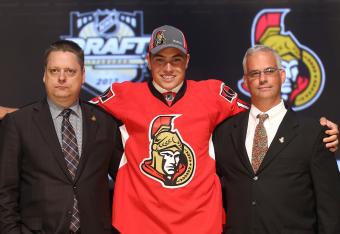 No. 15 belongs to Ottawa. They select...Cody Ceci. A local pick, Ceci plays for the Ottawa 67's of the OHL. This will definitely be a pick that makes their fans happy.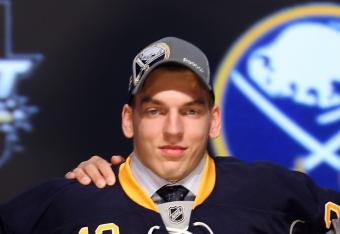 That means Buffalo is up next. They select... Zemgus Girgensons. Guess they thought that he wouldn't drop to the 21st pick. The highest drafted Latvian ever.
There is a deal between Calgary and Buffalo. Pick No. 14 goes to Buffalo for the 21st and 42nd pick.
We could have another deal on our hands as Jay Feaster was talking to Darcy Regier of the Buffalo Sabres. Could be just picks though.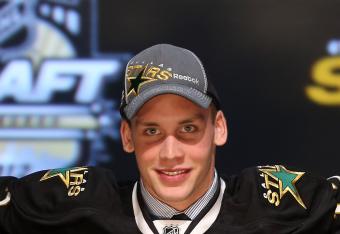 Dallas is up next at the 13th selection. They pick... Radek Faksa. They traded away Mike Ribeiro, but they have an offensive replacement in Faksa. Good pick.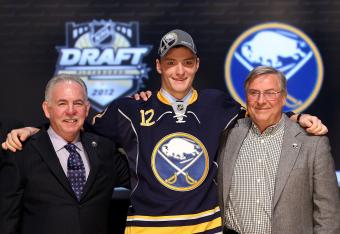 Buffalo owns the 12th pick. They select... Mikhail Grigorenko. They did what Pierre McGuire told them to do: "Get a big center." We'll see if this pick works out.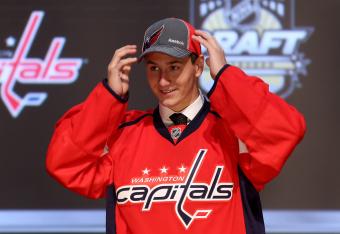 Washington is up next. They select... Filip Forsberg. The Capitals come out with a huge steal as Forsberg drops a lot farther than expected. The run of defenseman is over.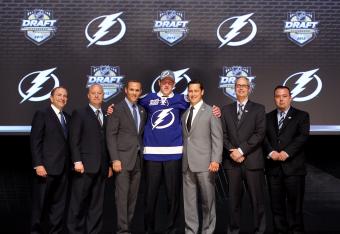 Tenth selection belongs to the Tampa Bay. I would suspect they will go with a defenseman but I would not be shocked if they go with a goaltender. They select... Slater Koekkoek. This draft has been filled with big risers and it continues here.
Tampa will definitely grab a goalie with their pick at 19th.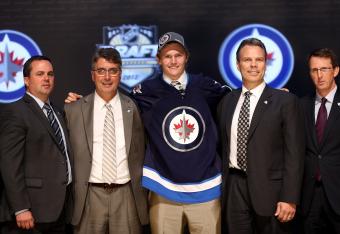 The ninth selection belongs to the Winnipeg Jets. Their selection is... Jacob Trouba. He could be the second best all around defenseman in the draft. Winnipeg definitely makes a good selection here.
This article is
What is the duplicate article?
Why is this article offensive?
Where is this article plagiarized from?
Why is this article poorly edited?