Sunrise in the NFC East: The Division's Top Links on June 22, 2012
June 22, 2012

Otto Greule Jr/Getty Images
Only a few hours left in the work week, guys. Make sure you distract yourselves as much as possible on this warm summer Friday by checking in throughout the morning and afternoon for some standard NFC East shenanigans. 
Later today, I'll have my divisional mailbag. E-mail me questions at BRNFCEast@gmail.com or just tweet @Brad_Gagnon.
Anyway, on with the TGIFL...
Pat Kirwan of CBS Sports uses the Cowboys as a good example for the right way to build depth. He specifically likes that they've employed Kyle Orton.
Dallas Morning News columnist Kevin Sherrington discusses what Dez Bryant has to do to become the player the Cowboys want him to be.
Sean Lissemore is expected to play a big role on defense this season in Dallas. But only a year ago at around this time, defensive line coach Brian Baker didn't even know who Lissemore was.
From Ebenezer Samuel: A confident Ramses Barden looks to step up and replace Mario Manningham.
Giants 101: Michael Boley says he's staying at outside linebacker.
You know it's June when almost everything you can find at Philly.com has to do with the signing of a backup safety.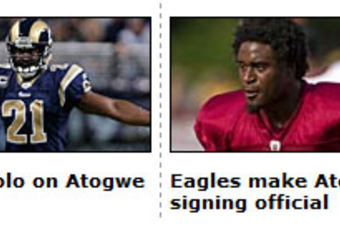 Anyway, Steve Spagnuolo says that O.J. Atogwe has a little Brian Dawkins in him. Or is it the other way around? 
From Reuben Frank of CSN Philly: Atogwe also wants everyone to know that he's not over the hill. He'll have to prove that on the field, though, because it sure has appeared as though he has been in recent years.
ESPN's Dan Graziano says the Redskins have veteran Santana Moss projected as a starter, which is a bit surprising considering the multitude of options. Graziano wonders where that might leave young sensation Leonard Hankerson.
Speaking of the 23-year-old Hankerson, Rotoworld's Evan Silva watched tape on him recently and came away very impressed. 
Robert Griffin III says he could dunk in eighth grade...when he was 5'6".