NHL Draft Start Time: Complete Schedule & Coverage
June 22, 2012
Justin K. Aller/Getty Images
The draft that has brought you Sidney Crosby, Steven Stamkos and John Tavares over the past several years is set to begin on Friday night, and it may produce another NHL superstar in the form of Nail Yakupov. The NHL draft is sure to be unpredictable, but one thing that is almost certain is Yakupov being taken first overall.
The Edmonton Oilers currently hold the top pick, and while they could conceivably trade it, they will likely be happy to add Yakupov to their already-impressive stable of young forwards. Things get a little sketchier after the top pick, as there isn't really a consensus of any kind, which should lead to some exciting moments.
Here is everything you need to know about when and where to watch every second of the NHL draft on Friday and Saturday, as well as a few storylines to keep your eye on as you get acquainted with the league's next crop of stars.
Where: Consol Energy Center in Pittsburgh, Penn.
When: Friday, June 22 at 7 p.m. ET (first round) and Saturday, June 23 at 10 a.m. ET (rounds 2-7)
Watch: NBC Sports Network, TSN (Friday) and NHL Network, TSN (Saturday)
Bold Predictions
Mathew Dumba Will Be First Defenseman Taken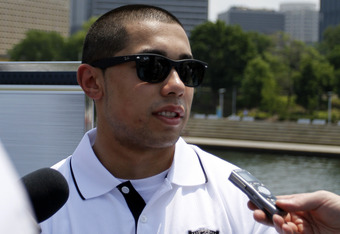 Justin K. Aller/Getty Images
When hockey fans look back at this year's draft five or 10 years from now, it may very well be known as the draft of the defenseman. There are probably about 20 blueliners who are more than good enough to be taken in the first round, and they figure to dominate the opening night of the draft.
There has been plenty of conversation about who the best defenseman in the class is, and while most tend to say Ryan Murray, I expect Mathew Dumba to be the first one off the board.
Murray is a bigger, more defensively responsible rearguard, while Dumba is quicker and much more adept offensively. Dumba put up some dominant offensive numbers for the Red Deer Rebels of the WHL this past season as he registered 57 points in 69 games.
That should appeal to the New York Islanders, who are picking No. 4, because Dumba is the type of puck-rushing defender who can activate their fine group of forwards.
Mikhail Grigorenko Won't Slip Past No. 5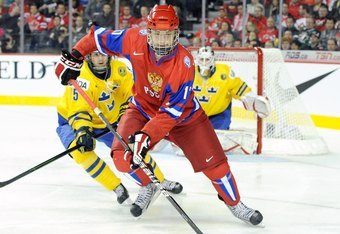 Richard Wolowicz/Getty Images
It's fair to say that Quebec Remparts center Mikhail Grigorenko is the most controversial player in this year's draft, as most consider him a top-three pick in terms of talent, but his overall rating doesn't match that due to concerns about his effort and intensity as well as the possibility of him going back to Russia and playing in the KHL.
With that said, though, Grigorenko tore up the QMJHL in his first year of North American hockey with 40 goals and 85 total points in 59 games for Quebec.
Not only is he offensively gifted, but Grigorenko's 6'3", 200-pound frame makes him a very desirable center. Grigorenko is big enough to go to the front of the net and score, and his hands are silky enough to set up teammates.
There is absolutely no question that taking him is risky, but a team like the Toronto Maple Leafs at No. 5 can't afford to pass him up. The Leafs need a big-time addition immediately, and since Grigorenko can probably make the jump to the NHL this coming season, taking him makes sense for Toronto.
Buffalo Sabres Will Make a Splashy Trade
The Buffalo Sabres entered this past season with high hopes as owner Terry Pegula was entering his first full year in power, and general manager Darcy Regier went out and got Robyn Regehr, Christian Ehrhoff and Ville Leino through trades and free agency.
Buffalo was dormant throughout the middle part of the season, however, and a late-season run wasn't quite enough to get the Sabres into the playoffs. On a positive note, though, they hold four of the first 44 picks in the draft, including the No. 12 and No. 21 overall selections in the first round.
Buffalo has a lot of options, as it can exercise all of its picks, trade some of them to move up or trade some of them for established players. I certainly don't expect the Sabres to stand pat, though, as the organization clearly has a "win now" attitude.
I can see Buffalo moving into the top three to nab an elite forward like Yakupov, Alex Galchenyuk or Filip Forsberg. Failing that, perhaps they can swing a deal for a rumored forward on the block like the Anaheim Ducks' Bobby Ryan or the Pittsburgh Penguins' Jordan Staal. Whatever the case, the Sabres may ultimately be the talk of the draft on Friday night.
Follow @MikeChiari on Twitter